It was a continual source of embarrassment for me, growing up, that I would from time to time cry. Young men in Texas just didn't cry; in fact men overall just didn't cry. It was a serious sign of weakness and a lack of manliness. But I was appalled with myself, as I became a teen, that I would still cry from time to time. There's more to the story, I was in a situation that I won't go into. But at the time, it just seemed like there was an overwhelming amount of cruelty and hopelessness that continually broke my heart. I was deeply embarrassed by it all.
Then in my twenties I met some people a generation older than me who were for me, at the time, a real sample of Christianity.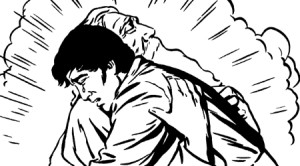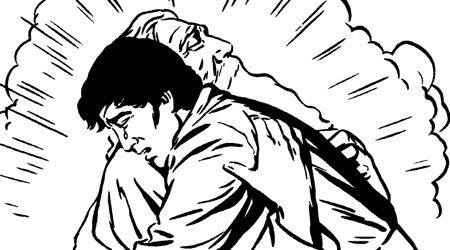 And I strongly noticed that they cried rather easily. They cried for the heartbreak of others. They cried for the young people of that time who were lost and wandering around the nation. It was like what the Bible says about Jesus, "But when He saw the multitude, He was moved with compassion upon them, for they fainted and were scattered abroad, as sheep without a shepherd." (Matthew 9:26)
And having recently come to the Lord, I learned that Jesus Himself cried. It says in John 11:35, "Jesus wept". I learned that King David said, "The sacrifices of God are a broken spirit. A broken and contrite heart, oh God, you will not despise." (Psalm 51:17) So God does not despise a broken heart. In fact it says, "The Lord is near to them who are of a broken heart and saves such as be of a contrite spirit."  (Psalm 34:18) I began to feel a little better. Maybe this tendency I had to cry rather easily was, in God's eyes, perhaps more an asset than a liability. I was beginning to think that it could be good to be tender-hearted.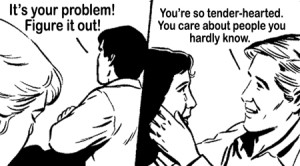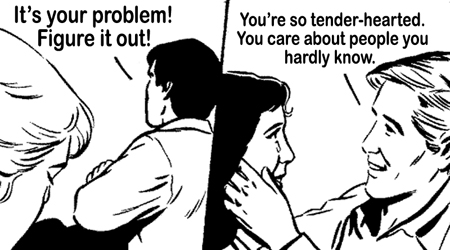 Of course in the ways of the world, "the course of this world" (Ephesians 2:2), nothing can be further from the truth. The only way to be is utterly and complete heartless, unmoved by anything. This is the way of "a true man", the goal for every male on the planet. So would the godless of this world say and have it.
But not in the eyes of God. You don't find too many times in the Bible where it specifically says that Jesus was angry. And if you know anything about the Bible, you probably know that it doesn't say Jesus went bursting into a brothel or a bar with a whip He had made. But it does say that He did that in the temple in Jerusalem to confront the merchants who were commercializing the worship of God there. But another time it is even clearer. Here's a passage in Mark chapter 3 which perhaps shows how He felt about having a hardened, cruel heart.
"And he entered again into the synagogue; and there was a man there which had a withered hand. And they watched him, whether he would heal him on the Sabbath day; that they might accuse him. And He said unto the man which had the withered hand, "Stand forth". And He said unto them, "Is it lawful to do good on the Sabbath days, or to do evil? To save life, or to kill?" But they held their peace. And when He had looked round about on them with anger, being grieved for the hardness of their hearts, He said unto the man, "Stretch forth your hand". And he stretched it out: and his hand was restored whole as the other. (Mark 3:1-5)

Jesus of Nazareth was angry at the hardness of their hearts, that they were more concerned about dutiful law-keeping than they were about the needs of the crippled man.
If you have a tender heart, if you cry easily, don't worry about it. Maybe it's a gift. Maybe you should thank God that you don't have the demonically cold, compassionless heart that is the goal of so many in our world today. Maybe you should ask God to help you "keep your heart with all diligence". (Proverbs 4:23)
We can't just go around all the time, blubbering along in our tears and being a total basket case emotionally. But if you bring your tender heart to the Lord and ask Him to fill it with Himself, His Spirit and perhaps especially with His Word, you may be able to grow into a compassionate, healthy human being, healthy not only in the physical but also in the things of the heart as well as the mind and the spirit. He's promised to give us a "sound mind" (II Timothy 1:7). But another great promise is, "Wait on the Lord, be of good courage, and He shall strengthen your heart." (Psalm 37:34) God bless you and keep you broken, compassionate and full of love for God and your fellow human beings.