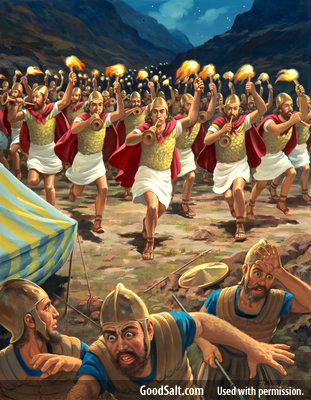 Someone said one time, "If your will power doesn't work, try your "won't" power." Ha! But there's a lot of truth in that. The Bible talks about the stand of faith. An obscure verse that highlights this principle is Judges 7:21, "And they stood, every man in his place, round about the camp, and all the host ran and cried and fled." In this case, the forces of God didn't attack. They just took the stand of faith.
I've definitely had times in my life when I just couldn't seem to take any forward steps. And sometimes this went on a long time. But even if "my gas pedal" just didn't seem to work, I still had "my brakes". And I kept my foot on the brakes. I wasn't going to go back, even if it seemed impossible to go forward. I think this can happen a lot of times to a lot of us. The Bible says, "Having done all, to stand." (Ephesians 6:13)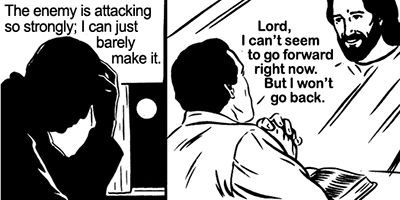 But sometimes the storms get so strong, we're rendered so helpless that all we can do is just hang on. "When the enemy comes in like a flood, the spirit of the Lord will lift up a standard against him." (Isaiah 59:19) And at times all we can do is to take the stand of faith. Our "will" power is seemingly matched by the onslaughts of the enemy or the storms of life. But we still have our "won't" power.
"Resist the Devil and he will flee from you." (James 4:7) "Greater is He that is in you than he that is in the world." (I John 4:4) His Spirit in us will cause us to do the humanly impossible. We can choose, no matter what.
That's one of the things I came away with from the utterly horrific times I went through in the last months and year or so before I came to a knowledge of God. "There has no temptation taken you but such as is common to man, but God is faithful, who will not suffer you to be tempted above that you are able, but will with the temptation also make a way to escape, that you may be able to bear it." (I Corinthians 10:13) When I read that verse for the first time, I was just so very astounded. Because that was exactly what I had experienced, even without salvation earlier.
In my greatest, overwhelming inundations of fear, defeat and death, there was always some tiny sliver of light, some "way of escape", no matter how faint. And through it all, I learned I had a soul. I learned the hard way. "The way of the transgressor is hard" (Proverbs 13:15) and I don't know if it could have been any harder, if I was to survive it. But it was because of my sins and my lack of knowledge of the will and existence of God. He brought me through it but not without the smell of smoke. It took months and years of the cleansing of the Word of God to, in a sense, "rewire me" and to be "renewed in the spirit of my mind." (Ephesians 4:23)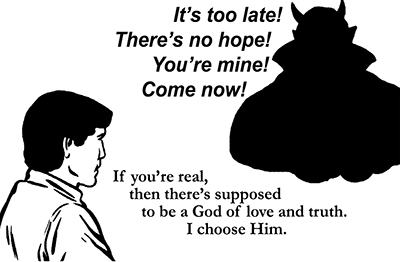 Back in those times, I had no idea really where "forward" was. But the forces of darkness and sin were so strong in my life that if I didn't learn how to use my brakes, if I didn't have forming in me the basics of recognizing evil and repentance of sin, then those things would have fully taken my life before I was 21. But I learned I could resist the enemy and the darkness. I learned I could choose and therefore I was responsible for my decisions. Often they were bad decisions but that's how I learned, at length.
I didn't have the power of God then because I wasn't saved. "As many as received Him, to them He gave  power to become the sons of God, even to them that believe on His name." (John 1:12) That verse encapsulates my salvation experience. I received Him, Jesus. And He gave me the power I didn't have to, not only resist the wrong, but to know what was right.
So don't underestimate the stand of faith. Don't underestimate your "won't power". Just make sure you are exercising it on the enemy and your sins; don't use your "won't power" against the Lord. "If you be willing and obedient, you shall eat the good of the land, but if you refuse and rebel… (things won't go so well)."  (Isaiah 1:19)
PS  And when writing this, I got a little concerned. Because, as much as we all need to understand the stand of faith and how to apply our "brakes", it's perhaps equally or more important to know when to "step on the gas". Faith in God is not just about standing and resisting the darkness; it's perhaps even more about getting moving with, and for, God. More about that in the next post.