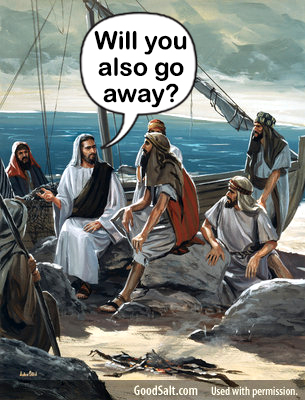 There is an incredible joy in becoming a Christian, I certainly experienced that and continue to experience it. But most of us know that there also can be some serious times of difficulty, challenges and even wrenching heartbreaks that come in our life along the road of faith. One of the heartbreaks that I've experienced a lot in recent years is seeing dear brethren in the Lord who've turned back from their convictions and life of faith they once held and are now no longer believers or who are overcome and defeated with "the affairs of this life." (II Timothy 2:4)
It's a bit of a delicate subject. Jesus said to the self-righteous religionists, "He that is without sin, cast the first stone." (John 8:7) So definitely the idea here isn't to cast stones and condemn those who, for whatever reason, have "cast away their confidence" (Hebrews 10:35) in the Lord, His Word and the life we've been given.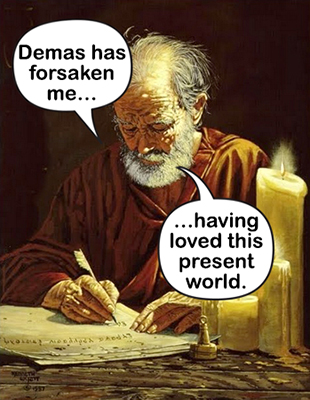 But it is heartbreaking. It's even discouraging to have contact with ones who once were not just believers but soul winners, disciple-makers and missionaries at the ends of the earth who now question the basic tenets of the Bible and have sunk back into the morass of humanity and the mire of the multitude. Paul said in one place, "Demas has forsaken me, having loved this present world." (II Timothy 4:10) Or like it says in the Old Testament, "The children of Ephraim, being armed and carrying bows, turned back in the day of battle." (Psalm 78:9)
It's almost like being in one of those dreams where you see someone in mortal danger and you try to reach out to them or rescue them. But, in your dream, you can't reach them or save them from their plight. I suppose it's similar to what solders experience in the heat of war when a comrade falls at their side. Except this is not exactly the same because it may be closer to what the Bible says about being "wearied and faint in your mind."  (Hebrews 12:3) Or even what happened with John the Baptist and Jesus.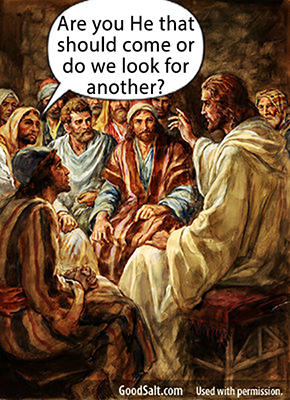 John the Baptist was the herald and forerunner of Jesus, preparing the way before Him. But something must have happened because he later sent his disciples to Jesus to ask, "Are you He that should come, or do we look for another?" (Matthew 11:3) It's hard to read that any other way than that John had really fallen back from his faith in Jesus. So the Lord said to "go show John again those things which you see, the blind see, the lame walk, the dead are raised." (Matthew 11:4 & 5) And then the clincher, "And blessed is he who is not offended in Me." (Matthew 11:6)
Evidently something the Lord did or said must have offended John the Baptist. And in our times as well something can happen that offends us, something we never thought would happen.  "Surely the Lord wouldn't let that happen!" But it did. And we are offended, stumbled and sometimes, if we don't get back to standing on the Rock and trusting Him, it can take us all the way out of our realm of faith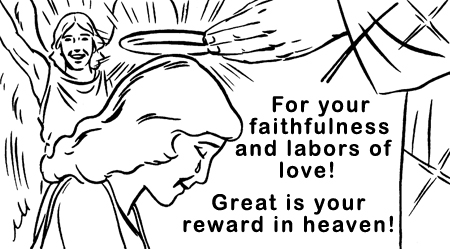 and land us in the outer darkness of unbelief. It happens to a lot of people, maybe you know some. That may be why the Lord said, "Hold fast to what you have that no man take your crown." (Revelation 3:11)
Paul wrote a whole epistle which was around this theme, to the Galatians. "Oh foolish Galatians! Who has bewitched you?" (Galatians 3:1) Some "false brethren" had come to the Galatians after Paul had left them and had sown major doubts and questions about the faith and freedom Paul told them they had in the Lord. Repeatedly in Galatians you can see Paul trying to restore these ones back to the foundation he'd laid for them which had been challenged and attacked by "brethren."  "My little children, of whom I travail in birth again until Christ be formed in you…" (Galatians 4:19)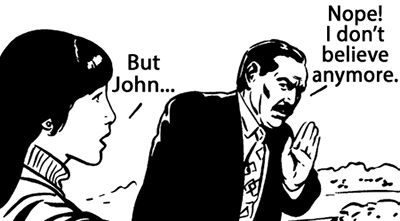 It's an ongoing occupational hazard of being a disciple of the Lord to have ones you love and who stood with you on the battlefronts of the Lord to somehow later turn back from their faith and convictions and to even be used of the enemy at times to try to sow doubt in your mind that has entered theirs.
And I can hear some say, "Well, they just got tired or discouraged". There's a difference between that and turning back on the Lord. I know a lot of people in their 60's who can't carry the physical load they once did but who still are keeping the faith. Some are even witnessing in parks and on the streets, doing what they can, even when their bodies can't do as much as they did before.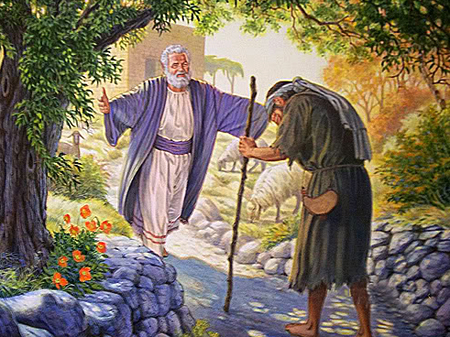 Is there a happy ending to this? I don't know. We can hope and pray that some of these will be like the prodigal son and return to the Father's house and their original calling. But perhaps for all of us, it's good to remember the admonition, "Cast not away your confidence which has great recompense of reward." (Hebrews 10:35) "Now the just shall live by faith, but if any man draws back, my soul shall have no pleasure in him." (Hebrews 10:38)
We all need encouragement and the help and love from fellow brethren. It is a battle and the darkness deepens steeply in our times. My prayer and hope is that each person reading this will keep the faith and continue to be a helper of others in order that we continue to let our lights shine before men as we lift Him up and all will be drawn to the Lord.