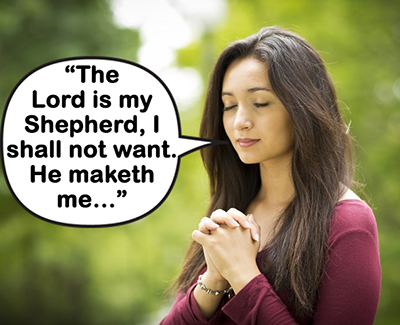 You yourself can become your own worst distraction. You're trying to go to the Lord in prayer and then suddenly you notice that your shoe lace is loose. Then there's a beautiful bird that flies by. And then you're a little hungry. "Oh, wait! I'm supposed to be praying!" Ever had that happen? Is there any solution or hope for this? One thing I turn to is to pray the Word.
Sometimes when I go to prayer, I just start quoting to myself Psalm 23 or, even better, Psalm 27. There's an incredible power in the Word of God. It's like changing channels inside your brain. When you quote the Word to the Lord, or to yourself, or even to the devil, there's so much more power in it. God likes it and honors it when you bring His Word before Him , claiming it, clinging to it and letting it become your thoughts and your heart cry.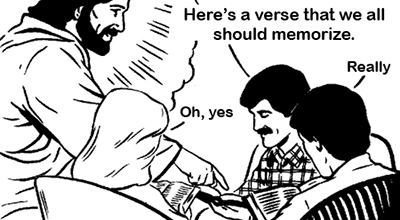 Of course there's one hitch, isn't it? You usually will have had to make an effort to commit portions of Scripture to memory beforehand. And I'm tempted to wax cynical or sarcastic here but I'll just say it plainly: there are virtually no churches anywhere that do anything in the way of seriously admonishing their congregations to memorize the Word. So this integral part of our prayer life is left weak because so few know this principle of praying the Word. And so few really know the Word well enough to claim it and quote it in prayer.
Thoughts like this came to me some minutes ago as I walked back from my morning prayer time that I take in a clearing near where I live. Like everyone has experienced, I had been hit by distractions as I'd been praying and I needed to repeatedly "have rule over my own spirit" (Proverbs 25:28) and "bring every thought into subjection". (II Corinthians 10:5) Thank God for His infinite mercy on us. Because, if we were required each day to pray earnest, distraction-free, focused and long prayers, I don't think many would measure up to that. Therefor, often the Lord has to do things to break our hearts or make us in some way truly feel a strong need for the Lord. And in those times we can usually be a little more focused, a little deeper and more sober about our continuing need for Him.
Jesus said, "Without me you can do nothing." (John 15:5) Nothing good, that's for sure. Paul said, "Not that we are sufficient of ourselves, to think anything as of ourselves, but our sufficiency is of Christ." (II Corinthians 3:5) And this is as true when it comes to prayer as it is in everything else.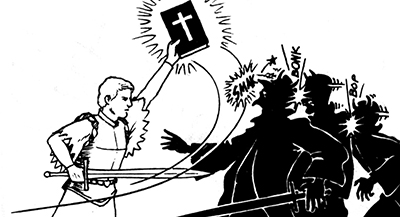 I'll be in prayer and then some idiotic thought tries to take over my mind's eye. So I'll quote to myself, "I hate vain thoughts but Your law do I love." (Psalm 119:113) Or suddenly I'll get a picture in my mind of some foolish worldly thing, it doesn't matter what it is. So, hopefully, I will quote to myself, "I will set no wicked thing before my eyes, I hate the work of them that turn aside, it shall not cleave unto me." (Psalm 101:3) And if I'm fervent and focused enough, I'll go on to quote "I have set the Lord always before my face, because He is at my right hand, I shall not be moved." (Psalm 16:8) Or, another one along the same line of keeping our eyes on Jesus, "Looking unto Jesus, the author and finisher of our faith." (Hebrews 12:2)
Maybe you don't have this kind of struggle. Maybe you glide effortlessly each day into long periods of rich, full, deep, intimate interaction with the Lord. I guess I've had some times like that over the years. But more often than not I've had to make some effort to get through or out of my carnal mind and "the affairs of this life" (IITim. 2:4). And praying the Word, just entering into the Word of God and letting it be my shield and the  words of my mouth in prayer has been a method that's helped me get beyond the trivialities and physicality of this world that's so often with us.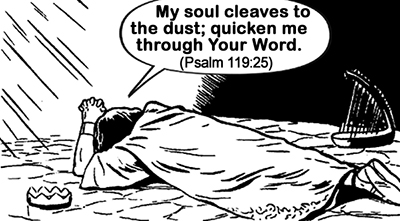 So I suggest you try it, if you're having problems like this. Maybe what I wrote elsewhere about Memorizing God's Word could be a help to you. And, admittedly I've written about this subject before in "Praying the Word". Also I wrote about "Distractions".
But I sort of think that this is a problem a lot of people have. "It's all by grace" but at the same time, we often do have to make some real effort to leave the Egypt of ourselves and enter into the Promised Land of His Spirit in prayer , coming "boldly unto the throne of grace that we may obtain mercy and find grace to help in the time of need". (Hebrews 4:16) If you are feeling weak and struggling in prayer, try stirring yourself up to stronger fervency by quoting the Word in prayer and claiming His promises. God bless you.