Acts 17 is a beautiful and triumphant chapter, showing obedience to the commandment Jesus gave His disciples after His resurrection when He said, "But you shall receive power, after that the Holy Ghost is come upon you. And you shall be witnesses unto me …unto the uttermost parts of the earth." (Acts 1:8)
In our live class on Acts 17, we saw the Apostle Paul as he witnessed both to the Jews and especially to the Greeks of Athens. The audio recording of our Acts 17 live class can be heard here.
We talking about how this chapter shows so much of the character and heart of the Apostle Paul. In the second half of Acts 17, at one point he is witnessing to fully pagan Greeks. Did he tell them they were all worshiping devils and that they'd all burn in hell? No, he didn't. His purpose was to win souls.
But at the beginning of the chapter, when he was witnessing to the Jews, it says in Acts 17:2 & 3 "And Paul, as his manner was, went in unto them, and three Sabbath days reasoned with them out of the scriptures, opening and alleging, that Christ must needs have suffered, and risen again from the dead; and that this Jesus, whom I preach unto you, is Christ."
We talked about how Paul must have used Isaiah 53, the chapter that so clearer foretells the suffering of the Messiah to come. It's one of the most astounding prophecy chapters in the Bible and the one that perhaps encapsulates the life of Jesus, more than any other chapter in the Old Testament.
But, just as happened to Paul in Acts 13, the Jews, "moved with envy" (Acts 17:5), gathered a mob and accused Paul and his friends of "turning the world upside down", "doing contrary to decrees of Caesar". (Acts 17:6 & 7)
If they'd come with religious accusations to the authorities, they wouldn't have listened to them. So they had to try to make it something political. But actually it was religious envy at the core of it all. "The time will come that whoever kills you will think they do God service." (John 16:2)
So this pattern we see here in this chapter is something that had happened before and would happen later in Acts. And it has been repeated in history for centuries when radical discipleship Christians stand up for the Lord and refuse to be cowered by the jealousies and power of the older church which no longer was moving with the white hot fires of the Spirit of God.
We went over that in our class how many denominations have come out of once "on fire" groups of believers. The Church of England came out of the Catholic Church back in the 1500's. John Wesley led the Methodist Revival movement which eventually came out of the Church of England. And England was swept with Christian fervor and revival at the same time as nearby France was suffering the terrors of the French Revolution. Then later, after Methodism began to cool, William Booth led the Salvation Army out of the Methodist 150 years ago.
And of course we paused at Acts 17:11, which says, "These were more noble than those in Thessalonica, in that they received the Word with all readiness of mind, and searched the scriptures daily, whether those things were so". That verse is often remembered and quoted, about the Bereans who didn't just listen to Paul but went back home and checked with Scripture on whether what he'd been telling them was the truth. Just one verse, but it's famous for being how all of us should be in digging into the Scriptures personally to be certain of the truth ourselves.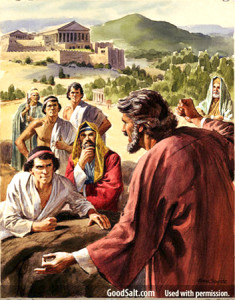 And then we have the beautiful, deep witness that Paul gave to the Athenians on Mars Hill, as he told them about "the unknown god", the Creator. If ever there is a witness to us Christians of someone's love for the lost, even the intellectual lost, this is it. No condemnation, no ranting and talk of the devil, just expounding and explaining to them about something most of them had maybe never heard of, the God of creation.
It's a beautiful and significant chapter, not just as history but an example to us all of how, as Solomon said, "a true witness delivereth souls". (Proverbs 14:25) God help us all to be more like that. The live audio of our Acts 17 class can be heard here. I hope you'll be able to listen to it and that it will be a blessing to you.