When I think of Acts 20, I always think of Paul's last talk and farewell near Ephesus with the ones he loved so much, and who loved him so much. There are many striking, stirring verses in that talk. These were some of the things we discussed and highlighted in our live class on Acts 20. The full audio of the class can be heard here.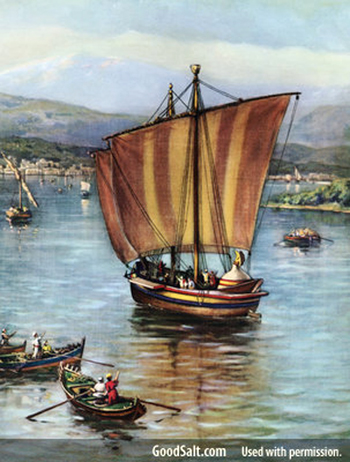 This is all taking place in Paul's third missionary journey. After the uproar at the end of Acts 19, Paul and his company departed for Macedonia and further travels, ending up back at the ancient city of Troy, by that time called Troas. Paul had plans to make it back to Jerusalem before the day of Pentecost so he had some traveling to do. Still, duty called. He and his entourage were in Troas, "ready to depart on the morrow" (Acts 20:7) and it says "he continued his message till midnight." (Acts 20:7)
Back then, without electricity, this wasn't so common at all. But Paul, in his love for his flock and the people of the Lord, kept pouring out his heart and the Lord's teachings to them.
And from reading this chapter, there are a number of things that can raise questions about how it all was and what was the situation at the time. From several verses it says that Paul was "bound in the spirit" (Acts 20:22) to make it to Jerusalem for the feast of Pentecost. But since that word "spirit" there is not capitalized, it raises the question of whether it was actually the Holy Spirit pushing Paul back to Jerusalem. Or was it Paul's love for his own nation and Jewish heritage that was influencing his emotions? More on this in the next class.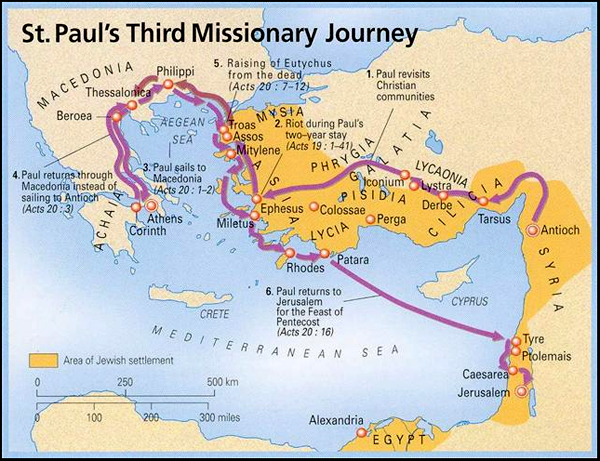 To me the highlight of the chapter is the second half. They had been continuing their journey along the coastline of modern Turkey, on their way back to Jerusalem. And as they neared a town on the coast, Miletus, close to Ephesus, Paul called for the elders of the church in Ephesus that he might have one more talk and class with them.
As you may know, I memorize Bible verses. And I have 3 memorized from this place in Acts 20 because they're so significant. In verse 20, Paul said to the elders, "And how I kept back nothing that was profitable unto you, but have showed you, and have taught you publicly, and from house to house."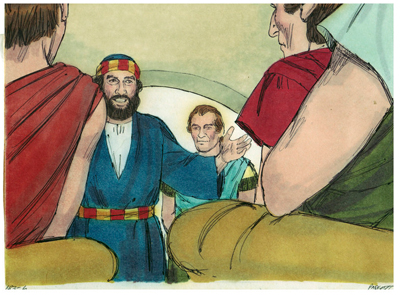 Then in verse 28 he said, "Take heed therefore unto yourselves, and to all the flock, over which the Holy Ghost hath made you overseers, to feed the church of God, which he hath purchased with his own blood." His greatest call and charge to them was the same that Jesus gave to Peter, to feed the flock of God. And that certainly still rings true for all us today, to feed His sheep.
Two other extremely significant verses are Acts 20: 31 and 32: "Therefore watch, and remember, that by the space of three years I ceased not to warn every one night and day with tears. And now, brethren, I commend you to God, and to the word of his grace, which is able to build you up, and to give you an inheritance among all them which are sanctified."
It can get to be a pretty emotional chapter. At the end of the chapter, which is the end of Paul's talk to them, it says in verse 37 "And they all wept sore, and fell on Paul's neck, and kissed him."
This is the kind of Early Church Christianity that moved men's hearts, enveloped their souls and gave them the fullness and abandonment that strengthened many of them to face ultimate martyrdom. In our live class on Acts 20, we looked at more of these verses and how they should still resonate with us and impact our lives for Him and His flock in our day and lives. The full audio class on Acts 20 can be heard here.