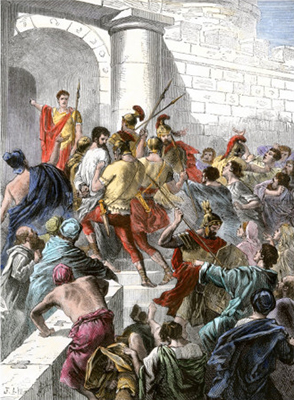 In our class before this, on Acts 21, we saw that this chapter was one of the most pivotal in the life of Paul. From this time, he was never a free man again, at least according to the rule of the Roman Empire. Acts 22 is an immediate continuation of the narrative of the events that began in Acts 21. The live class audio can be heard here.
The chapter begins with Paul addressing his brethren the Jews who had just before this almost torn him limb from limb in the temple compound in Jerusalem. But as he was led away, after being saved from death by the Roman garrison there, he asked if he could be allowed to address the mob from whom he had just been rescued. The leader of the Roman band granted his request and Paul turned to address the crowd, as he had done so many other times in other circumstances.
To me, it is one more example of Paul's ability to "share his testimony", simply to quell the crowd by telling them "this is what happened to me". Everyone loves a story and most people will listen if you tell them what happened to you. This is still a lesson to us all of how to win souls or at least to try to, by sharing what happened to you in your coming to the saving knowledge of a relationship with Jesus.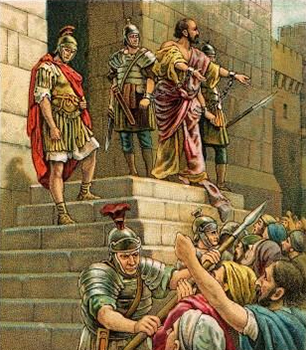 Did they all repent, like what had happened in the same neighborhood many years before, as recorded in Acts 2, 3 and 4? Not at all. That was an earlier time and hearts had very much hardened in Jerusalem towards the people who were by now called Christians.
One of the things we spoke about in our live class on this chapter was how Paul was able to shift from language to language and even culture to culture and this was a great advantage to him in his calling as a missionary. In this particular situation in Jerusalem, it may have helped save his neck as he was able to speak to the Roman centurion that was overseeing his arrest and his protection from the Jews and then to immediately shift into speaking Hebrew as he addressed the crowd.
It's another example of something that's always spoken to me from I Corinthians 9 when Paul said, "To the Jew I became as a Jew and to the Greek as a Greek. I am become all things to all men, that I might by all means win some". (I Corinthians 9:20-22) We can learn from this to be adaptable from one culture or society to the other in order to be understandable to all people and to share the love of God with them.
Another subject we talked about in our live class was how Paul was told he was to be a witness. (Acts 9:15) We talked about how that's seldom emphasized in most churches and how so many Christians don't know how to witness or how important it is. We talked about how the Bible says that the endtime church, before the coming of the Lord, will be a witnessing church. (Daniel 12:3). We also talked about Ezekiel 3:17-19 and "delivering our souls". Paul said "I am clean from their blood" (Acts 18:6) So he knew he had a responsibility to delivery his soul as a witness.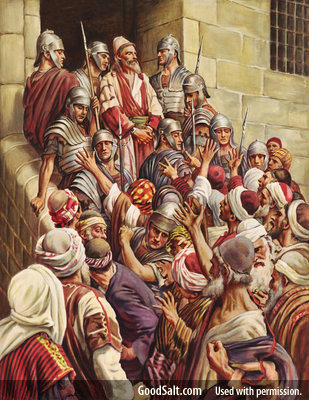 And we had a lively discussion about what Paul tells us in this chapter when he literally argued with the Lord when he was in Jerusalem. The Lord told Paul to "get quickly out of Jerusalem" (Acts 22:18), that the Jews would not listen or hear his testimony.
But Paul talked back to the Lord and disagreed with Him. The question came up, was this something that happened in Acts 9 or had it just happened right then when Paul had come back to Jerusalem when the Lord had been telling him not to go back there? If it had happened years before, why was Paul then going back there again, even as the Holy Spirit had been admonishing him not to? One way or the other, something certainly seemed amiss. And the normally ultra-obedient Paul we find in conflict with the Lord who appeared to him and commanded him to quickly leave Jerusalem and go "far hence to the Gentiles". (Acts 22:21)
I feel these two chapters, Acts 21 and 22, are some of the most significant and poignant ones in the New Testament. Our beloved Paul, who probably did more to further the cause of Christ than any other disciple who ever lived, is taken captive and it appears as if some disobedience of his at least in part is a factor in it all. These are very emotional chapters for me and our live class on the subject was a reflection of the feelings that come from reading about these events, as well as the seriousness of the lessons that are there to be learned. I hope you'll be fed by the things we discussed; the live class audio can be heard here. God bless you.