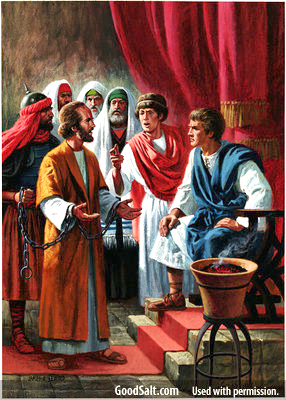 As we've done at other times in our book of Acts classes, we started out by going over the last verse in the chapter before, chapter 24, and again zeroed in on where Paul "reasoned with him" (Acts 24:25). That's actually a really good verse about sharing our faith with others. Paul didn't start berating and condemning him but he "reasoned with him". The full audio class on Acts 25 can be heard here.
And we got off into a rollicking discussion at the beginning about witnessing and someone mentioned "the Roman road", a phrase used to describe the use of verses in the book of Romans which can be used to explain to people how the Bible says "All have sinned and come short of the glory of God" (Romans 3:23). And subsequent verses show "The wages of sin is death but the gift of God is eternal life through Jesus Christ our Lord." (Romans 6:23) These are verses that were shown to me on the day I received Jesus as my Savoir.
Even that phrase right there, "receiving Jesus", is directly from Scripture, one of my favorite verses. "But as many as received Him, to them gave He power to become sons of God, even to them that believe on His name." (John 1:12) That's what I did, I received Jesus.
Well, this is quickly developing into a basic salvation class and a witnessing class but we all need plenty of those. Going along with John 1:12 that I just quoted is the super famous verse from Revelation 3:20,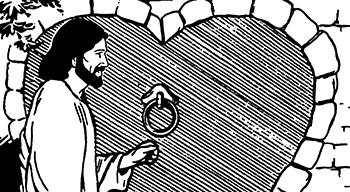 "Behold I stand at the door and knock" [this is Jesus speaking about His standing at the door of your heart.] If any man hears My voice and opens the door, I will come into him and will sup with him and he with Me." Simple salvation. And sometimes you have to "reason" with people, as Paul did here at the end of Acts 24
And we talked about how even the word "sin" and the concept of sin in our world today is virtually a lost word in almost every segment of society except perhaps some churches. We related that to how things are actually in our world today and how Jesus said, "If the light that be in you be darkness, how great is that darkness" (Matthew 6:23). Regardless of the technical advancements we've experienced, if a society no longer retains the light of God's Word, then there's an immense darkness upon it.
Actually, we had a little difficulty getting this class started because we just kept getting deeper on some of these first subjects. We even got into where there are things you can find on line that will tell us that the Apostle Paul led people away from God because Paul didn't exalt and stay submitted to the Torah, the ancient laws given to Moses.
But did only Paul do that? What about when this all came up in Acts 15? The Apostle Peter settled the argument of that time when he said,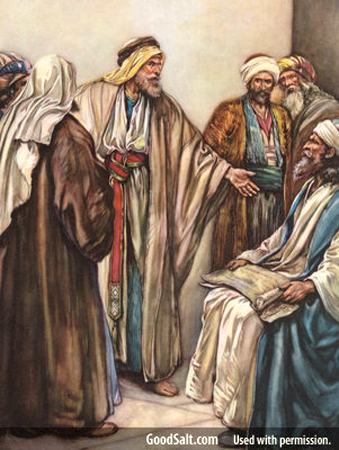 "Why do you tempt God to put a yoke upon the neck of the disciples that neither we nor our fathers were able to bear? [He's speaking here to his Jewish Christian brethren in Jerusalem about the Mosaic Law and he went on to say…] But we believe that through the grace of our Lord Jesus Christ we shall be saved, even as they." (Acts 15:10 & 11)
We talked about the importance of Paul and how it seems he had a better grasp and understanding of what Jesus did and had done, and the vast significance of it all. It's been said that without Paul and his writings, quite possibly the early Christian movement would have ended up faltering, being absorbed back into Judaism and would have just been another branch of it, like the Sadducees, the Pharisees and the Essenes. And someone in the class rightly mentioned that it all wasn't really Paul but the power of the Holy Spirit which used Paul. Absolutely. But believe it or not, there are websites that say Paul was a false apostle that led away Christianity from the laws of Moses. Whew!
And then we finally got going into the chapter. The new governor, Festus, after two years, heard Paul again at the judgment seat. But something new happened. "Willing to please the Jews…" (Acts 25:9), Festus asked Paul if he would be willing to go back to Jerusalem and to be judged there by Festus. And undoubtedly Paul knew what would await him in Jerusalem or even along the road there, as 40 of his enemies had sworn to kill him a few years earlier.
So Paul told Festus, "I stand before Caesar's judgment. To the Jews I have done nothing, as you know." And then the big thing, Paul said, "I appeal to Caesar." To which Festus said, "Have you appealed to Caesar? Unto Caesar you shall go." (Acts 25:12)
It's amazing the twists and turns of all this. Some days later, the next level up in the hierarchy of the Romans, King Agrippa and his wife Bernice came to Caesarea and Felix explained Paul's cause to them.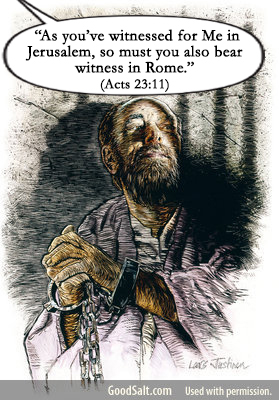 And we could almost think like that Paul made a mistake or God made a mistake. Because Agrippa and Bernice wanted to let Paul go. But he'd already appealed to Caesar. However, like Romans 8:28 says, "All things work together for good to them that love the Lord."
And the Lord had already told Paul back in chapter 23, "As you have witnessed for Me in Jerusalem, so shall you witness for Me in Rome." So it was another rousing, at times debate-filled Bible class we had on the Book of Acts. The recording of the class can be heard here.