At the beginning of our live class on Acts 26, we were looking at the chapter before when Paul had to think and pray fast when he was asked if he wanted to go to Jerusalem and be judged there. Paul knew with virtual certainty that he'd be killed along the way if he went back to Jerusalem. So, to get out of that desperate situation, he said, "I appeal to Caesar" (Acts 25:11), rather like ones nowadays can appeal to the highest presiding court. And since he was a Roman citizen, he had the right to appeal to Caesar in Rome.The live class audio on Acts 26 can be heard here.
And we talked about destiny and how some things just are evidently "ordained". This was in relation to how the prophet Agabus had told Paul much earlier, in warning him not to go to Jerusalem, that he would be delivered to the gentiles.
So I told a testimony about a time years ago when I was in Romania and how destiny seemed to get involved in my life. I was single and was getting close to a Romanian Christian sister. I liked her, she liked me, everyone was telling me how great this was and things seemed to really be moving a direction.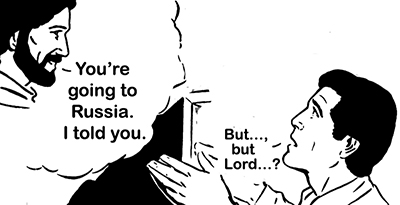 But then, when I checked in with the Lord about it, He kind of startlingly reminded me that He'd already told me a year or two before that I was going to go to Russia. I'll admit this wasn't what I wanted to hear from the Lord. At the time I had no "burden" for Russia, I didn't see anything I could do there and there were other factors that made it so that I just really was peeved that the Lord was not going along with this really good thing that was happening right then in Romania.
But as it worked out, circumstances change and as I was leaving Romania unexpectedly, I had the first of two dreams in which the Romanian Christian sister I was close to had two sons who were not by me. Sure 'nuf, not long after I left the country, she fell in love with a guy I knew there and… they had two sons! And around 2 years later circumstances changed again so that I was invited to Moscow. I spent one of the toughest years of my life in that city, but also one of the most fruitful. "Known unto God are all His works from the beginning of the world." (Acts 15:18) Some things at least seem to be foreknown and planned by God.
Back to the book of Acts. We talked about how King Agrippa was much more knowledgeable of Jewish affairs, his wife being Jewish and he being brought up in Israel. And this is all like Jesus had said years earlier.
"You shall be brought before governors and kings for My sake, for a testimony against them and the gentiles. But when they deliver you up, take no thought how or what you shall speak for it shall be given you in that hour what you shall speak, for it is not you that speak but the Spirit of your Father which speaks in you."(Matthew 10:18-20)
Here was a perfect example and fulfillment of those words of Jesus.
So Agrippa said to Paul, "You are permitted to speak for yourself" (Acts 26:1). It was a private council, it sounds like his accusers from Jerusalem where not there. And Paul told Agrippa that his accusers actually knew him well, because he came from the Jewish Pharisee hierarchy. He went on to say, as he had said at other times, that he was being accused and judged "for the hope of the promise God made to our fathers." (Acts 26:6)
And in verse 8 Paul asks Agrippa, "Why should it be thought an incredible thing to you that God should raise the dead?" (Acts 26:8) For the Greeks and Romans, raising the dead was a new and strange idea. But for Agrippa, who knew Jewish customs and history, he would know that this was found within the history of the Jews. Paul ends up giving his testimony to Agrippa so that it is much the same story as what we read in Acts 9 where Paul's conversion is recorded
And this chapter actually includes the words Jesus spoke to Paul in his encounter on the road to Damascus years before. Here's a famous ringing part of Jesus' charge to Paul, what Paul was to do with his life from them on.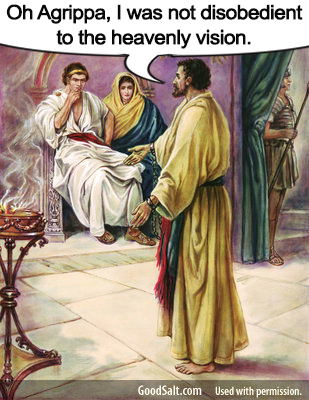 Jesus told Paul that He was sending him to the Gentiles, "…to open their eyes, and to turn them from darkness to light, and from the power of Satan unto God, that they may receive forgiveness of sins, and inheritance among them which are sanctified by faith that is in Me." (Acts 26:18) What a charge of God that man had on his life.
Then Paul next said, "Whereupon, O king Agrippa, I was not disobedient unto the heavenly vision."  (Acts 26:19) God help us all to be able to say that in our own hearts with a clean conscience.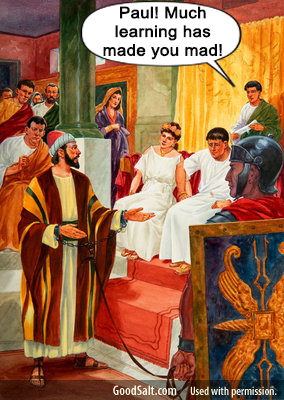 And it's a fascinating sequence of events because, after Paul has shared these things that had happened to him, Festus, not Agrippa, blurts out. "Paul, you are beside yourself! Much learning has made you mad!"  (Acts 26:24) Those are some nice old English terms from the King James Bible. But in our times, he would have just said, "Paul, you've gone crazy!"
So it's pretty amazing. Paul had boldness but he also had humility. When Festus said that, Paul didn't back down but neither did he get provoked. He "stuck to his guns" but with humility. What a lesson for us all. It's another great chapter from the book of Acts, full of the jewels found in His Word. The live class audio on Acts 26 can be heard here.