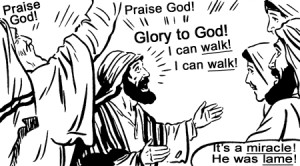 Here's the third posting on the live classes I'm doing here with friends on the book of Acts. I really look forward to this time each week. [The audio of the live class on Acts 3 can be heard here.] There's just such a satisfaction in being together with like-minded brethren and really getting in the Word with them. It's one of the high points of my week.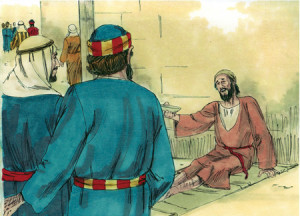 In this class, we not only read Acts 3 but went some ways into Acts 4. Actually, in the continuity of the story line, Acts 3 and Acts 4 are part of the same narrative. All the apostles are still there in Jerusalem, involved in the follow-up of the huge reaping of souls from the pouring out of the Holy Spirit on the day of Pentecost. In Acts 2, three thousand souls came to the Lord and the early church at that time. Then at the beginning of Acts 3, Peter and John were going up to the Temple and a lame man asked alms of them, as beggars do everywhere.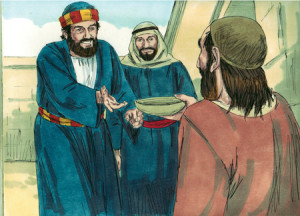 Perhaps the most famous verse in the chapter is Peter's reply to the man, "Silver and gold have I none. But such as I have I give to you. In the name of Jesus Christ of Nazareth rise up and walk." (Acts 3:6) And he did. In fact the Bible says he "went walking and leaping and praising God." (Acts 3:8)
It didn't end there. A huge crowd quickly gathered. So Peter again, like in Acts 2, spoke to the crowd and told them (as he had in Acts two) that this healing of the lame man was not done by their power but by the power of Jesus Christ, who had been slain there in Jerusalem just a few weeks or a few months before then.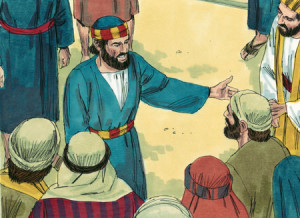 Well, this is all in the class we had and again I was able to record it for those who want to hear it. The audio recording can be heard here. It's also possible to download the file from the site and evidently some are doing that.
But just to summarize the rest of Acts 3, Peter's preaching again really had huge results. We don't hear about it till the beginning of Acts 4 but "many of them which heard the word believed; and the number of the men was about five thousand." (Acts 4:4) And by this time the commotion had aroused the attention of the religious authorizes. We read at the beginning of Acts 4 that the Sadducees had Peter and John arrested by the Temple guard and they were put in custody till the next day.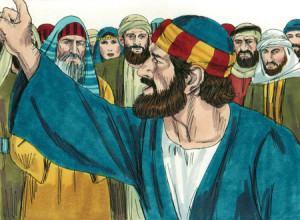 One of the things I mentioned in the live class is how amazing this whole episode must have been to those who experienced it. The lame man, who was over 40 years old, probably had heard of Jesus before since He was extremely well known to the people of Jerusalem before His Crucifixion. Could that lame man have hoped to meet Jesus all during that time but have felt that, now that He was dead (as most folks figured), then it was too late for him to receive healing? Maybe that all figured into that moment when he received healing through Peter and John? What was the atmosphere like in Jerusalem during those 24 hours or so when so many lives were changed forever? What was it like to hear Peter and John come back and explain to all the believers their experiences, after they'd been released by the religious authorities? The Bible tells us so much that is essential. But there's so much to think about how it all must have been for those there and how the Holy Spirit was working so mightily on so many during that time.
God loved those people so much. The Bible says, "to the Jew first".(Romans 1:16). And since God in His providence knew that in the lifetime of many of those people, Jerusalem was to be conquered and destroy again in less than 40 years from that time, His Spirit must have yearned and plead in the hearts of each one of those people who knew His Word so well that they would receive the Good News of the resurrection of Jesus and the complete change of heart and life that was available to each of them through faith in His Name.
The live class on Acts 3 and the first part of Acts 4 has been edited down to around 50 minutes. If this is something that you are interested in, I hope you'll have time to listen to it. I know that for many nowadays, it's difficult to find Christian fellowship that's anything more than a light ceremonial hour on Sunday with people you don't know and in a place where you come away still spiritually hungry and unfulfilled. So many are looking for something more, something deeper, something more total and complete. My hope is that these audio classes will provide some view into God's Word and a feeling of a small group of believers gathered at His feet which will be a blessing and fulfillment those who are looking for more from Him at this time.