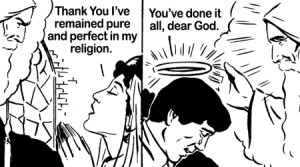 Sometimes it just strikes, you: the difference between the ways of God and the ways of Man. In Isaiah are the famous verses where the Lord says, "For My thoughts are not your thoughts, neither are your ways My ways. For as the heavens are higher than the earth, so are My ways higher than your ways and My thoughts than your thoughts." (Isiah 55:8 & 9)
So it's easy to think this could mean, "Sure, God is way up there in heaven and we are just here on earth, pretty distant from Him." But it's much more than that. It says that His ways are not our ways. What are His ways?
Well, for one, humility. Let's be honest, who wants to be humble? It's a rare bird indeed who is humble and is honored and acclaimed in this world. Pride rules in our world. Pride is the coinage of the realm, the language that is spoken everywhere. But not with God. "God resists the proud, but gives grace to the humble." (I Peter 5:5) And the Bible is just full of that kind of admonition, from cover to cover. I heard a challenge one time; someone said, "You can't find one single verse in the Bible that promotes pride." I've never found one.
But Mark, everyone is proud! What's wrong with pride?! Does God want us to just walk around with our tail between our legs and a "pardon-me-for-living" attitude?
Nope. But I can guarantee you that He doesn't want us to be proud. King Nebuchadnezzar of ancient Babylon, who ended up having a marvelous change in his life after being an extremely proud man, said at the end of the chapter in the Bible which he wrote, "They that walk in pride He [God] is able to abase." (Daniel 4:32)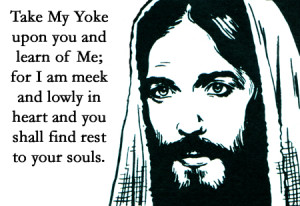 Jesus said of Himself, "Take My yoke upon you and learn of Me for I am meek and lowly in heart and you shall find rest to your souls." (Matthew 11:29) If ever a person could be considered worthy to be proud, it was Jesus. But He wasn't.
It even says of Moses in the Old Testament, "Now the man Moses was very meek, above all men on the face of the earth." (Numbers 12:3) And it seems this is the kind of person that God chooses to dwell with. In fact the Bible says so. In Isaiah 57:15 the Lord says, "I dwell in the high and holy place, with those of a humble and contrite spirit, to revive the spirit of the humble, and to revive the heart of the contrite ones."

A few years back, here in America, it was very common to see bumper stickers on cars that said, "The power of pride". I just couldn't believe people would actually place that on their cars. It's the very opposite of the Will and Word of God.
But you could say,
Alright, alright, I see that God resists the proud and wants us to be humble. But Mark, I'm just naturally proud. It's my nature. Like the old cowboy song, "I'm proud 'bout everything." So what can I do about it? I'm just born that way!
What can you do about it? First, like all of us have had to do, you can acknowledge that it's not the way God wants us to be. It's like having weeds in your garden. You may have them; but you can still recognize them as weeds and go about making an effort to get rid of them.
Here's an obscure verse I read this morning that prompted my writing this. It's really a good one, a real lesson to us all. "Seek ye the Lord, all you meek of the earth, who have worked His judgment. Seek righteousness, seek meekness. It may be that you shall be hid in the day of the Lord's anger." (Zephaniah 2:3) It says we are to seek meekness. If you are proud (and who isn't?), we can at least acknowledge to ourselves that we have a problem with that and we can begin to make efforts towards seeking meekness. If you recognize you have a problem with pride, that really is a good start! Most people don't even see that as a problem. But in God's eyes it is, a big one.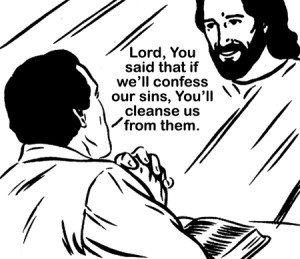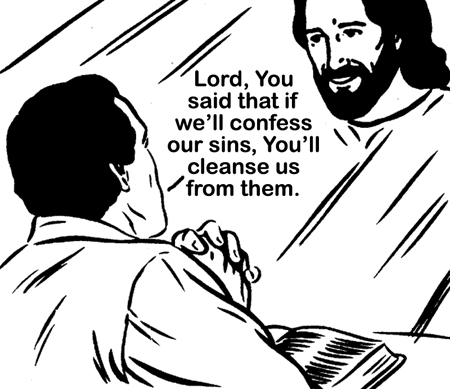 One time the Lord exposed a problem in my life that was so big and seemingly impossible to overcome and change in that I really had no faith or strength to fight it. I knew it was there but I felt doomed by my sin. But the Lord gave me the verse, "If we confess our sins, He is faithful and just to forgive us our sins and to cleanse us from all unrighteousness." (I John 1:9) That was exactly what I needed to hear. It was like a deal or contract. The Lord was saying that if I would confess it, He would cleanse it. So I did, actually many times. And as time went on, I slowly got healed or at least better in the huge area I was having trouble with.
If you're having problems with pride, first acknowledge that it is not the ways of God. Like that verse says, you can even confess it to the Lord and ask Him to begin to cleanse you of it. And keep that mindset, the one that seeks meekness and is repulsed by pride. That's the path of life and the direction in which the Lord dwells. He dwells with the meek and lowly. His ways are ways of meekness, humility and love.