This morning I found a verse that I've never noticed before but which really resonates for our times. It's about "the promised land". Specifically it refers to events from over 3000 years ago but its significance to us Christians today couldn't be more important. No, this won't be about Jewish settlements in the West Bank but about our own "Promised Land" of God's will and destiny for His children which so many do not fully possess. From Judges 18:9 & 10. "Arise…for we have seen the land, and behold, it is very good; and you are still? Be not slothful to go, and enter to possess the land: for God has given it into your hands; a place where there is no want of anything that is in the earth."
What really shocked me when I read this was realizing that this isn't from the time of Joshua, the battle of Jericho and those events surrounding the original entrance of the Israelites into the land they'd been called to take. This verse is from hundreds of years later! They'd already entered the  land but only partially before running out of steam and settling down to enjoy what they had.
All of this of course is exceedingly rich in symbolism and meaning. They entered the promised land "by faith", just as we are to receive and believe for all that God has given us through the mighty saving grace of our dear Lord Jesus. We have entered into the true "Promised Land" of eternal life and blessings through Him. But, but… like God's people of old, so very many of us have not fully possessed the land.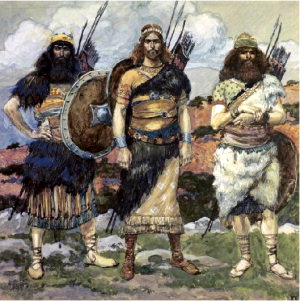 Did you know that over 300 years after the Jews conquered the land, that what we now call Jerusalem was still inhabited by the Canaanites? David and his men climbed the mountains surrounding the city and routed the inhabitants, establishing Jerusalem as the new center and capital of ancient Israel. But that was centuries after the time of Joshua and the original conquering of the land.
They had to go further. David and his followers had to take the original commandments of God to a new level of obedience, hundreds of years after God had first spoken His Word on the mater. Why? Because our evil human nature of sloth,  disobedience, of being satisfied with a little, rather than all God has promised got the best of the people back then. So there were still giants in the land.
They had entered the promised land but they had not scaled the heights.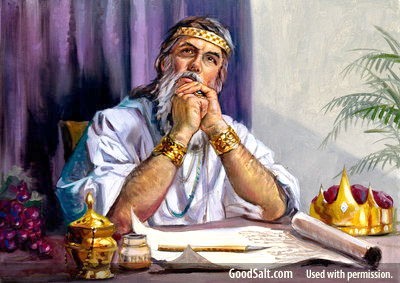 And of course we know that David not only scaled the heights and took the capital city physically, he did this spiritually as well. David probably went further than any other man in the Old Testament in really loving the Lord and, even as the sinner he was, in doing all he could to obey the Lord. It was David's love for the Lord and obedience that catapulted Israel into the richest era in its history, not only physically in the coming kingdom of Solomon but spiritually in the lifetime of David and the treasures of spiritual riches he shared with his generation and all generations after that in the Psalms.
But what about us? How many Christians today will say with Caleb of old, "I'll take the mountain"? In his 80's Caleb, Joshua's brother, led his tribe up the mountain to take the promised land. The question remains for so much of Christianity today, "…and you are still?"
The truth is that the unconquered parts of the promised land came back to haunt and attack God's partially obedient children of old. And it's certainly still the same today. Christians who've gone as far as they want to go, who've settled down in the valleys of God's Spirit, unwilling to drive out the darkened mountainous areas of their lives where God's Spirit would lead them to victory, often find themselves to be in a weakened, defeated condition, not able to resist when the enemy launches a new attack. Because they themselves stopped attacking long ago. They didn't really fully enter the promised land of God's Spirit. They quit too soon, before the battle was fully won.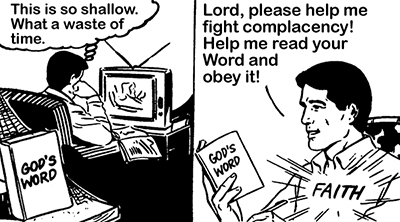 The Bible says that "…in whatsoever state we are in to be content." (Philipians 4:11) Well, I can tell you, there are certainly times to not be content. If "contentment" is actually self-satisfaction and lethargy when God is commanding and urging us on to greater obedience and greater spiritual victories, then "contentment" is not called for. Someone has wisely said, "Be content enough to be happy and discontent enough to want progress"
It comes back to discipleship and obedience. The Early Church was one of the best examples in history of about as close as we can find to ones who were really trying to obey fully. They claimed the spiritual promised land and prospered mightily in the first few generations of Christianity.
But today? So very many believers are "sitting at ease in Zion" (Amos 6:1). Maybe that's why we'll need to go through the "great tribulation" (Matthew 24:21) before the coming of the Lord. So often it takes suffering and tribulation to awaken His bride from her slumber. And we find this in His Word about the final days before His return, "…and some of them of understanding shall fall, to try them and to purge and to make them white, even unto the time of the end, for it is yet for a time appointed." (Daniel 11:35)