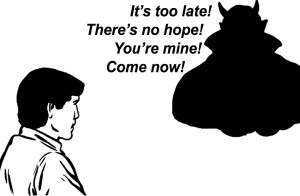 The first experience I had with an angel is one I probably won't relate right here and now. It was the most traumatic and basically indescribable. Sadly but righteously, it was with Lucifer. He came to claim me, as was his right at that point in my life. I won't relate it all here as it is not easy to describe or explain but I'll try to do that sometime in a post or a video.
But that experience when I was 20 was I suppose the pinnacle experience of my life. The Bible talks about "some saved by fire" (Jude 23), that is certainly true with me. Or like Jesus said of Thomas, "Thomas, because you have seen me, you have believed." (John 20:29) A lot of things are not as much "by faith" for me because the Lord somehow let me see things so I sometimes feel like Thomas in the Bible. Some people in life-after-death experiences have an angel of God come and take them to heaven. It is such an incredibly wonderful experience that often they really don't even want to come back to this world. In my case it was the opposite. But more about that at another time.
Fundamentally, categorically, absolutely that changed my life. At that moment when I struggled with every iota of soul and spirit I had within me just to not be taken from my body, I said in my mind, "If this is real, then there's supposed to be the opposite of this. There is supposed to be a God of Love, a God of Truth and Light." So I "prayed" at that moment to the God of the Bible to help me not die right then. I put "prayed" in quotation marks there because we so often think of prayer as a subdued religious ceremony, with our eyes closed and our hands folded. My prayer back then was from the deepest place of my existence, with every ounce of meaning I had in me.
I didn't die and go with the devil to hell then. I couldn't sleep for 3 days because I didn't have the faith to sleep. I didn't know what would happen to me if I went to sleep. But gradually, very gradually some sense of normalcy came back to my life. But it had changed, utterly. Paul, speaking of how God delivers people from Satan said "Who has delivered us from the power of darkness, and has translated us into the Kingdom of His dear Son." (Colossians 1:13)
For me, I wasn't even there yet. I heard someone say one time about great sculptors, when they're going to make a statue, the first just start off with a big chunk of rock. Whack! They knock off one big piece. Whack! There goes another chunk. For me, it took quite a few whacks before I was even ready to become a Christian. First and biggest was just getting me to understand that there is a real, true, spiritual world. Seeing Satan and being drawn out of your body by him for your eternal damnation will do a lot to destroy your unbelief.
But there were other angels. And I think I'm going to try to make some kind of rating system for all this. Angels are not always, not even usually, 10 feet tall with white robes and big wings. I've never seen one of those. And some things are supernatural but you don't see the angels involved although you know they must be there.
Here's one like that. This event with Lucifer took place in a tiny efficiency apartment near the University of Texas campus. It was so traumatic and all consuming that I remained in something of a condition or state for a few days where the spiritual world was closer to being my real world than this physically one we all usually consider "the real world".
But a somewhat lesser or minor thing that happened at that time was that one evening, probably 2 days after these huge events, I was in my bathroom. And it filled up with maybe 100 tiny white moths or butterflies. They were very benign and non threatening and I remember at that time that they seemed like angels or that perhaps God had allowed this to happen in the physical to represent what had happened in the spiritual. It says of Jesus, "Then the devil departed from Him and angels came and ministered to Him." (Matthew 4:11) I didn't know that verse as I didn't know any verse in the Bible at that time. But I felt all those little white fluttering insects were symbolic of angels who'd come to be with me after I'd turned from my evil ways and had chosen the God of Abraham rather than the devil.
Bottom line for this first story: it was definitely an angel, just the wrong kind and the wrong one. He'd been allowed by God to come and claim my soul after I'd gone so far away from the truth and the light. As for the little white moths or butterflies, they weren't angels. But God allowed them there right then to be a symbolic sign of the beginning of my altered spiritual condition.