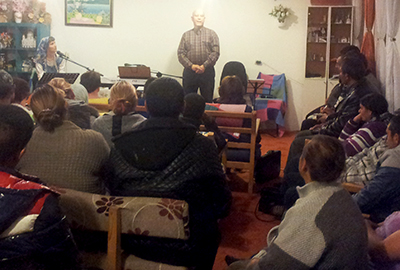 I've been spending Christmas with the friends in southern Bulgaria that I visited for the first time back in March. I've been doing recordings in Bulgarian but also speaking in their church nearly every night. One of the "dilemmas" for me is knowing what to say.
I just don't want to get up there and start blabbering away in my own thoughts. What would that help? So I usually have to get desperate in prayer beforehand to get some leading from the Lord as to what He'd want me to share.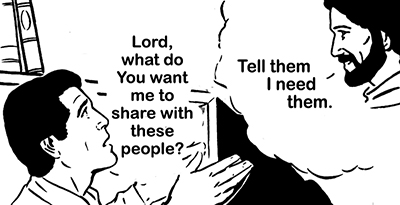 I wrote about this happening back in March where I just didn't want to speak without knowing it was what He wanted and they needed. I ended up on my knees, really asking the Lord what to share with them. And it was amazing; I went over to my computer and wrote down virtually a message from the Lord to share that evening. I wrote about this experience in "God Needs You".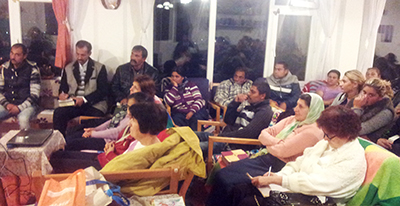 But that was then; this is now. Being back here again, I was again faced with this need to get my directions from the Lord in order to make the most of these opportunities. The first night I'd been praying about what to say but I felt I hadn't really gotten anything from the Lord.
So I went downstairs before the meeting, not really expecting to say anything. But then I started talking to the 16 year old guy who is the Bulgarian voice for the videos and to his 12 year old sister. I was asking her about her life, what her hobbies are and things like that. At one point she said that she doesn't run around very much but mostly enjoys doing her homework and then going to church here nearly every night. I thought that sounded pretty good and a lot better than most kids do nowadays.
Then the church started filling up and lots of people were bringing their kids. And I felt then that the Lord was leading me to talk about children being a mission field in themselves. I told them how my grandmother had such an effect on me and that just pouring out the love of God and the truth of His Word to their kids and grandkids could be one of the greatest things they could do.
Most of the ones here are never going to go to some foreign field. But their kids and grandkids are some of the ones they can minister to. I never thought of that kind of thing to say and it's not the what I usually share but that became my "message" last night.
Another night there was a large crowd as some ones from the surrounding villages came. Again I was sitting there, with them expecting me to speak in the next few minutes and I didn't know what I was going to say. I'm not recommending this as the best way to go about things but the Lord can and does come through. He said, "it shall be given you in that hour what you shall speak for it is not you that speak but the Spirit of your Father that speaks in you." (Matthew 10:19 &20) Boy, I've sure claimed that verse a lot. And He does it.
So by the time I stood up to speak, I'd come to feel that I should just share my testimony and also some of the basics and fundamentals of our faith. I told them about what I wrote about in "Lucifer and the White Moths", how I nearly died and was carried away by the devil except for the mercy of God. And I went on to share how I was witnessed to 7 months later by "Jesus people" who shared the salvation message with me. It was a good time to go over verses like Ephesians 2:8 & 9, Romans 6:23 and one of my favorites, John 1:12. We went on to talk about the need for the baptism of the Holy Spirit and the importance of God's Word, all just basic things that are often good to go over again in order to strengthen people in their faith.
Another night was really different. My friends and I went to a nearby, predominately Muslim village where there is a tiny church that actually meets in someone's kitchen. I'd been there in March and it was great to see them again. But over half the ones there were 12 or younger and the rest were mommies or grandmas. Again, really looking to the Lord, He led me to tell them the story of Daniel from the Bible and how he told the king's dream in Daniel 2. This is just what we had been working on earlier, doing the audio tract of the video that I've done on this chapter over into Bulgarian.
I really had to ham it up for the kids, in order to get their attention. We acted out the whole thing in an impromptu drama of Nebuchadnezzar and Daniel in the king's court and then the statue and the stone striking it. Even with all the effects, not all of the kids paid attention but the majority did, as well as the adults. So it was an inspiring evening where we all just got lost in the excitement and significance of God's Word and how God can use even children and young teenagers who turn their lives over to the Lord. And I was thrilled that the Holy Spirit continues to provide the inspiration to feed His sheep in these unusual circumstances.