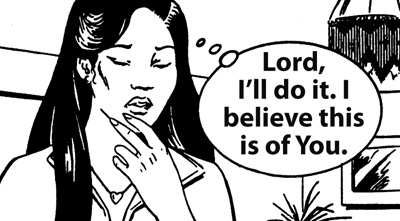 Life is full of decisions. And it actually happens that those decisions, sometimes very major ones, can come down to a brief moment when some opportunity presents itself and you have to make that decision, right then, not later. It can be in a romance, it can be in your career, it can be in sports or business. You don't always have time to weigh up every factor and slowly consider all the options. You just have that moment, that second, and you have to decide. And it may affect the rest of your life.
Jesus said one time, "What man, with an army of 10,000, going against an army of 20,000, doesn't sit down first and count the cost whether he has sufficient to finish it?" (Luke 14:31) Absolutely true, the Lord said it.
But also sometimes you're already in battle, things are moving and fluid and it's not a situation where you can really pause, draw back to think it all over and pull in your councilors. Sometimes the battle's on, the chips are down, your whole life and all you've fought and lived for is at stake.
This type of thing almost certainly happens to every individual. Certainly not every day but there are moments when you have to go totally by your "gut", your instincts, and if you're a Christian, by the "still small voice" (I Kings 19:21) and the leading of the Lord.
Sometimes we bite off more than we can chew. I have a tendency to do that. The Good Samaritan, did he bite off more than he could chew?
Probably he was busy like the other guys. Maybe those other ones just felt they had so much on their plate, maybe that fellow on the side of the road wasn't even hurt anyway. He was faking it.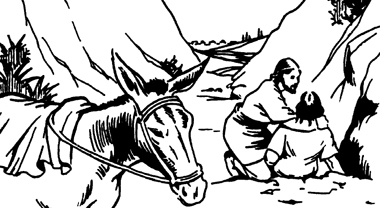 Or there were accomplices hiding in the rocks that would jump anyone who stopped to help. It just wasn't really wise to stop. Why should they? It was probably his fault. He got himself into that mess in the first place, right?
But the Good Samaritan, he stopped. Did it take him 15 minutes to decide? Did he phone 9-1-1 or take some photos first? Nope; he just decided on the spot that someone needed help and he was going to do it. He was going to take whatever time and resources were needed to help that guy.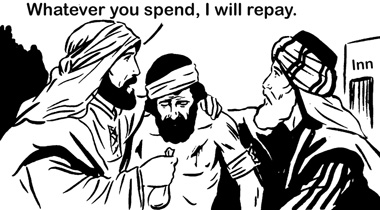 Was that rational? Was that really economical? Was it even foolhardy? But he made that split second decision. Probably in history somewhere there was actually someone who was the Good Samaritan. Jesus wasn't just making up fairly tales.
For me, sometimes I just have to make a decision to go ahead and "bite", and worry about "chewing" later. If I know it's something the Lord wants me to do, I need to just do it. I shouldn't spend much time wondering if I'll be able to follow through on what I'm committing to, if I'll be able to consolidate what I'm undertaking.
So sometimes I do things that are approaching irrationality. But I've found that the Lord has most of the time made it so that I've been able to follow through with what I've taken on as a commitment, sometimes on the spur of the moment.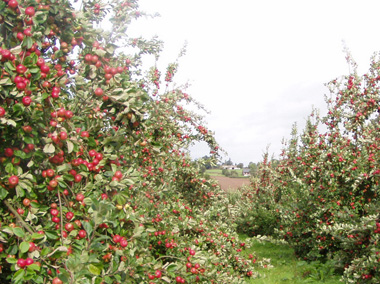 The other side of that is that I've had times where I was just over committed. Many years ago I was staring at an apple tree in a yard in Kolbotn, Norway. The tree was very fruitful. In fact it had maybe 5,000 apples on it, just loaded. The only probably was, all the apples were really small. If it was a farmer's tree, it would nearly be worthless. It would have been better to have 500 big apples than 5,000 small ones.
And the Lord was just practically yelling that in my ear as a parable right then. That's how my life had been: way too many projects and commitments that ended up being a huge crop of "little apples", rather than a smaller crop of fully grown ones. I'm still learning on that lesson.
But it's tough. We're just supposed to say "yes" to the Lord. We're also supposed to say "yes" to people. "You're not your own, you are bought with a price." (I Corinthians 6:19 and 7:23) "We ought to lay down our lives for our brethren" (I John 3:16). Most of the time, I figure it's better to bite first and chew later.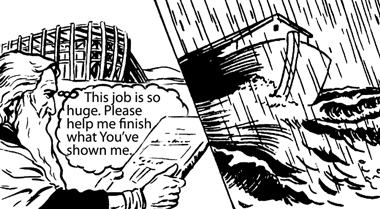 Usually the Lord will help me to follow through on my commitments if I make myself available to Him and even to others. "He that has begun a good work in you will perform it" (Philippians 1:6). "Faithful is He that calls you, who also will do it." (I Thessalonians 5:24)
God spoke to Isaiah, "Who shall go for us and whom shall I send?" (Isaiah 6:8) Did Isaiah say, "Um…, I'll look around, Lord, and try to find someone"? Nope. He said, "Here am I Lord, send me!"  (Isaiah 6:8) Jesus asked His disciples, "Are you able to drink of the cup I drink of and be baptized with the baptism I am baptized with?" (Mark 10:38) They answered zealously, but perhaps unwisely, "Lord, we are able." (Mark 10:39) So did the Lord rebuke them for presumption and pride? No, He said, "You shall indeed be baptized with the baptism I am baptized with" (Mark 10:39). He knew even then that they would eventually face martyrdom.
Sometimes the Holy Spirit will just prompt you to go for it, not pause, think and consider. But that means you really need to be in touch with Him and be getting your instructions and even impulses from Him, from heaven. "As many as are led by the Spirit of God, they are the son of God." (Romans 8:14)