This morning I was reading something from "Streams in the Desert" by Mrs. Charles E. Cowman. It was talking about when Paul was shipwrecked on his way as a prisoner to Rome in Acts 27. The devotion was on the verse, Acts 27:44 "And the rest, some on boards, and some on broken pieces of the ship. And so it came to pass, that they escaped all safe to land."
How can you get anything significant out of that verse, right? Well, the devotion brought out that in this dire time in the great apostle Paul's life, shipwrecked and at wit's end, a great flaming angel did not appear upon the waters to raise Paul bodily above the rest. A chariot of fire with mighty thunderbolts did not come to his deliverance. And, by in large, that's how God works most of the time.
God uses little things, broken things, seemingly trivial things. And with those He does His mighty works.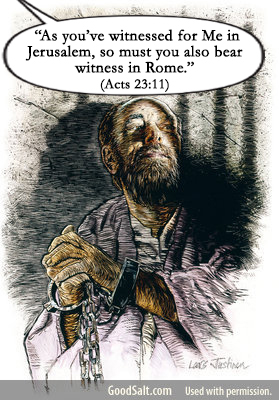 Paul was destined to be in Rome, God had told him, "As you've witnessed for Me in Jerusalem, so must you also bear witness in Rome." (Acts 23:11) Some things just seem to be destined and foreordained by God, if we continue to do our part. And even in this mighty storm that was upon Paul and the ones in that ship, even there God was in control. Like I wrote about recently when a tornado came over the house I was living in, "God has his way in the whirlwind and the storm." (Nahum 1:7) But there's even more significance to this seemingly insignificant verse. "…broken pieces of the ship…" How poignant that is. Because so often that's what each of us are in some points in our lives.
Our own ship has been broken and our life seems to be a ruins. Our family has been broken and seemingly destroyed. Our health is broken. Our church fellowship or denomination has been broken or shamed. And yet, God only uses broken things.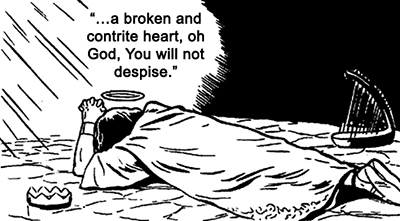 God told Saul, "When you were little in your own sight, I anointed you king over Israel". (I Samuel 15:17) God wants and needs broken things, because that's all He can work with. In perhaps one of the most important Psalms in the Bible, Psalm 51, King David in his desperate repentance and metanoia said to God, "The sacrifices of God are a broken spirit; a broken and a contrite heart, oh God, You will not despise." (Psalm 51:17)
Brokenness. Nobody almost ever wants to be broken, to be defeated, to be embarrassed, to seemingly fail. But God gets some of his greatest victories out of seeming defeat. That broken vessel, the ship Paul was on, was lost. But he and all on board were saved because they kept listening to what Paul, God's representative to them right then, told them to do in that dire crisis.
In the same way, if individuals or bodies of individuals keep listening to the Lord, keep our eyes on Him and our direct hotline of prayer to His Throne alive through direst times, He will not fail to keep, deliver and guide through anything. He loves to do the miracles, that's the nature of God. And in our brokenness, whatever form that may take, He can do what He can't do when we are so "together" and on top of things.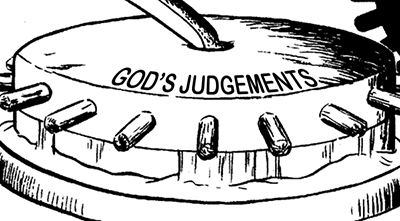 Jesus even said, "Whosoever shall fall upon this stone shall be broken. But on whomsoever it shall fall, it will grind him to powder." (Matthew 21:44) God help us to fall on the Stone, Christ Jesus, in brokenness and dependence on Him. This is the safest state there is: utter dependence on the Lord. The proud, the haughty, the self sufficient who think they don't need God or His ways and His love will sadly someday at length find the same Stone we are supposed to fall up will fall upon them when they see their lives were empty, meaningless and selfish. Although God's wheels of justice sometimes seem to grind exceeding slow, they eventually grind exceeding fine.
God help us to have the vision of just being "broken pieces of the ship". Broken things, little things, even despised things which God said He would use "to bring to naught things that are". (I Corinthians 1:28)  "'For My thoughts are not your thoughts, neither are your ways My ways', says the Lord." (Isiah 58:10)
How inglorious to be floundering about helplessly and desperately on a plank in a stormy ocean, at wits end. But there the apostle Paul was and from there he was delivered by the One who always had "delivered him from every evil work". (II Timothy 4:18) May God give us all the eyes He wants us to have to even be "broken pieces of the ship", if so be the will of God.