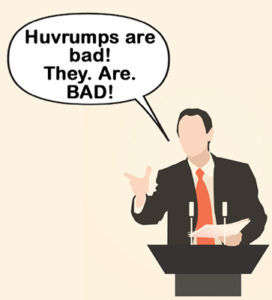 You need to buy a car and your choice is between a Buckrud or a Huvrump. You like Buckruds or at least you know of some things that would tilt you that way. But currently the main thing you virtually only hear from the Buckrud company is just how utterly bad Huvrumps are. "They Are BAD!" So the main reason to buy a Buckrud is just how bad the other company is?
All the Buckrud advertisements are mainly exclaiming the supposed faults of Huvrumps. "They are virtually diabolical." "Your life will be ruined if you get a Huvrump", you are told. But for me, I just feel like I'd like to know more about the Buckruds themselves and what's in their product, what they are offering, rather than just hear this constant harangue of how bad the other product is.
OK, I'm speaking in parables, right? And maybe you in the States will know what I'm talking about. But honestly, who buys anything from anybody if their main line of advertising is not what they are offering, what are the details, specifics and advantages of their product, but just how horrible the other guy's product is? Do you buy things that way? I don't think so.
Actually, in 2000 I was in the Buckrud camp. I had a '92 Huvrump and admittedly there were some disappointments. But my 2000 Buckrud, although it looked pretty good at first, turned out to really be a lemon. It drove itself into a ditch. It actually was scary after a while to be in my Buckrud, and I didn't feel safe at all. I just wondered what in the world was going on with that company; they seemed to have so many struggles at their headquarters, you didn't know who was running it. So in 2008 I shifted back to a Huvrump.
OK, everybody tells me how bad they are but I don't know. I've had it 8 years and it seems at the end of this 8 years it's better than at the end of the 8 years with the Buckrud. People almost scream at me if I say that but that's just how it seems to me. Maybe I'm too simple? Or old fashioned?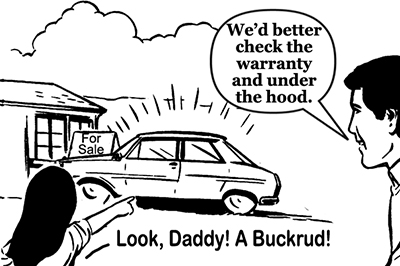 But don't you out there also want to know more about a product than just how bad the other guy's product is? Do you buy stuff like that? I don't. I want to know about the mileage it gets. I want to know what's under the hood. How are the brakes? Is the airbag going to pop out and kill me someday? How about the warranty?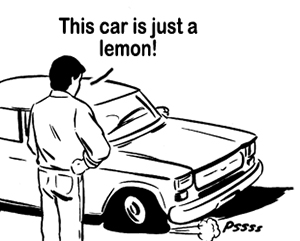 If Buckruds are so good, why can't they lay out a coherent explanation of their product that is a clearly better option than Huvrumps? "We will have World War III and you will personally go to hell if you buy a Huvrump!" So I am  told.
Really, what have we come to that the only way someone wants to sell you their brand is by a full campaign of mainly telling you how bad the other guy's product is? Honestly, I feel almost insulted. Can't they do better than that? Do they think that's all they have to do and they have me over a barrel that I have to swallow that shallow, empty presentation? I don't know, I think I'll just stick with my bicycle for now.