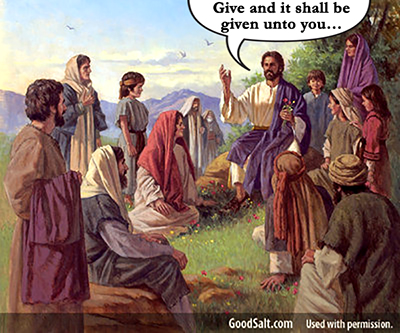 What do you think about when you think of the God of the Bible? Love? That sounds right. But how is love actually shown or seen? I think one of the clearest ways is in kindness and generosity. There's just so much in the Bible about giving and sharing, from cover to cover.
Jesus said, "Give and it shall be given unto you. Good measure, pressed down, shaken together and running over shall men give unto your bosom, for with the same measure that you met shall it be measured to you again." (Luke 6:38) In another place He said, "He that has two coats let him give to him that has none." (Luke 3:11) But that spirit He puts in our souls of concern, altruism and benevolence at times can be quenched if our hearts become hardened through selfishness or possibly the heartbreaks of life that make us feel it's just not worth it.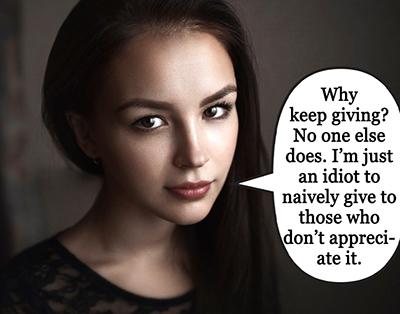 We're tempted to just stop sharing, stop caring, and stop going the extra mile. We do it and then sometimes it seems it was all for nothing. The ones we tried to help were rude or unappreciative. Our labors truly did seem to be in vain and there's just the huge sentiment to throw in the towel, close up shop on our lives and turn out the lights. "Why keep giving? No one else does. I'm just an idiot to naively give of my own to people who don't appreciate it, while others laugh and snicker at my immature generosity." You can hear some say that or it's the cry of our broken, wounded hearts at times.
For me it comes down to this. I just go back to the most foundational experiences of my life and see again that the words of the Bible and the words of Jesus far transcend any "reasonable" rationalizations that contradict the truths of God and His Word. Loving, sharing, caring benevolence and generosity are some of the greatest hallmarks of God and Jesus and they should be some of the strongest abiding characteristics of the people of God.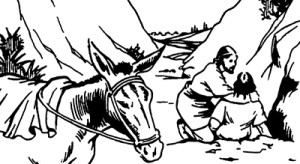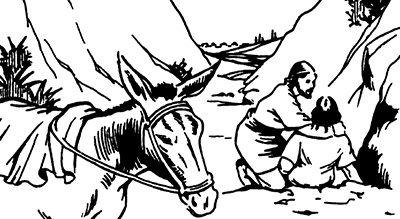 We can't just pass by the poor man on the road to Jericho. We have to stop and render aid. We can't selfishly hoard our blessings but we feel impelled by the Spirit of God to share with others. And the Bible is just full of this line of thinking. Here's what Isaiah said. "And if you draw out your soul to the hungry and satisfy the afflicted soul, then your light shall rise in obscurity and your darkness shall be as the noon day." (Isaiah 58:10) In another place Solomon said, "The liberal soul shall be made fat and he that waters shall be watered also himself." (Proverbs 11:25) And we can turn to more from Jesus, "Give to him that asks you and from him that would borrow from you, turn not away." (Matthew 5:42)
Of course some may have choked or stumbled back there when I quoted Solomon where he talked about "the liberal soul." For some Christians today, the word "liberal" is virtually synonymous with Satan. And that is a stark sign of the darkened times we live in that "liberal" has come to mean that. Because originally the word "liberal" meant generous and giving , as well as free from prejudice. (See II Corinthians 9:13) Nowadays it has been taken over by a political movement and twisted to mean something totally different. So much so that Christians now feel that in order to be "conservative", they're obliged to be stingy, hard-hearted, uncaring for those having rough times and just all that goes with the modern "conservative" agenda which often really does not have priorities parallel to the words of Jesus and the Bible.
In conclusion? "Keep your heart with all diligence for out of it are the issues of life." (Proverbs 4:23) Satan and the vicissitudes of life work incessantly to harden your heart, to make you faint in your mind and throw in the towel when it comes to being loving, kind, generous and giving. Don't let it happen.
To quote Solomon again, in the 11th chapter of Ecclesiastes, "Cast your bread upon the waters for you shall find it after many days. Give a portion to seven and also to eight for you know not what evil shall be upon the earth." You may be "casting your bread upon the waters". You may be giving and not really fully knowing where it's going or what it's being used for. But if you are doing it "as unto the Lord" (Colossians 3:23) , in obedience to His commandments to be loving and to share, someday (in this life or the next) "you'll find it after many days."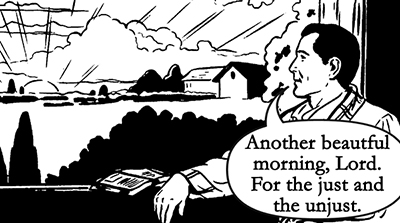 That's what God does, He gives and shares and pours out constantly. "He sends His rain on the just and the unjust." (Matthew 5:45) And He implores us to have a heart like His, to love and give as He has given to us. So watch out about times when you just feel it isn't worth it or "wise" to be loving and giving. Thank God He hasn't changed His mind about being loving and benevolent. Lord help us not to change our mind about it either.