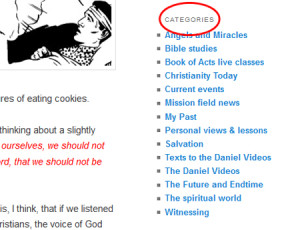 This will not be a usual kind of blog post. It came to my attention recently that I have not been keeping up with the categories section of this blog site. Sorry about that.
It's been close to two years now since I first got going with this site. During that time, I've written around 137 articles. But if you've been finding things in these that are interesting to you and you wanted to find more, till now you would have just had to scroll back through all the articles randomly and hope something shows up that's interesting.
I've worked on that and updated the categories section; you can see it off to the right side of the blog site on the home page. Some of the categories are pretty self-explanatory. For example, in recent times I've been doing a series of live classes here in Austin on the book of Acts. There's a category on this, Book of Acts live classes.
One I personally like to write articles about has been Angels and Miracles. Two larger categories are Basic Christianity and Christian Discipleship. And there's one where I've grouped different articles relating to Mission field news , like when I was in Indonesia, as well as recent news from places like Bulgaria where some folks in a church have been using my videos to teach their flock. Another is My Past which are articles where parts of it are about my upbringing, or conversion to faith in God, or some events in my life as a missionary.
And one other thing here. In the categories list there is one called "Text to the Daniel videos". The problem is, on this site there are only 3 of those blog articles. If you want to read the text to the Daniel videos I've been doing, the full list is a category on my "Prophecies of Daniel" site. The category on that site is Text to the Daniel videos.
Just to let you know, currently I'm spending all the time I can on the next video in the Daniel series, this one being the second of two videos on Daniel 9 which can be called "The 70th Week" or "The Last 7 Years". My hope and goal is to have this video out and on line in September.
But for now I hope this little notice about the categories sections being updated will perhaps help you find some articles I've written in the past on subjects that have been interesting to you. It's great being in contact with you, thanks for your prayers and love.
Your friend,
Mark