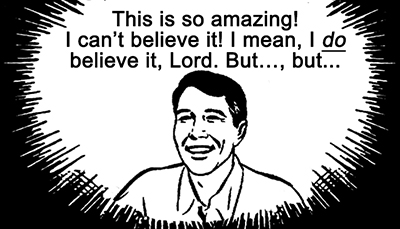 Recently something happened to me that was so amazing and, Lord help me, so unexpected that when it happened, I almost didn't believe it. It did happen, no question about that. But I just was saying afterwards to myself, "Did that really happen?"
It's like when the disciples saw Jesus after His resurrection and "they believed not for joy". (Luke 24:41) It's a funny experience, not normal at all. In Acts 12 is another example. Peter's brother, James, had already been killed by Herod and Peter, the head of the church at that time, was kept in prison, evidently waiting execution from the way the narrative reads.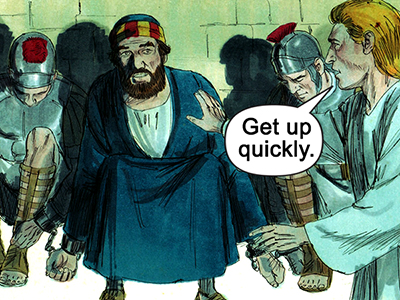 "But prayer was made without ceasing of the church" (Acts 12:5). Then what happened? It says an angel of the Lord appeared to Peter in his prison cell, "smote him on his side" (Acts 12:7) and told him to get up quickly. The prison door opened and then the next ones until they were out on the street and the angel disappeared. Somewhere around here it says that Peter realized that it was real what was happening.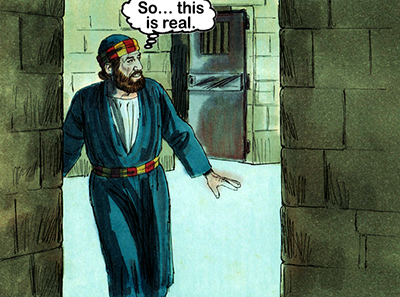 Evidently he just thought he was dreaming or that it was a vision he was seeing.
Sometimes the Lord really does "exceedingly above all can we ask or think" (Ephesians 3:20). Yes, I know it doesn't seem to just happen all the time, every day of our lives. But it does happen.
A man came to Jesus, asking him to heal his demonic son who had been in that condition a long time. Jesus said to the father, "If you can believe, all things are possible to him that believes." "And straightway the father of the child cried out with tears, Lord I believe, help thou my unbelief." (Mark 9:23 & 24) And the beautiful answer to all this is that the Lord did answer his prayer and healed his son. The Lord saw "the glass half full" and healed the child, even though the father confessed that he was struggling with belief about the whole thing.
I guess I think of myself as a person with faith in God and faith in Jesus. That's what my life has been about. But every so often something happens or comes along that shakes our foundation to the core. It can be something "bad"; but equally it can be something "good". Maybe it's like what happened with one of my children when they were very little. One day one of them ran through the house almost screaming, "So happy! Can't believe it!"
Or it's like the story I heard which is supposed to be true about a prayer meeting years ago in Oklahoma. A Christian man there had been asking for prayer for his son for years because he was such a scoundrel and a fallen human being. Sure 'nuf, at a prayer meeting one night the young man answered the alter call and turned his life over to the Lord.
Those there were eager to tell the father what had happened. But when the father was reached at the back of the meeting and told the news, he said something like this.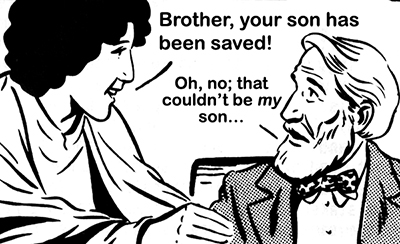 "Oh, no, that couldn't be my son; you must be mistaken. There's another young man in the community with a similar name. I'm sure it must be him." The father had been praying all that time but when the answer came, he just refused to believe that his prayer had been heard. And it can be that way for any of us.
I've been reminded recently that He really can answer prayers like that, above all we ask or think. The Lord can come along with "new wine" that "breaks our bottles", or new changes in our lives that are almost like entering into another life from the one we have been living.
Not only was I noticing my potential unbelief, I was also noticing one of my first reactions was to try to do things in the flesh and my own spirit to confirm and make sure that the act of God that He was doing was something I was going to take care of now. "Having begun in the Spirit, are you now made perfect by the flesh?" (Galatians 3:3)
Sometimes the Lord just does something for His purpose and plan. And you just know it's all Him, not something of yourself. It may be a long awaited answer to prayer but also it can just be what He was planning all along. And you're humbled to know how little you had to do with it, besides just being what He wanted you to be and needed you to be.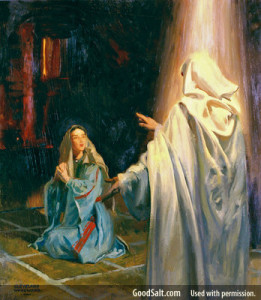 Think about young Mary the night the angel Gabriel appeared to her. Do you think she was all cool with that and it was like she was expecting it all along? I don't think so. I'll bet she was just at the very edge of reality with what was happening with her. But also she was His chosen vessel so the Lord gave her the grace for that event.
Or the centurion Cornelius in Acts 10 when the angel appeared to him after his years of faithfulness and told him to "send men to Joppa and call for one whose surname is Peter". (Acts 10:5) The whole conversion of the Gentiles ensued from that event.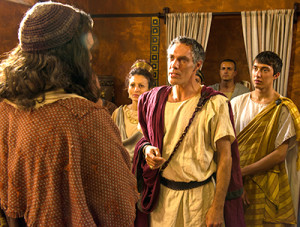 Do you think it was just another day at the office for Cornelius? I don't think so. I'll bet he was a pretty shook up guy. But he kept it together as this was the hour of his destiny and that of the Gentile world as well.
At times in our lives, God can do things with, for and through us that take us to the very edge of our belief and even abilities to believe. That's how much He loves us and wants to do for us. That's one of the reasons why we have "joy unspeakable and full of glory." (I Peter 1:8)