Last night I talked with a man who was a commander as a teenager of French resistance forces during World War II. Now in his 90's, he was a young student when war broke out in 1939. It was fascinating to hear his stories of those times and how he ended up working in the French underground. At first, he would do things like clandestinely distribute underground newspapers which counteracted German propaganda, as well as those French who were collaborating with the invasion forces.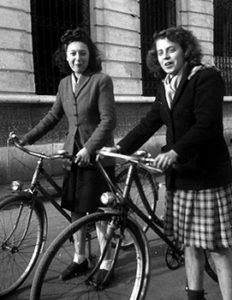 He told of a blind man back then who would mostly be overlooked by the Germans who would carry about a large suitcase, often with radio equipment inside which the French resistance forces could use. There were women on bicycles who'd convey messages to bands of French freedom fighters who were on the constant move in the woods or fields. Those he worked with would focus on trying to help downed airmen from the Allied forces fighting the Germans, ones whose planes had been shot down over France. There was like an "underground railroad" to get the Allied pilots either to Spain or across the English Channel and back to Britain.
He said their specific goal was not to engage in combat with German forces but to make things difficult for them by blowing up bridges, planting bombs on roads and whatever it took to slow down and hinder the occupation. We laughed at one point when he smilingly said how that he'd been known as a terrorist back then and we talked about how it so often happens that one man's terrorist is another man's freedom fighter.
But there was combat and lose of life. His older brother had been in the underground as well but was betrayed and ended up dying in a concentration camp in Germany. He told of times where he had to react instantly to save his life before someone shot him. This had come down to the reality of whether it would be his life or theirs.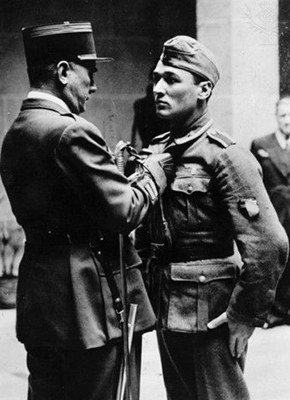 Something he felt proud of is that the group of men he led had a relatively smaller loss of life than that experienced by many other similar groups. He mentioned that his own dad had somewhat miraculously survived as a combat soldier throughout the First World War when 1.2 million French soldiers were killed. He told me that at the end of the war, at the age of 20, he was awarded the French Legion of Honor for his service in freeing his nation from the occupiers.
I asked him what kept him motivated, what he drew his strength from during those times. It was clear that the main thing was what we would call nationalism. His ancestry has been part of the French aristocracy for many centuries and he felt there was no question of what he should do to defend his nation against the invaders of his youth.
I asked him if he ever saw anyone pray in those times and he said he hadn't. The conversation turned briefly to "religion" and, as some of you know, that word has a very bad ring to it in France, arising in part from the French Revolution and the impact that formal religion was seen to have had on the nation and society.
I told him at the first that part of my reason for wanting to hear about his life was to try to find what I could learn from his experiences. I told him that I too considered myself, in a sense, a freedom fighter. Of course, as Paul said, "The weapons of our warfare are not carnal but mighty through God to the tearing down of strongholds." (II Corinthians 10:4) The warfare I have been engaged in all my adult life has been spiritual warfare but it has no less been warfare. We are to "fight the good fight of faith", we are to "war a good warfare", "as a good soldier of Jesus Christ." (I Tim. 6:12, 1:18, II Tim. 2:3)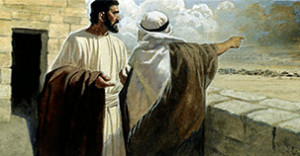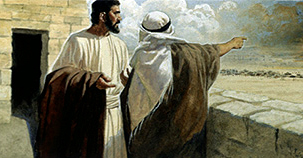 And certainly in these seemingly peaceful times, we need another "French Resistance" as well as a resistance in a good many other counties also. I'm reminded of the post I wrote about "They that be with us…" where Elijah and his young helper were surrounded by the armies of their enemies.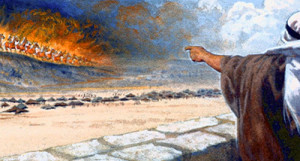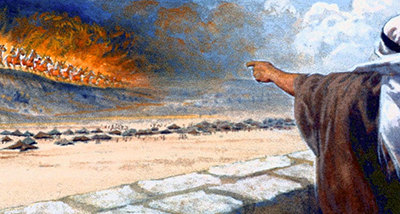 But then Elijah prayed that the young man would see the heavenly forces surrounding them who were protecting them and were much greater than their present earthly enemies.
At this time, so many "post Christian" countries have repelled their former invaders and now enjoy relative stability and outward peace. But if there were to be an opening of the eyes of the young man now, it would be to see the flood of godless darkness that has seeped in like a poisonous gas under the door and now benights so thoroughly so much of Europe and even north America.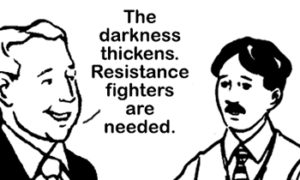 The Bible says, "When the enemy shall come in like a flood, the Spirit of the Lord shall lift up a standard against him." (Isaiah 59:19) Well, the enemy of truth and love has and is continuing to come in with wave after wave of putrid lifelessness which is put forward as modern enlightenment. But so often it's exactly like what Jesus said, "If the light that be in you be darkness, how great is that darkness." (Mathew 6:23)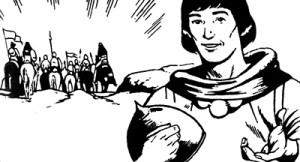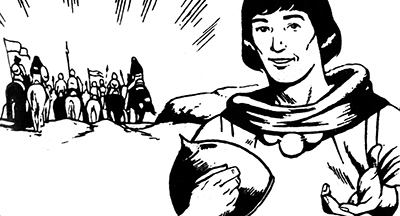 Please pray that God will open the eyes of young men, like he did in the time of Elijah, to see things as God sees them and that "resistance fighters" as bold and brave as the one I spoke with tonight will be raised up to fight the good fight of faith and "hold forth the Word of life" (Philippians 2:16) for the lost and truthless nations of these times.