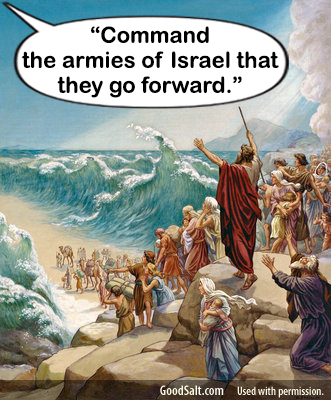 God told Moses, "Command the armies of Israel that they go forward." (Exodus 14:15) That's what we should be looking to do; we should be determined to go forward for the Lord. He said to go forward for Him and with Him, through the Holy Spirit. And they did. Jesus said, "Go into all the world and preach the gospel to every creature." (Mark 16:15) "Go therefore and teach all nations…" (Matthew 28:19) And gradually, through fits and starts, His earliest disciples did that. So going forward for Him and His cause should be our default position, our basic vision.
This is why, when I was writing "The Stand", about the stand of faith, that I got a little concerned. Because perhaps the majority of Christians need more encouragement and admonition to use their "gas pedal" than to use their "brakes". Using our brakes is certainly necessary and a matter of life and death at times. But maybe it's like the little girl said about the purring cat, "Oh look, mommy! The kitty has gone to sleep and left its engine running!"
We're not supposed to go to sleep and leave our engine running. We're not supposed to sit around with our foot on the brakes in some kind of defensive, "hold the fort" attitude. If there's been a bane of organized Christianity in our times, it's been this. And it's now gotten to where virtually everyone thinks that this is Christianity. "Go to church on Sunday. Be good. Don't be bad."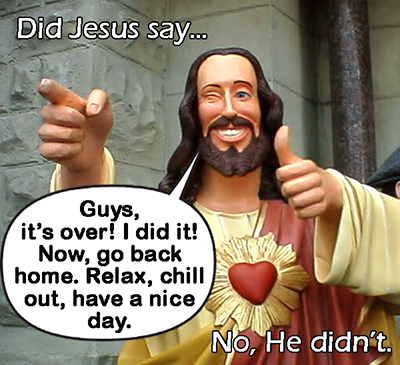 Jesus didn't tell His disciple, in the 40 days He was with them after His resurrection, "OK guys, this has been great! Now everyone go back to your old jobs, go back and join a good synagogue, blend into society. It's all over! I've done what I came to do so you guys can relax. Enjoy life!" Umm, no.
Of course many churches do teach the Bible and even salvation, faith in God and in Jesus. But often at some point it just doesn't go any further. How many churches really instill in each individual member that they can and should witness their faith and win souls? Paul said, "Woe is unto me if I preach not the gospel!" (I Corinthians 9:16) To which the standard reply is, "Oh, we can't all be Paul!"  Or "Oh, I'm not a preacher! That's what we pay Reverend Smith for."
Lord help us! Has human nature changed in the last 2000 years? Nope. "They all began to make excuse." (Luke 14:18) Or as Solomon said, "There are many devices in a man's heart; nevertheless the council of God stands assured." (Proverbs 19:21)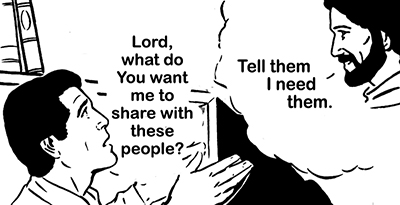 So let's answered a couple of those things that our hearts often throw at us. "Oh, we can't all be Paul." Right. But we can do what we can. And so often that's a good deal more than we are doing. Maybe you can't be a missionary right now. But you can witness to the circle of people you come in contact with. Virtually everyone can do that. This is the message the Lord gave me for the precious Christians I spoke with in Bulgaria back in March, that I wrote about in "God Needs You."
Hardly any church anywhere puts their membership under conviction to lead others to Christ. Virtually no church I know really instructs their members in how to personally witness and win souls.  That's why I'm so glad I was born into a soul winning, discipleship Christianity. Because if the Devil can't stop you from being a Christian, then he'll try to stop you from being a disciple and  serving the Lord. He may not be able to stop you from having your engine running, but he'll sure try to stop you from putting your foot on the gas. And I think that must sadden and perhaps even anger the Lord.
The only Christianity I've known has been one that endeavored to be based on the book of Acts and the Early Church. "They went forth and preached everywhere." (Mark 16:20) "But Mark! I'm not a preacher! What do you want, Mark? For us all to go stand on some street corner and preach?!" Nope. But you could pass tracts to people you meet. You could be "always ready to give an answer of the hope within you." (I Peter 3:15) You could be "instant in season and out of season." (II Tim. 4:2)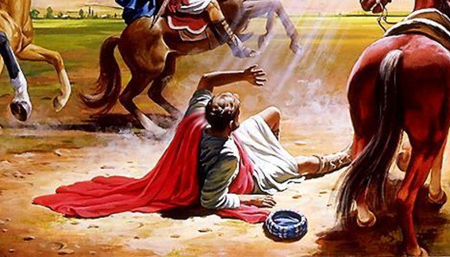 Maybe it's like something else Paul said, "Knowing therefore the terror of the Lord, we persuade men." (II Cor. 5:11) Paul really knew what it was like to be found utterly wanting and under the partially judgment of God. He was blinded for 3 days by the hand of God. He knew what it was like to be utterly blinded spiritually and even physically. Maybe that helped him have the compassion and drive that he had the rest of his life.
Many have been Christians all their lives. They've never really known what the horrendous torments of hell are like and so they don't have the driving motivation to help those still in those straights.But one way or the other, each Christian needs to put their foot on the gas, not just the brakes.
We have the answer, we have the Lord, we have salvation and we are charged before the Lord to share that with others. "He that withholds it tends to poverty, but he that scatters abroad it increases." (Proverbs 11:24) "He that knows to do good, and does it not, to him it is sin." (James 4:17) Step on the gas.