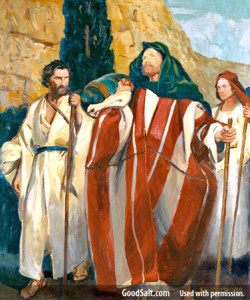 In Acts 16, Paul was back out "on the road", obeying what the Lord had told him would be his future and destiny, "to bear my [Jesus'] name before the Gentiles" (Acts 9:15). (You can listen to our live class on Acts 16 here.)
Paul and his companions, first Barnabus and then later Silas, had already experienced severe, violent persecution in our earlier chapters. But in Acts 16, at one point they seemed to have a new dilemma: struggling to find the direction God was leading.
They were back in the area they'd been in before, what is today modern Turkey, and they were visiting regions they had been in before. But then it says, "They were forbidden of the Holy Ghost to preach the word in Asia." (Acts 16:6) OK, they might have said, "Let's just head off this direction". But then it says, "They attempted to go into Bithynia. But the Spirit did not allow them." (Acts 16:7)
I don't know about you but I think at this point they might have gotten confused or perhaps even angry or discouraged. "Jesus, we're out here in virtual "enemy territory" and then everywhere we turn, your Holy Spirit keeps telling us no! What's up, Jesus?"
Probably they didn't exactly say that or react that way but maybe it was a temptation. But it all turns out to be an incredible lesson on following the leading of God and God's direct revelations. It says next, "And a vision appeared to Paul in the night. A certain man of Macedonia stood, begging him, saying, Come over into Macedonia and help us!" (Acts 16:10)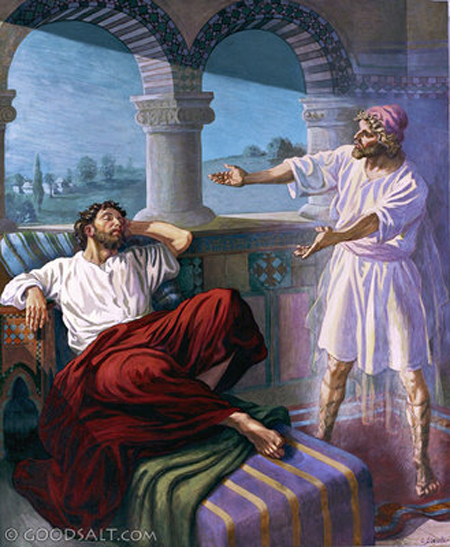 That was it! That was why they weren't supposed to go to those other places! So immediately they got going that new direction, on toward Macedonia and the beginning of Christianity on the continent of Europe.
God wanted them to go to the major cities and centers, rather than getting off somewhere in the boonies, which is what Bithynia, along the coast of the Black Sea, was in those days. He wanted them to win leaders and people He could raise up to reach their own people in their area. And that's what happened.
The rest of the chapter is a classic example of the Lord opening doors for Paul and his friends as they "pioneer" a new city, Philippi. The Lord raised up new friends and converts who became disciples as well as hosts and helpers there for the disciples.
And it's an example for modern missionaries of how you can find people at different levels of belief.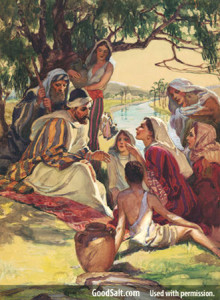 It turns out that Paul and Silas met up with some women who came together by a riverside to worship. It says one woman in particular was touched by their witness, Lydia. This woman believed in God, but Paul and his friends were able to share with her the whole council of God. It's a similar situation to the ones later in Acts 19:2, they knew the baptism of John but that's all they knew and had heard about. In our Christian witnessing, quite often we find ones who know some about God, they believe some. But then the Lord brings you along so you can share with them truths from the Word and from the life of faith that they've never before seen or heard about.
And it seems that in nearly every chapter Paul and his companions are suffering one kind or another of physical persecution. Later in Acts 16, after casting out the spirit of divination from a young woman, her handlers were furious because their source of income had been ruined. So they caused a riot that made it so that Paul and Silas ended up in prison or jail again.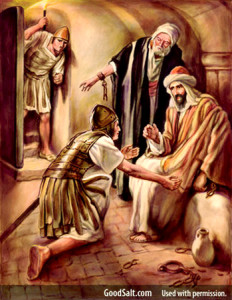 And a famous salvation verse is found in this chapter. Paul's jailor came to him after an earthquake in the night had opened the prison doors, and the jailer asked Paul, "Sir, what must I do to be saved?" (Acts 16:30)
So Paul said, "Well first you have to get circumcised and keep the laws of Moses. You have to be accepted into a local synagogue and complete 50 years of training in the Talmud."
Do you think Paul said that? Maybe he gave him a long lecture on his sins and a list of do's and don'ts to keep? Nope. Here's what Paul said to the man, "Believe on the Lord Jesus Christ and you shall be saved, and your house." (Acts 16:30)
Mark! It's all too easy! Come on, anybody can do that! The bar is too low, Mark!
I didn't write this, I just read it and believe it. And actually, maybe that's the whole point. The bar is low, it is easy and anybody can do that.
But sadly so many don't. Their pride, their intellect, their own understanding, their upbringing, their background and a 1000 other things keep people from simply doing what Paul said to that man right then: Believe on the Lord Jesus Christ, and you shall be saved.
So it's another wonderful chapter and we had a really inspiring class as we discussed these and other aspects of all this. I hope, if you get a chance, you can listen to the live class audio on Acts 16 which can be heard here. God bless you and yours as you witness and win souls for Him, like the ones of the Early Church did.