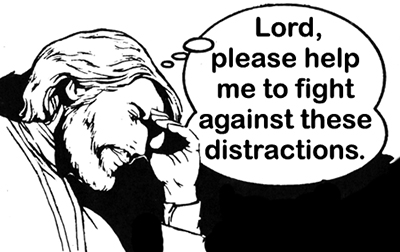 I was trying to have my morning prayer time, something I often do by going out somewhere in nature.  But this morning, as has happened at other times, it was a real battle to focus on prayer and not to be distracted.
I've recently moved and now am able to go out in a secluded wooded area, away from the bustle of the city. You would think that would be a great place to pray and I suppose it is. So the problem isn't with the surroundings, it's me. I seem to get easily distracted. "Oh, look at that butterfly! Those trees need pruning. The clouds are nice today." Just on and on it goes. Repeatedly I have to snap out of it and turn my attention back to why I came out there: to pray and "pour out my heart before Him." (Psalm 62:8)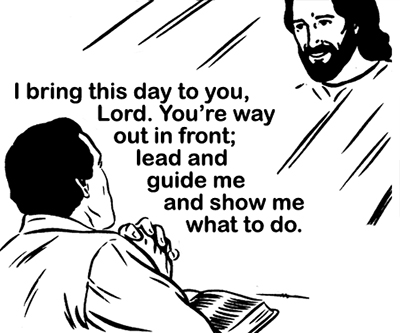 Maybe my problem is that things are more or less going OK right now, that I'm not face to face with some ominous crisis. That may be a part of it. Sometimes situations you're facing can drive you to desperate prayer. But what about when you need to do today what you did yesterday and will be doing for probably a few more weeks and months? Well, we still need to pray. We still need to "in all our ways acknowledge Him and He shall direct your path." (Proverbs 3:6) We need to "commit our way unto the Lord, trust also in Him and He shall bring it to pass." (Psalm 37:5)
It's just so easy to lapse into lethargy and it can often begin with our prayer life. Jesus said to His disciples at perhaps the most desperate hour of His life, "Can you not watch with me one hour?" (Matthew 26:40) But they were asleep in the garden of Gethsemane while it says of the Lord in prayer, "and being in an agony, He prayed more earnestly. And His sweat was it were great drops of blood, falling down to the ground." (Luke 22:44)
Maybe we don't "feel" like praying, maybe we're tempted to think of it as drudgery or some kind of daily ritual we're called to. But this can all be so much clearer if we shine the light of the Word on it. When I was going out to pray this morning, a verse came to me that I'd reviewed earlier. "Through desire, a man having separated himself, seeketh and intermeddeth with all wisdom." (Proverbs 18:1) I've heard folks say that verse is talking about something bad, separation from God and going after evil wisdom. But it equally can be taken the other way.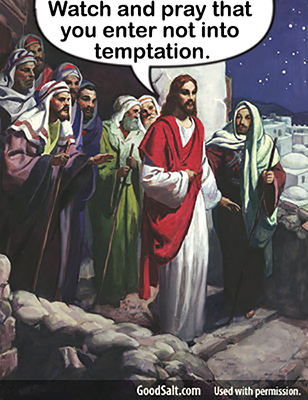 Having a desire to get alone with the Lord and to connect with Him, we separate ourselves from the world around us and its distractions so that we can seek and intermeddle with the wisdom, love and Spirit of God. That was my verse I claimed as I went out to pray today. But it was a battle. Another verse that came to me was what the Lord told His disciples when He said to them, "Watch and pray that you enter not into temptation. The spirit indeed is willing but the flesh is weak." (Matthew 26:41)
Temptation? You mean one of them had brought a bottle of whiskey or some other sin of the flesh? I don't think so. I think the temptation was the same kind I was facing in our garden here this morning. Distractions, lethargy, fainting in our minds. "If you faint in the day of adversity, your strength is small." (Proverbs 24:10) And that "day of adversity" doesn't only have to be when you're faceing ISIS or your neighbor's dog.
It's a battle every day with our besetting sins, the "weights and sins that do so easily beset us." (Hebrews 12:2) And one of those besetting sins is to just grow weary in well doing, to get our eyes off the Lord and the goal before us. "Where there is no vision, the people perish", (Proverbs 29:12) and in some ways it takes vision to take prayer time.
For me that vision is strengthened and enhanced by quoting the Word of God I have memorized. Otherwise I will just stroll along, doing my own thing and thinking my own vain thoughts. King David said, "I hate vain thoughts, but your law do I love." (Psalm 119:113) Or it's like Paul said, "Casting down imaginations and every high thing that exalts itself against the knowledge of God and bringing into captivity every thought to the obedience of Christ. " (II Corinthians 10:5) That says a lot there, bringing every thought into captivity. Maybe that's what that verse in the Old Testament meant when it said, "He did evil because he prepared not his heart to seek the Lord." (II Chronicles 12:14) We have to not only get in prayer; we have to get in the Spirit.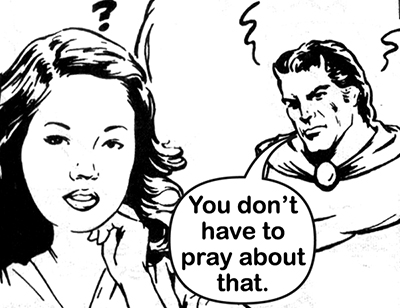 It can all seem tedious. The devil and our own carnal mind can tell us that this isn't really so important. "What you're doing today doesn't really have to be prayed about. You can handle this on your own." Boy, what a lie. The Lord said, "Without Me you can do nothing." (John 15:5)  Well, we can do a lot of wrong and useless things. But to do His Will, we need His strength and power.
So even if this day may look a lot like the one yesterday, it still needs to be hemmed in at the beginning and end with focused, undistracted prayer. Lord help me, I'm almost writing this to myself as much as I am to anyone else. These are things I need to really remember, do and hold on to. I hope it's something that others may be facing and need help with as well.