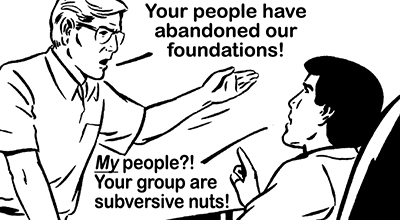 Pardon me but I may rant a little here. It was just almost overwhelming this morning to see how much division is pushed at what seems like almost every level and subset of society. Blacks against whites, women against men, old against young, rich against poor. And on and on it goes.
Like Rodney King said after the horrific Los Angeles riots of 1992, "Can't we just get along?" I really don't think most people realize the dangers of hatred, intolerance and division; what a black hole and bottomless precipice these things can be.
It's so much more "natural" to tear down than it is to build; the default position for so many is to find fault, rather than to value virtue. Yes, God told Jeremiah to "root out, pull down, destroy, and throw down." But He also told him to "build and plant" (Jeremiah 1:10). And in Jeremiah's case he was dealing with a nation so far gone in its apostasy that it was to receive God's strongest judgments in Jeremiah's lifetime.
Yes, there are a lot of things to criticize, there are a lot of wrongs to be righted and there are a lot of people who need to have things pointed out in their lives. But how can we do that constructively, rather than just venting our criticism and getting things off our chest? First, and last, it comes down to love.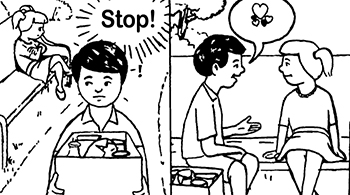 If you love that person, or nation, or society or racial group, you'll instinctively want to try to help them, even if you feel you need to point out something that's lacking. Love has creative power. "Love never fails" (I Corinthians 13:8). And with love comes wisdom.
I've had times in my life where it's been so frustrating because I felt I had something to say that was legitimate and had substance. I was trying to help someone or a situation. But then somehow, in my delivery or choice of words, it was rejected by the one I was speaking to. Or it even made things worse. Of course some people, or societies or any group can be what's called "sensitive". They can't take the slightest hint of criticism. They just never get the idea of being able to be admonished and to learn from others.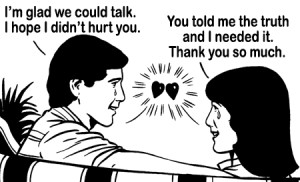 But the Bible says, "Faithful are the wounds of a friend, but the kisses of an enemy are deceitful" (Proverbs 27:6). It says, "A word fitly spoken is like apples of gold in pictures of silver." (Proverbs 25:11) "To the councilors of peace there is joy." (Proverbs 12:20) There's much more like that in the Proverbs of Solomon, how to talk to people, how to say something that needs to be said in love and in truth, kind of like what people nowadays  call "tough love."
It saddens me and perhaps even scares me a little how much division there is in society nowadays. Maybe it's a sign of the times we live in. Pew Research here in the States said recently that this nation is more polarized than at any time since the Civil War, 150 years ago. One of the things Jesus said about the very last days was "Because iniquity shall abound, the love of many shall wax cold." (Matthew 24:12)
If there was more humility, we'd more easily accept an admonition from others. If there was more wisdom, folks would be better at how to say things in a constructive way. This verse has always been a goal for me,
"The Lord God has given me the tongue of the learned, that I should know how to speak a word in season to him that is weary: he wakens morning by morning, he wakens mine ear to hear as the learned." (Isiah 50:4)
So poignant, so significant:"the tongue of the learned to know how to speak a word in season". But that seems so rare now. Everyone seems to have a chip on their shoulder. Everyone's "not going to take it anymore". Everyone's quick to belligerence and a kind of independence that's so divisive and cold.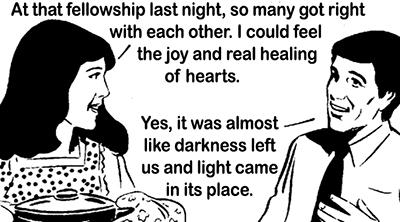 Independence is great, "being your own person", holding your head up; great and wonderful. But there's also something to be said for old fashion unity. The Bible says, "Behold how good and how precious it is for the  brethren to dwell together in unity". (Psalm 133:1) Some of the most joyous, fulfilling moments in my life have been in the unbridled liberty and joyous fellowship I've experienced with my fellow Christian missionary disciples in places I've been around the world. But Paul warned, "Now I implore you, brethren, by the name of our Lord Jesus Christ, that you all speak the same thing, and that there be no divisions among you; but that you be perfectly joined together in the same mind and in the same judgment." (I Corinthians 1:10)
Shouldn't we "call a spade a spade"? Shouldn't we "reprove, rebuke and exhort"? (II Timothy 4:2) Shouldn't we "have not fellowship with the unfruitful works of darkness but rather reprove them"? (Ephesian 5:11) Yes, yes and yes. But how does God's Word teach us to do that? "Brethren, if a man be overtaken in a fault, you which are spiritual, restore such a one in a spirit of meekness, considering yourself lest you also be tempted". (Galatians 6:1) The Bible even says God has "committed to us the ministry of reconciliation". (II Corinthians 5:18)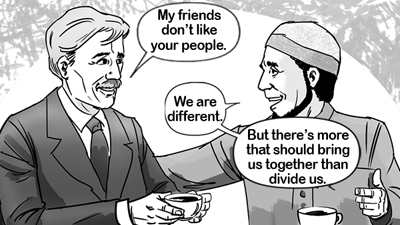 People who can build bridges, people who can close gaps, people who can restore friendships, people who can unite and rally others to fight for the common goal and lead others to fight the real and greater enemies are few and far between. Love is needed. Great wisdom is needed. So many today are tossed to and fro, battling each other or in some little skirmish that's actually not as important as the much greater battles that the world is facing today.
Like the guy said long ago, "While I was busy here and there, the man was gone." (I Kings 20:40) Many are busy here and there with what they perceive as some injustice that needs to be addressed; many fight brush-fire wars when the greater needs of both individuals and mankind press upon us. The greater good is lost while we are "busy here and there."
A solution? I don't know. It's always the same but its popularity seems to have really waned. "Love God. Love your neighbor. Seek first the Kingdom of God and His righteousness". (Matthew 22:37-39; Matthew 6:33) As Jesus said, "If you continue in My Word, then are you My disciples in deed. And you shall know the truth. And the truth shall make you free." (John 8:31 & 32)