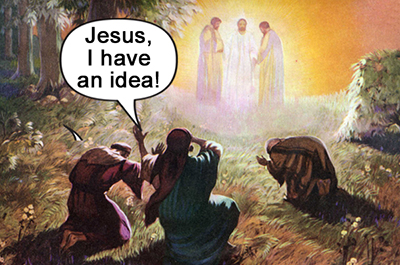 So Peter, James and John walked into a bar…   No, wait, change that. Peter, James and John were on the mount of transfiguration. There was Jesus and it says "His face did shine as the sun, and his raiment was white as the light." (Matthew 17:2) It says that the three disciples saw Moses and Elijah, speaking with Jesus as He was transformed like that. It's even recorded to some degree what Moses and Elijah were speaking to Jesus about.
Can you relate to any of this? Can you see yourself one afternoon experiencing something like that? How would you react? What would you say? Do you thing you could do the subject justice and rise to the occasion? Well, dear impulsive, impetuous Peter the fisherman, just as human as any of us, tried to do what he could. It is recorded that during this utterly unearthly scene,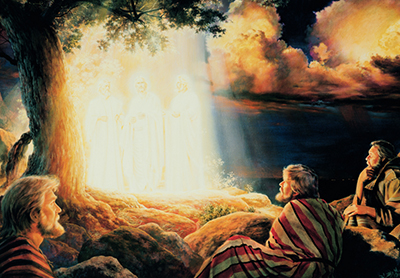 pretty much evidently unique in Jesus' ministry, that our dear Peter just had to blurt out his analysis on the whole event and chime in with his council to Jesus as He glistened there in ethereal heavenly glory before them.
Peter advised the Lord at this time, "Lord, it is good that we are here. And let us make three tabernacles, one for You one, for Moses and one for Elijah". (Luke 9:33) And the Bible goes on to try to help us understand Peter's dilemma at this moment, "for he knew not what to say." (Mark 9:6) You can say that again. And what happened next? Get this. "And while they were yet speaking, a cloud overshadowed them and a Voice out of the cloud said, "This is My beloved Son. Hear Him." (Luke 9: 34 &35)
I don't know about you but I've almost never been able to read this without a wry smile. It's like the very presence of God, the Father (the "Ancient of Days" of Daniel 7:13), came near to them and sweetly, to me almost humorously chided Peter, "Umm Peter, this is My Son. Hear Him."
Talk about tact. Talk about understatement. Maybe everyone didn't chuckle but there has just got to be some humor into that. "Peter, shhssss. Just be quiet Peter. We don't really need your suggestions right now." But isn't it just like almost any of us have done in some incredible moment when we don't know what to do? So we pipe up with something that in retrospect was pretty much misplaced and virtually stupid, considering the circumstances? Could God, the Father, have been smiling and just shaking His head when He said that? I've always thought so.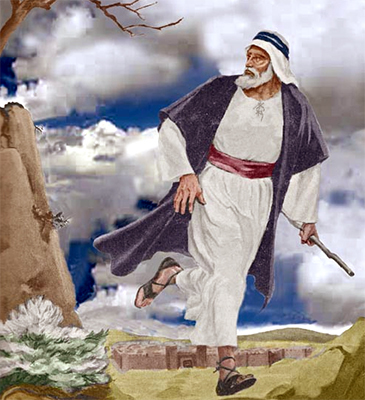 Then there was Elijah. Having fled from Jezebel, defeated, discouraged, a shadow of the great man of God that he'd just been recently in slaying the 450 prophets of Baal, now having fled far into the wilderness of the south. Away from his place of service and seemingly almost ready to hang up his crown and calling of being a prophet, there we see him on the mount Horeb.The Bible says the Lord sent the wind, but He was not in it, then the fire and He was not in it and then a shaking and He was not in it. What a pregnant build-up to that moment when Elijah heard the still, small voice of God. And what did the Voice say? (Wait for it) "What are you doing here, Elijah?" (I Kings 19:9)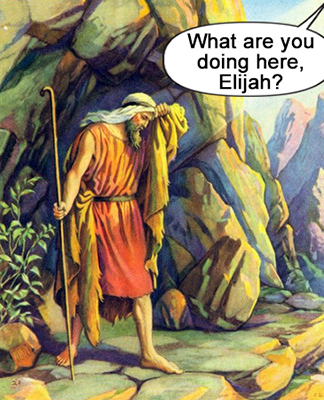 Come on! That's funny! God, the God of the universe, the Almighty, is asking this guy what he's doing there?! He knows everything! He doesn't need to ask anything! I just can never read this without feeling that there's this kind, loving God of the universe having condescended to this poor, defeated servant of His and He's striking up a conversation with him, saying, "Umm, why are you here, Elijah?"
Don't you just know that if you could see all this in real time, there would be a warm, wry smile on the face of God as He asked that? Maybe, probably even a smidgen, a sprinkle of humor on the whole thing? Gotta be.
The Bible warns of "foolish jesting" (Ephesians 5:4) but it also says "A merry heart does good like a medicine" (Proverbs 17:22).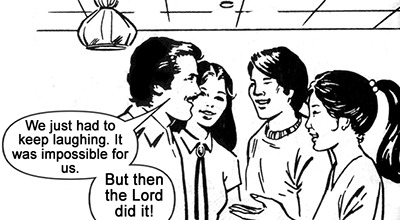 One of the greatest helps I've ever had in my missionary service has been times when my friends and I just laughed at the impossibility of what we were trying to do and how it was utterly insane except within the will of God. My one year in Moscow in 1995 and 1996 was only sustained by just laughing with my friends at the extremes to which we were pushed physically to do what we felt we needed to do there and how no one in the world would do what we were doing, there's not enough money to pay for it, unless you were doing it for God's service.
So often we just kept laughing in the extremely difficult conditions we worked in. It was perhaps the toughest year of my adult life physically but also one I count as one of the most fruitful. And a sense of humor was a continual essential asset through it all.
I'm convinced God has some sense of humor. It doesn't show up very much in the Bible and we know that Jesus was "a man of sorrows and acquainted with grief" (Isaiah 53:3). But also I've had times, even recently, where I just felt that the Lord can do some things that are just so amazing, "out there" and radically loving that the only reaction is to smile, laugh and feel that He's just funny sometime. Or so it seems to me.