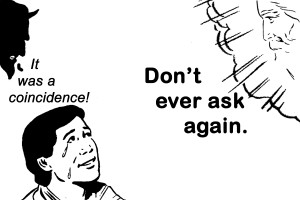 I was 20 years old, kneeling on the floor of my apartment in the dark at 3 AM, overwhelmed with emotion. As I wrote about in "The Radio Miracle", I'd just had a completely amazing answer to prayer, in response to my utter desperation to try to find out if God was really there. Out of nowhere my clock radio had come on and at that moment the song on the radio was saying,
"Lift up your fellow man, lend him a helping hand, Put a little love in your heart."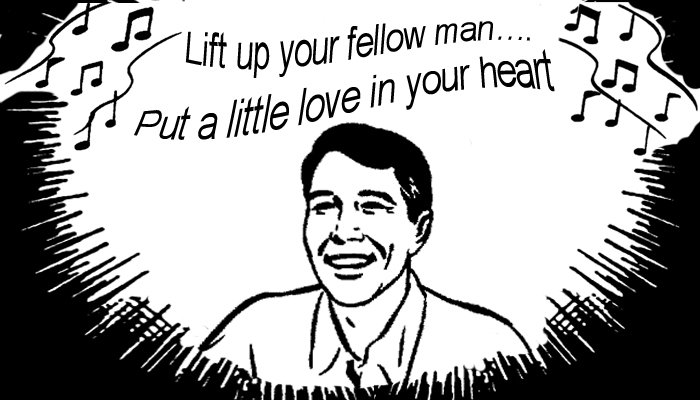 The song instead could have been, "Sympathy For The Devil", a hit song at that time. But it wasn't. I really knew it was an answer from "outer space", from another realm I hardly knew existed. It was an answer from God. So there on my knees I was saying, "Thank you God, thank you God."
But then I heard a voice. Was it the voice of my mind or was it the voice of the devil?  I'd been on the devil's frequency so long that it was almost like they'd intertwined. But clearly the thought was,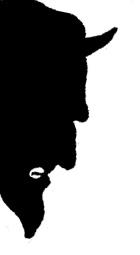 "That was just a coincidence. Your radio just happened to come on right then and it just happened that that song was on right then. Just happenstance."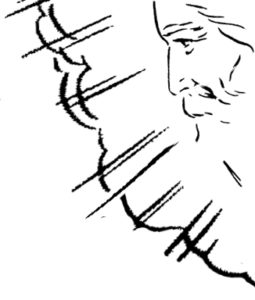 But then, immediately there was another voice. I knew it wasn't my voice or my thoughts. And that changed my life. The Voice said,
"Don't ever ask again." 
I wish I could let you hear how that voice sounded. Because those words themselves can sound hard or harsh. But they really, really weren't. The voice was kind, warm, friendly and almost pleading. It was rather like I'd been in elementary school and had failed 1st grade twice.
It was like the voice of a kind, concerned father telling me that I really needed to get a grip and to get the victory in this, to get over the hump and to learn this lesson that was evidently so hard for me. What was the lesson? Unbelief.
I just over and over would default to doubt and not accept that the spiritual world was real, had worked in my life and made itself manifest on many occasions. I'd been in the grip of unbelief,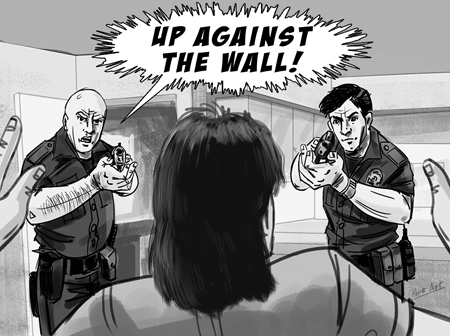 even though God had really done a lot to show me that the world of His Spirit is real. If you want just one example of that among many, you can read about how God supernaturally warned me moments before the police raided my apartment about a year before what I'm talking about here. I wrote about that in "Up Against the Wall!"
God was lovingly charging me and instructing me to not keep asking if it was all real. It was. And this was it; it was time to accept that His explanation for things, His way of seeing things, was the real one and the more powerful one, the truest explanation of the world I lived in. I was of course really shocked to hear those words. But also it sunk so deep in my heart that I really shouldn't keep defaulting to my doubts which had been so entrenched in my heart for so many years.
The Bible talks about "besetting sins" (Hebrews 12:2). My besetting sin had been unbelief. And God wanted me to come to where I accepted what He'd been showing me and to repent of my doubting, to stop doubting and to come firmly down on the side of belief in Him and all that He has done and said.
Happily for me, that experience and those words changed my life. I made a real commitment right then to turn away from the reflex to doubt that had gripped me for so long. It was something I had to do. I had to resist those thoughts and recognize that it just wasn't true. What was true was that there is a God, there is a spiritual world, and there is a devil. I had to adjust my life to these new realities that I'd discovered. It was a huge and total break with the life I'd had till that time.
As it says so clearly and so many times in the Bible, "Without faith it is impossible to please Him. For he that comes to God must believe that He is, and that He is a rewarder of them that diligently seek Him." (Hebrews 11:6) If you know much about God's Word, you know how much importance He attaches to simply believing Him. All the way back 4000 years ago, "Abraham believed in the Lord, and He counted it to him for righteousness." (Genesis 15:6)
"Good works" are important. Helping the poor, loving your neighbor, not being selfish. But the rock bottom essential in our spiritual lives comes down to belief in God, acknowledging that He is real, He is there, not just in our minds, not just as a concept but as a real Essence and Being, a Spirit that we can't really understand and can't see but whose spiritual world and working is all around us.
Thankfully I can say that I don't think I've had that problem any more since that time. I haven't battled doubt about the existence of God and the spiritual world. And that acceptance of faith and heeding His personal commandment to me to not doubt has been part of the foundation stone of the wonderful, incredible life of service for God that I've experienced since that time.