Here's a question for you, "Is familiarity good or bad?" "Um, Mark, that's a trick question, isn't it?" You're right, it is. Because it pretty much depends on how you define familiarity. It can be good when we are getting familiar with a situation or even with people we know so that we're more at ease and able to function in a knowledgeable and capable way.
But there can certainly be a downside to familiarity. What can happen is that, as we get more familiar with a situation or especially with people we love, we can lose the original respect, esteem and even love we first had for them. So familiarity can be an avenue by which a lot of serious damage can be done to our relationships, often with the ones we should love the most.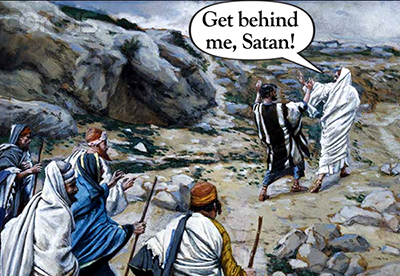 I was trying to think of some examples of familiarity in the Bible. The actual word "familiarly" isn't in the Bible. But I thought of at least two possible examples of where familiarity may have been creeping in. Jesus told His disciples that they would be going up to Jerusalem and that He would be crucified and would rise again the third day. Whereupon it says that His top disciple, Peter, began to rebuke the Lord and telling the Son of God that this was not going to happen. What did Jesus do? He sternly rebuked Peter, or actually the devil that was speaking through Peter at that moment saying, "Get behind me, Satan, for you savor not the things of God but the things that be of men." (Mark 8:33)
Had Peter momentarily gotten a little familiar with the Lord? A little too buddy-buddy and feeling he needed to step in and correct the Lord when he may have thought that Jesus was being a little negative? We certainly know that Peter was not speaking by the Spirit right then and, as Jesus said, he was thinking in the ways of man and not in the ways of God.
Familiarity can be like that. It can just pop up so easily, like a perennial weed and the next thing you know you're totally out of the Spirit, speaking in a Godless, worldly way to often the ones you're closest to. What a device of the devil that is; something we all can run into almost any time, if we're not on guard.
Another example that comes to mind is the prophet Nathan and King David. One time King David had been mulling over the idea of building a great temple for the God of Israel. So he asked his chief prophet, one of his top advisers, Nathan, what he thought of the idea. Nathan replied, "Go, do all that is in your heart for the Lord is with you."  (II Samuel 7:3)
But that night, when alone with God, Nathan heard the Lord telling him the exact opposite of what he had told David earlier. Was Nathan being a little familiar with David, speaking "off the cuff"? Was Nathan being not really in the Spirit so that he actually gave council that was the opposite of the mind of God? Seems like it.
But like I said, there are aspects of familiarity can be good. It reminds me of the sweet song seen in the old movie, "The King and I", where some of the words were, "Getting to know you, getting to feel free and easy." Being comfortable and at ease with people can be a wonderful thing, as long as we can be aware of the potential pitfalls to it.
And actually it's possible to get familiar with the things of the Lord, His Word or even the Lord Himself so that we just don't want to read our Bible since we think we already know all it says. Or the Lord can become so sweet, close and trustworthy that we begin to not treat Him and our relationship with Him with the awe, respect and Godly fear that we should.
I guess all this can get you to the point where we're like what Paul said one time, "Oh wretched man that I am, who shall deliver me from the body of this death?!"  (Romans 7:24) You just wonder, "Yes, familiarity's such a subtle, fatal trap. But what's the solution?!"
Well for one, if you don't recognize the problem, you won't even know to search for a solution. Just being aware of the stark danger of familiarity is a start. But perhaps, like any really heinous, debilitating sin, if nothing else, we can confess it to God and others. A verse that pulled me though some of the worst times of my life is, "If we confess our sins, He is faithful and just to forgive us our sin and to cleanse us from all unrighteousness."  (I John 1:9)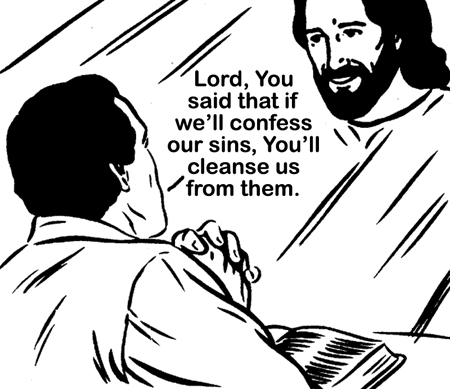 What a promise. If we confess it, He'll cleanse it. It also says to "confess and forsake" our sins (Proverbs 28:13). But at times they are so deep that it seems at first all we can do is to confess it and ask Him to work at the deepest level of our heart to cleanse us. That may be how it is for some people and familiarity, whether it's with their mate, their family or with the Lord and His Word itself. It's the beginning of the victory if you even can recognize the problem and then bring it to the Lord in prayer, confessing it and looking for His cleansing.
May we all be delivered from the clutches of familiarity which drags us out of His Spirit and back into our worldly, fleshly, unregenerate selves. "Be kind one to another, tenderhearted, forgiving one another, even as God for Christ's sake has forgiven you." "Endeavoring to keep the unity of the Spirit in the bond of peace." (Ephesians 4:32 & 3)