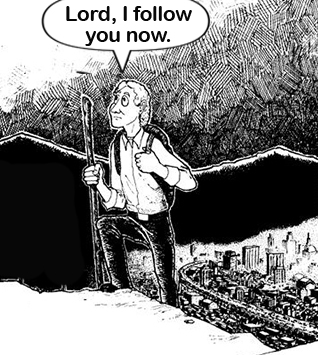 Ever wondered how God works best, with a group of organized individuals? Or with individuals alone? It does kind of mater. Should we endeavor to find a group of like-minded folks who share the same vision, goals and understanding of the Lord as we have? Or should we concentrate on our personal relationship with the Lord and just follow as best we can the Word and the directing of God's Spirit?
Of course the best way to find the answer to this is to look to God's Word. But the answer that comes back may not be conclusively for one side or the other. If you were to say that God blesses and usually wants us to work within some larger organized structure, you could use the example of Israel of old and how He raised them up and blessed them as a nation for centuries. It was their unity, their cohesion and their subjection to His laws and prophets that made them what they were. Or in some cases what they were not. "Believe in the Lord your God, so shall you established; believe His prophets, so shall you prosper." (II Chronicles 20:20)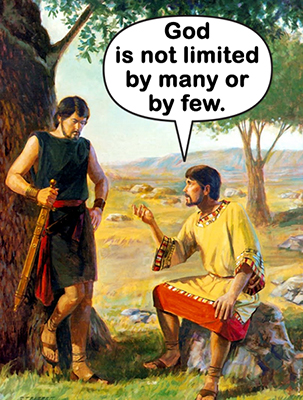 But there were times when this wasn't the way the Lord blessed or delivered His people. The Lord raised up the shepherd boy David, virtually a child, to deliver Israel from Goliath and the Philistines in his day. Before that, Saul's son Jonathan famously said, "God is not limited by many or by few" (I Samuel 14:6) and then he and his armor bearer routed the Philistines and turned the tide of battle when the larger army and forces of Israel were bottled up and tied down.
"Mark, you're wrong. God prefers organizations and the safety of the flock."
Yeah, sometimes He does work that way. But equally, some have traded their insecure liberty in following God individually for safety and security but ultimately bondage in Christian organizations that stopped truly follow God generations ago.
It looks like you can't make a really solid case that God only works one of these ways or the other. But what about in Christian times? Was the Early Church a highly organized, structured, top-down outfit, demanding subjugation and dominion over all the multitudes who came to Christ in the first century?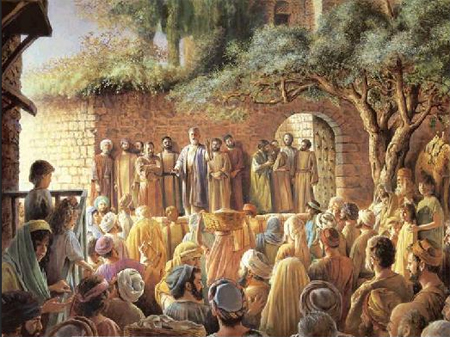 Well, back at the time of the Early Church, they did have some organization and they did try to shepherd and feed the tremendous wave of people who kept coming to the Lord from all over the known world of that time. But it was centuries before there was the kind of stultifying, soul-quenching "organization" that the Catholic Church, as well as the various Orthodox churches, came to be by the time of the so-called Dark Ages.
Maybe it's just because there are so many kinds of people. Some, perhaps the majority, are more followers than they are pioneers and spirit-led disciples who can really forge ahead on their own. Admittedly, not everyone is going to turn out like the Apostle Paul or some of the famous missionaries and pioneers of history who just couldn't be tied down in some daily routine that was supposed to be the fulfillment of their obligations to the Lord's call to discipleship.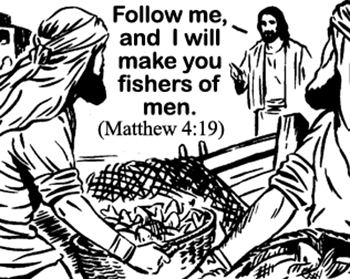 But maybe we should note that the Lord did call individuals to personal discipleship and to even leave behind their present life to be "fishers of men". (Matthew 4:19) He said we should pray to the Father that He would "send forth laborers into the harvest" (Matthew 9:38). Is that best done on a huge scale with much leadership attention to detail, where the laborers need to constantly be checking back with headquarters far away to make sure every move they make is ok with the council of the elders? Or is it best portrayed by Spirit-filled and called individuals who go out, even "not knowing whether they went"? (Hebrews 11:8) I suggest, and I've experienced, that this second mode seems to work better, even though it's rarer and some folks just think it's almost dangerous.
"How can we just let these individuals out there to roam around, saying whatever they will and with no accountability to anyone?!"
But if you look at the record of God's Word, as well as Jewish and Christian history, some of the greatest things God ever did, some of the greatest works He ever started were where there was no controlling head but God , no organization but that supplied by the Holy Spirit, no directors or direction except His Word and the leading voice and presence of the Lord.
Sometimes, alone and outnumbered, people of God have had to utterly depend on Him for support, direction, inspiration and just the whole caboodle. But the Lord came through wonderfully time and again. Isn't that what happened with Noah? With Abraham? With the Apostle Paul and the pioneers of the Early Church? In some situations that might seem weak and unorganized by man, God had some of His mightiest works done through His frail but yielded individuals. I might add that ones like Saint Patrick and many of the highly effective early Celtic Christian apostles were like this. Could we add ones like Dr. Livingstone and Florence Nightingale to this list?
And is there a reason I'm even writing this? Perhaps because in my own life I've come to feel that at times when I had no one but God to lean on and direct me, that at those times some of the most amazing things happen.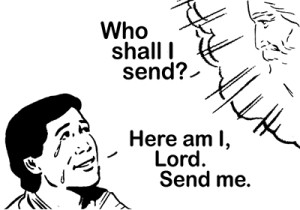 So if you're feeling quenched and subdued in some kind of Christian organization that is supplying your need for fellowship but is slowly sapping your faith, fire and initiative, perhaps you might find greater blessings in simply doing and living the truth you know in your heart that you realize your religious organization is just not following. Perhaps you need to follow God into greater fruitfulness, greater faith and a closer relationship to Him as you follow and obey the Lord, where so often modern Christian organizations just won't be taking or directing you.