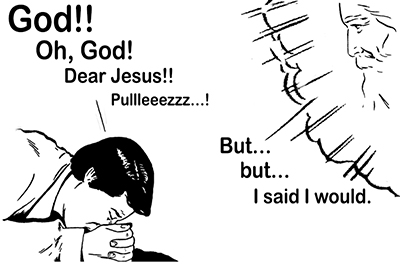 The first year after I became a Christian, I was often really desperate in prayer. That can be good and usually is good. So often for many people, it's like the verse that says, "No man stirreth himself to call upon Me." (Isaiah 64:7).
But for me, maybe it had to do with the very rough experiences I'd had prior to coming to faith where my unbelief and life of debauchery had brought me to some real depths. So even after I came to faith and later came to the Lord, I guess it was almost like what nowadays is called "post traumatic stress syndrome" that was still affected me. Or perhaps it was like what Paul said, "knowing therefore the terror of the Lord…" (II Corinthians 5:11). The Lord had had to smash my pride and contrariness in order that the seed of the new life He wanted me to have could grow. And, at times, those experiences were terrifying.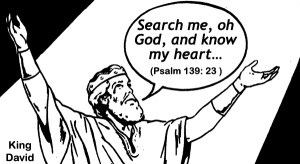 So even after I because a Christian, I often was very desperate in prayer. Many of those prayers were along the lines of what King David prayed, "Search me oh God, and know my heart: try me and know my thoughts: and see if there be any wicked way in me, and lead me in the way everlasting." (Psalm 139: 23 & 24) That's a good verse and a good prayer to pray; what could go wrong?
Well, for me, some of my friends were beginning to tell me that perhaps I was so overwrought with desperation and heart-searching that it seemed like I was almost nervous or tense much of the time, rather than really resting in the Lord. I was so desperate, yearning and serious that it was an imbalance and the Lord wanted to lead me into a further understanding of His ways.
One thing that did come of all that prayer, the Lord often really did come through and I had some marvelous answers. But still, something wasn't quite right. A friend talked with me about this and said something to the effect that "any time something hinders more than it helps, it's time to abolish it."  He was saying that all my continual desperation and vehement concern to have a clean heart was making it so that I didn't have the fruits of the Spirit that I should have, like peace and joy.
I knew the Lord was speaking through him. As so often happens, the answer came through reading the Word. Somehow I was later drawn to read Philippians chapter 3. There are those famous verses there, "I count not myself to have apprehended, but this one thing I do: forgetting those things which are behind, and reaching forth to the things which are before, I press towards the mark for the prize of the high calling of God in Christ Jesus." (Philippians 3:13 &14) Great and famous admonitions and I felt I'd been doing the part of "pressing towards the mark".
But it was the next verse, verse 15, that the Lord really used to punch through to me and to highlight what I needed to realize from His Word. Philippians 3:15 says, "Let us therefore, as many as be perfect, be thus minded. And if in anything you be otherwise minded, God will reveal that even unto you."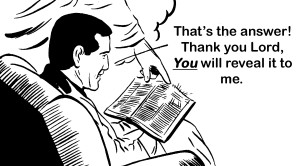 Boy, did that hit my heart just where it was needed. Basically the verse spoke to me this way, "Let us therefore, as many as be perfect be thus minded." [No one is really perfect because all have sinned. But we who are saved are now perfected in the spirit through salvation] "And if in anything you be otherwise minded, God shall reveal even this unto you."
That was the part that really hit home and laid a new foundation stone in my Christian life. We are "perfect" already, in a sense, through salvation. But also there are times where things still need to be changed, where we are "otherwise minded". And for those situations, there's that huge promise there that "God will reveal it unto us". He will reveal where we need to change and grow, where we are not all that we need to be in Him.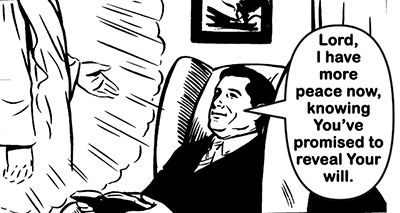 So it wasn't like I needed to stop praying effectual, fervent prayers to the Lord. But this promise was something that I could claim and that would make it so that I was banking on His promises that He would reveal things that I needed to change in, rather than feeling that I needed constantly to whip myself into virtually a frenzy of prayer before God would be willing to communicate with me.
It really helped. It was a major step forward in my Christian life. My prayers were enhanced by being based on faith in His promises to reveal , rather than my anxious efforts to be desperate enough that God would be willing to answer.
"They that believe have entered into rest and have ceased from their own works." (Hebrews 4:3 & 10)  Those are pretty deep verses and probably there are more people around who actually need to "stir up the gift" (II Timothy 1:6) and keep their lights burning before their lamps go out through indifference or leaving their first love. But there may be some who could use this lesson the Lord taught me, that we do better to know and trust in His promises rather than our own self efforts. "The Lord will perfect that which concerneth me: thy mercy oh Lord endureth forever: forsake not the works of your own hands." (Psalm 138:8)  "He that has begun a good work in you will perform it until the day of Jesus Christ." (Philippians 1:6)