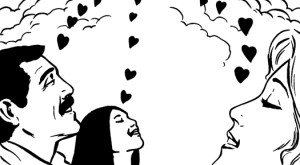 One of the things that has stuck with me the most from the 36 years I spent abroad, serving God, was the need to maintain my relationship with the Lord. One of the mainstays in this, during those years, was having daily devotions.
There was virtually never a day where I didn't meet with my fellow workers in the Lord to have a time of morning devotion. This would usually include singing songs, reading some devotional material for maybe 20 or 30 minutes, and then closing with united prayer. It was one of those good habits that helped the day to start off right, to really "acknowledge Him" (Proverbs 3:6) and to try to spend time in His presence, and in unity with the believers.
If you study the history of Christianity and the history of Israel, you can see that this daily time of prayer and devotions, often done unitedly with other believers, has been a constant for literally thousands of years.
Nowadays we don't have time for that, right? Like some of the Jews said to each other in the time of the kings, "Every man to his tents!" (II Samuel 20:1)  Besides, many of us go to church once a week. There we can sing some songs and hear a sermon, sort of have united prayer and then go home. That should do it, shouldn't it?
For me, it really doesn't. It's been close to four years now since I returned from abroad to live here in the States and I'm just not in a situation anymore to have daily morning devotions with others. But I still do it on my own, virtually every day.
This is an essential in my life. I've just learned it so clearly over the years that we have to maintain our spiritual life and walk with the Lord. If we want to stay close to the Lord, to hear His voice, to please Him and to have His protection and leading and blessing, we just have to take time to cultivate that relationship with Him, daily.
For me, that means personal devotions every day. It's not as long as it used to be when I had this time with others. But every day I take some time to read some devotional material. One of the things I read is "Daily Light", complied by the Samuel Bagster family hundreds of years ago. I read other material like that and then I review my verses for the day. I usually review around 30 verses each day that I have memorized over the years. So many of these are like dear old friends because I can associate the times when I've used those verses in my personal life or I remember the event that brought that verse so clearly into my life.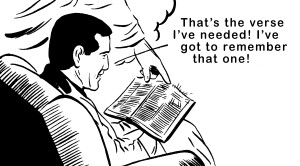 I wrote another post about all this in Memorizing God's Word. This linking up with the Word I've memorized has helped to keep God's Word fresh in my mind and conscious over the years and has been a real key in my life.
Then I go out and take a walk to a nearby park. This is not really for exercise but for me I find that I can pray better when I'm out in nature and sometimes even when I am walking. Also it seems that the Lord's presence is sometimes closer during those times. Several of the blog posts I have written came from events that actually happened on these walks. "Hawks and Doves" was written from an experience that happened while I was walking down the sidewalk to the park. "Red lights and the Sabbath" was also something that came from walking down the same sidewalk. The idea for this post right here came while I was out for my walk this morning.
And also maybe that's why I wrote that thing about "Was David a failure?" If there was anybody in the Bible who knew how to maintain, cultivate and grow in his relationship with the Lord, it was King David. That's why the Psalms are about as good as it gets when it comes to learning how to "draw nigh to God" (James 4:8).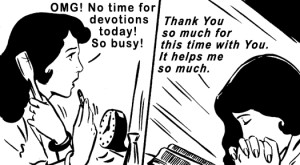 We're all so busy. Probably none of you are sitting off on the hillside, tending sheep throughout each day. We're on line, we're wired, we're working overtime, we're up at 3 AM with the baby, and on and on. But it's very much like what Jesus said to Martha who was so busy "tending tables" (Acts 6:2). She was upset that her sister, Mary, was not up and busy helping her but she was just idly sitting there listening to Jesus. But then Jesus said to her, "Martha, Martha, you're worried and troubled about many things. But Mary has chosen the good part that shall not be taken from her." (Luke 10:41 & 42) And it's still true today, probably more than ever.
I hope, with all you do, that you have time—no, take time—for daily devotion. Without the presence and blessing of God on your life, you're just going through the motions of faith and you surely won't have the grace and fruits of the Spirit to survive and thrive as God wants you to do. Have daily devotions!