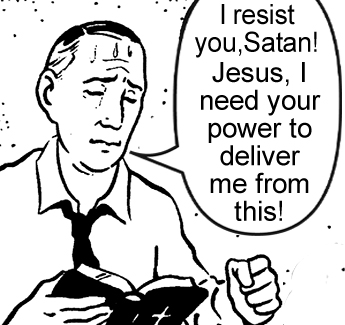 If we're honest, we know there's a lot about us that isn't as it should be or the way we want. Admittedly, it can get to be discouraging. And then, often, along comes the devil.
It may surprise you to know that the devil can tell you a lot of truth about yourself that's horrible, not to mention all the lies. So it can happen like this. You're already a little down and then the devil points out some weakness you have. The devil is "the accuser of the saints" (Revelation 12:10) but often it starts out with something that you even know is true or at least partly true.
So in your heart of hearts you know you have a problem with lying, or gluttony, or violence, or some form of sexual deviation, or something. And sometimes you've tried to resist it. It's not really what you want to do or be most of the time. But then the enemy pulls out his big guns and best sales pitch. "Go ahead!" he says. "It's there in your heart! It's what you really are! You want it!" If you don't watch out, it'll almost make sense.
But…, but, my friends, this is where a knowledge of God and His ways is a matter of life and death. Here's just one verse, a really good one, that can trounce all the drool of Satan. "Resist the devil and he will flee from you," James 4:7. Folks, there is so much crucial veracity in those few words that I can't do the subject justice.
Even if the devil has a point, even if you have a tendency or a proclivity to be a certain way, it does not mean you HAVE to be that way. Back years ago you'd hear people say, "The devil made me do it!"
Nowadays it's more popular to say, "I was born this way!" I wrote a blog article about that one. Well, to hell with both of those ideas from hell. The devil can't make you do ANYTHING unless you COOPERATE. And no matter how you were born, the grace of God brings salvation and freedom "from all sin" (I John 1:7). Jesus said to be "born again." (John 3:3) That's what happened to me and I was delivered from a whole host of sins, foolishness, iniquities and vanity that had virtually ended my life before I was even 21.
So the first step in these things is to resist the devil. Just know and understand that simply because you have a tendency to some form of sin or evil does NOT mean you have to actually do it. Someone said one time,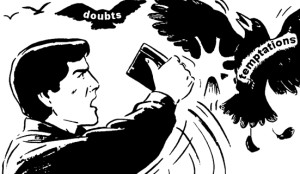 "You can't stop the birds from flying over your head but you can keep them from making a nest in your hair." That's the truth, isn't it? Well that's how sin can be. Temptations can be like birds flying over your head. But you can keep shooing them away. You don't have to let down your guard and let them settle and nest on your head. All of us know this. And it's a real analogy to how sin is.
"But Mark, I'm so weak! I have so little strength to resist!" OK, I know how that can be. For one, are you saved? If not, I can tell you, sin will "have dominion over you" (Romans 6:14), as it did for me. Here's the truth that clinched it for me. "As many as received Him [Jesus], to them gave He power to become the sons of God, even to them that believe on His name." (John 1:12) That's what I did. I received Jesus into my heart and I strongly experienced receiving inward, supernatural power against sin that I didn't have before.
"But Mark, I just hardly believe any of this. I have so little faith." Virtually everyone starts out like that; you're not alone in this. How can you increase your faith? Again we go back to the Word of God.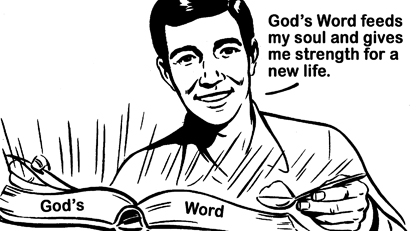 "So then faith comes by hearing and hearing by the Word of God." (Romans 10:17) It's the Words of God that will grow your faith. It IS possible. You CAN resist the devil. You don't have to give into temptations or even the things you know are in your heart but you don't want to participate in. Read the Bible. If you don't know where to start, try the gospel of John.
Like I said, if you aren't sure you're a saved, born again child of God, start with that. Jesus died on the cross to take our sins, to free us from sin and to defeat the devil. If you have Jesus, then you have that power to "walk in newness of life" (Romans 6:4). So don't give in to discouragement or some perverse form of fatalism that says you're doomed to be some way you know is not right and not what you want to be.
Call out to God. Resist the devil and he will flee from you. Put your will, heart and mind on the Lord's side. I know this works because this is what happened to me. If you keep up your resistance, the enemy HAS to flee. But also make sure you're getting filled up with the things of the Lord and turning away from any activities or lifestyles that expose you to the dark side. The Bible says, "I can do all things through Christ which strengthens me." (Philippians 4:13)