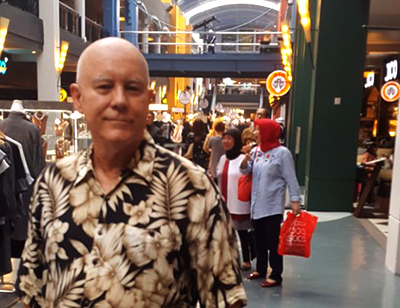 I've been in Jakarta for over a week now, where I lived between 2003 and 2008. Those 5 years and this country had a huge impact on my life. Now I'm again with my friends from those times as I do recordings in Indonesian of the prophecies of Daniel video series which actually was started in Jakarta back in 2006.
From time to time I've mentioned in blog posts about when I was living here. But there's something about talking about the past and reminiscing about the past which I'm not so into. Because I feel there's a danger that any of us can so easily slip into living in the past and the highlights of those times so that we lose sight of all that's still before us in God's vision and future for us, if we're willing to keep going forward for Him. There's so much ahead of us in peaks we have yet to climb, if we keep the vision.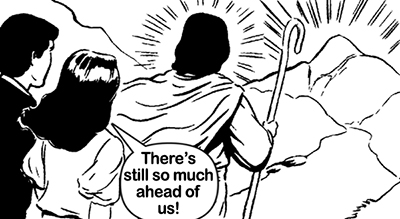 And so truly it has been said, "Without a vision the people perish." (Proverbs 29:18) If we let our looking back to the past replace our following the vision that's before us, it's a great error. But it can be thrilling to look back, with some caution, to see the peaks and valleys we've already crossed, the victories that have already been won and all that the Lord has already done in our lives till now.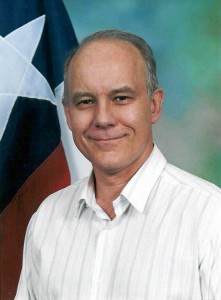 With that thought in mind, I'll take the liberty to share a few links to blog articles I did several years ago when I first started doing these. As a few of you know, I was doing what I called "Fields" newsletter for a number of years before I had these web sites. In fact, one of the first blog articles I did was mostly taken from the first "Fields" newsletters I did. It briefly traces an outline of my life, going back a number of years and then explains why I was about to go abroad in Christian service again in 2003, to Indonesia. Here's a link to that article.
During the time I was in Indonesia, I was often involved in projects with friends to help start schools, doing character building programs in schools and also in direct disaster relief. Perhaps the most intense few weeks of my adult life was spent in the Indonesian province of Aceh in the direct aftermath of the horrific tsunami that hit the region on December 26 of 2004. I went there immediately as an aid worker with a few friends but I also brought along my small video camera. Here's a video on YouTube which I made while I was there.
My five years here was an interesting time with a lot of variety. At times I would be having Bible classes with young people who were from missionary families in Indonesia.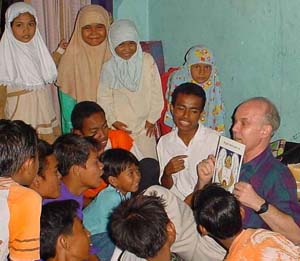 But at other times I was able to do presentations in some local schools that we helped start of principles that are shared between Christianity and Islam. In the picture you can see me with a flash card I am holding of a picture of an angel and the title is something like "Angels watching over us". One of the local students is translating my explanation of it all to the other students there. A blog post that I wrote about this experience with these young students is "East Meets West".
This particular school was a start-up of a young Islamic man in one of the very poorest parts of Jakarta. First he had to persuade the parents to let the kids go to school since the kids could make $5 a day each from begging, far more than their parents could make at a job here. But it finally worked out and an extremely basic school got started on stilts over standing stagnate water, very close to an oil refiner on the coast of the city. A blog article about this little slum school is called "Far Country Photos from Jakarta".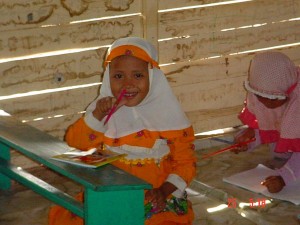 And it was a thrill that some of my Christian friends back in the States contributed to this project at a particularly needy time which made it possible for us to hire 3 teachers to continue there when it was touch-and-go back then as to whether the school would continue. The amazing good news is that from those seemingly feeble, tenuous beginnings, the school (with help from my friends here) was able to build larger and better facilities.It  now has over 300 students who are being educated when, almost certainly, many of them would still be begging on the streets.
It's been a good time to be back here again, to meet friends I worked with during that time and with whom I am still working with on things presently and happened soon. Some of this is like what they say about "happiness that money can't buy". There's a deep gratitude in my heart to the Lord that He's led my life in the way He has , to be able to not only be a child of the Lord but to serve Him and be a positive contribution to mankind and the world we live in. Thank the Lord!