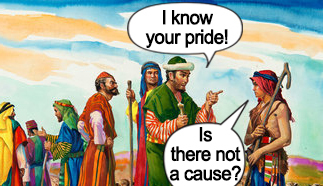 One of the most touching and stirring verses in the Bible to me is what David said when he was probably just a young teenager, "Is there not a cause?" (I Samuel 17:29) I've never read anything written about that verse by anyone so I'll tell you about it.
You don't have to believe in God to have heard about David and Goliath. David, a young teenage shepherd boy, killed the leading fighter of the enemies of David's people. The 9 foot tall giant, Goliath, had a spear and armor; David just had some rocks and a simple sling. And in the power and will of God, David slew Goliath. But David had to fight a tremendous spiritual battle with his own family before he ever faced Goliath.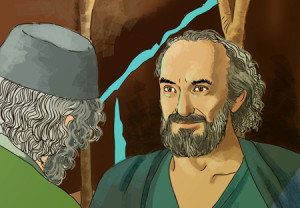 Goliath's people, the Philistines, had been overlords and oppressors of the Jewish people for generations. But changes were in the air. God had raised up a very devout and faithful high priest, Samuel. And God had led Samuel to anoint a king for the first time in Israel, Saul.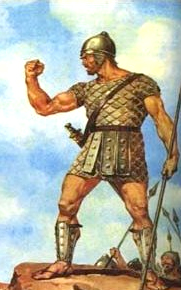 The Philistines and the Israelites were again about to clash. But when it came time for battle, the Israeli fighters were in fear and awe of the champion warrior of the Philistines, Goliath. In modern times the tallest any person has been known to be is around 8½ feet tall. But the Bible says that in those times 3000 years ago there were giants and they were taller than any people are today.
David, who later became Israel's most famous and Godly king, was the youngest of 8 brothers. His father had him tending flocks of sheep on the countryside outside his hometown of Bethlehem while his three oldest brothers were away as combatants in Saul's army which was facing Goliath and the Philistine army.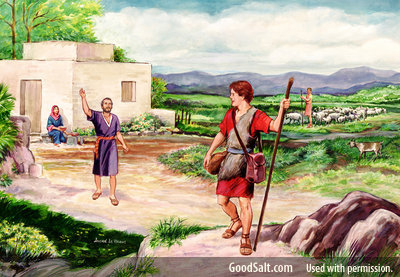 David's father told his son to go to the army camp of Saul to take food to his brothers and to see how things were going. So David left the sheep in the care of a servant and journeyed to Saul's camp. While David was there, he heard the bellowing taunts of Goliath from across the battle lines, challenging any of the soldiers of Saul to meet him in single combat.
And this is where things get almost weird. Remember, David at that time was probably around the age of a modern day 7th grader or 8th grader. When David found that no fighter of Saul was ready to meet Goliath in battle, he told the ones there that he would face Goliath in combat. At length, King Saul gave David permission to go out to face Goliath.
But before David faced Goliath, he had to overcome an unexpected confrontation with his own brother. You'd think his brothers would rejoice to hear of David's incredible faith and conviction. But sadly, as the human condition so often is, he was harassed vehemently. In I Samuel 17:28, when David's oldest brother heard of his little brother's faith and conviction, he had this to say to him:
"Why have you come here? Who did you leave the sheep with? I know your pride and the naughtiness of your heart! You've just come here to see the battle."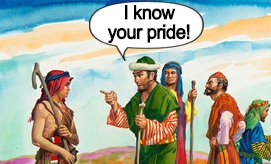 So did David collapse under his big brother's withering accusations and condemnations? Did he loose heart and head back home in defeat and confusion? No. Before he faced the physical battle with Goliath the giant, he had to first withstand the spiritual attacks from his own flesh and blood family and "the accuser of the saints" (Revelation 12:10), Satan speaking through his own brother. And David answered his brother,
"

Is there not a cause?

" ( I Samuel 17:29)
What vision, what conviction, what determination. "Is there not a cause?" Is there not an utterly valid reason? Isn't this worth fighting for? So David had to stand alone, not only on the battlefield with Goliath but before that, with his own family and people. He had nothing but the hand of God on him and virtually crazy faith that gave him the courage to do the humanly impossible.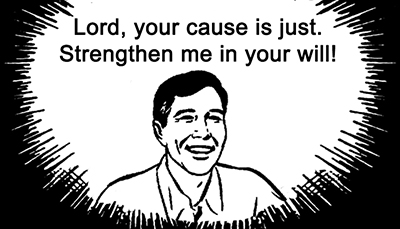 Have you ever had to make that kind of stand of faith? Have you had a vision or cause that burned in you so strongly that you not only were ready to risk your life for it, you were willing to suffer the mocking slanders of those you were closest to? It's that kind of vision in a higher cause, a purpose and noble endeavor that's captured men's hearts and souls to go beyond the normal and mundane, to right wrongs, to champion the defeated, "to march into hell for a heavenly cause".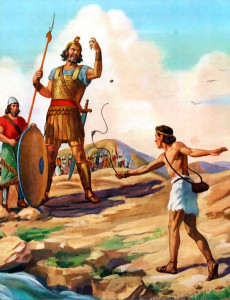 Sometimes "A man's foes shall be they of his own household" (Matthew 10:36). Jesus said so. In David's case, he stood up to his brother and then went out to win the most unlikely victory in the history of all battles. Because of David's faith and certainty in the faithfulness of God to help him win a just battle against all odds, he not only slew Goliath, he went on to be Israel's greatest king. And his words in the Psalms in the Bible have given hope and courage to countless millions for 30 centuries.
Do you have a cause? Do you have a burning vision in your heart?  A glorious quest? A calling from God that you know is just and worth living your life for? If so, don't let anyone dissuade you, even those you're closest to. "Is there not a cause?"