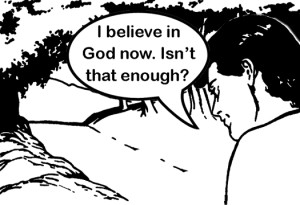 There was a 7 month period of time when I strongly and sincerely believed in God, but I just didn't know who Jesus was. I wrote about my experience in "Lucifer and the White Moths" where I very nearly died and was carried by Satan into the spirit world to be his. But by the mercy of God, I called out to Him at that time. That's how I came to know that God was real. As the Bible says, "some saved by fire" (I Corinthians 3:15) . That was me.
But was I saved? I don't know. I'd had an utter change in my life. I went from being a hardened, mocking atheist to being a stunned, almost speechless believer. I believed in the God of the Bible. I had personally experienced the God of the Bible and the Satan of the Bible as well. But I had no idea who Jesus was. I totally didn't know the difference between Jesus and Moses and Paul and Abraham. A verse I read a few months later, after I became a Christian, was "God is not in all their thoughts." (Psalms 10:4) Boy, I could relate to that verse. When I read that, I immediately felt, "That's just the way I was before all these things happened to me".
And yet, I didn't know Jesus. I didn't pray to Jesus or have any knowledge of Him. I went to a couple of churches in Austin during those months in order to try to find out from them about Jesus. But I guess I looked like a hippy at the time, although I wasn't a hippy. And in those days, churches were not too friendly to hippies.
But I've often wondered, "What would have happened to me if I'd died during that time?" Would I have gone to heaven? I wasn't a Christian. In many ways actually I was like a Muslim or Jew who believes in the God of Abraham and prays to God from their heart. That's how I was. If I had died right then, would I go to hell? It's actually a rather deep question and brings up a lot of pretty touchy theological questions, which can lead to some very heated debates.
For me at least, the good news was that the Lord was preparing a way for me to meet some people who could tell me about Jesus. Just after New Year of 1970, I met some Jesus People. And they really knew their stuff.
Earlier that year, the SDS, the Students for a Democratic Society, had had their national meeting in Austin. I went to that convention and also to some of their private parties afterwards. I met people informally who were part of the Weathermen who ended up on the FBI's Top Ten wanted list. So I had been in some pretty radical and serious circles in the last months.
But those Jesus People had more certainty and just plain answers than anything I'd ever seen. They could answer me with Scriptures. I was 21 by then but a lot of them were no more than 19 or even 17 years old.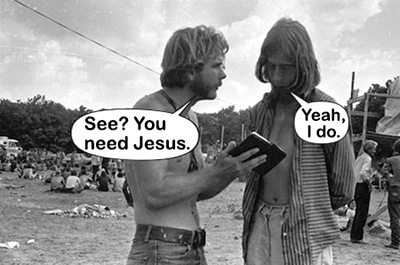 But they showed me verse after verse from the Bible to answer my questions and to show me that I needed to receive Jesus and to be born again.
When I did that, after several talks with them, I didn't suddenly have a swirling heavenly feeling and saw the gates of paradise opened. I'd already had a lot of experiences and I think the Lord figured that I just didn't need any big emotions right then. But something really did change mightily. All during that last 7 months, I'd been reading the Bible every day. I read all the way through it from cover to cover and was on my second reading. Had I really gotten a lot out of it? No. Virtually nothing. I was convinced that God's will was that I should be sacrificing chickens and goats since there was so much of that in the Bible and it was obvious that this was God's will for mankind. That's how be-darkened I was.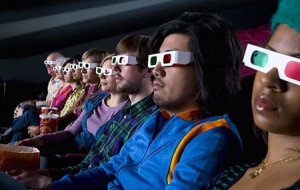 But the strongest thing that happened to me when I received Jesus was that it was almost like those 3-D glasses that are given to people when they see a 3-D movie. Without them the movie is all a blur. But when you put them on, it all becomes clear, in 3-D. When I was born again through receiving Jesus as my Lord and asking Him into my heart, that was when the Bible suddenly began to flood my mind and heart as it had not done at all before that time. I really fell in love with the truth that was there and that love is still with me till now.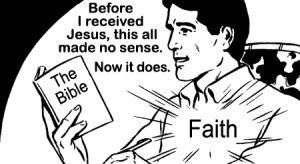 Was God enough? For me, I can say that it wasn't till I received Jesus that I truly was what I needed to be. Even during that 7 months when I prayed to God every day, I was still a little afraid of the Devil. I still was weak through my sins and at one point even started using some light drugs again. But when I recieved the Lord, I was no longer afraid of the Devil. Also like the verse says, "As many as received Him, to them gave He power…" (John 1:12) that was really, really true for me.
I had the power now to resist sin. I had experienced a change of heart and I knew that I was just not the same person or even the same thing as I'd been before. What would have happened if I'd died with only believing and praying to God? I really don't know. But I know I was like what the Old Testament calls, "a half baked cake" (Hosea 7:8), I wasn't fully what God wanted me to be and what God planned for me. Yes, I did believe in the God of Abraham, vehemently and sincerely. But I was not complete till I came to Jesus. That's why the Bible says, "We are complete in Him" (Colossians 2:10) and why, if you only believe in God, there's really more for you that you've not experienced yet. Just like what happened to me.