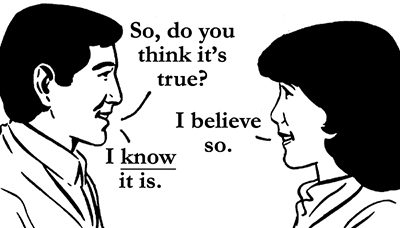 Words are kind of funny, kind of deep. You know what I mean? Take "knowing" for example. You can say you "believe" something but when you say you know something, it's similar but also really different. And both of those words occupy a very prominent place in the Bible.
Probably the most famous verse in the Bible is John 3:16. "For God so loved the world, that He gave His only begotten Son, that whosoever believes in Him shall not perish, but have everlasting life." They say the whole message of the Bible is encapsulated in that verse. And the key and pith of it is in "believing" in Jesus. But that word, "believe", in English, can at times come across as slightly weak. You can ask someone, "Are you going to the party?" And if they say, "I believe so", you might come back with, "Well, are you sure?" And if they then say, "I think so," you'd probably sense a lack of certainty in their voice. But if they say, "I know I will", then that's pretty much it. There's certainty in knowing.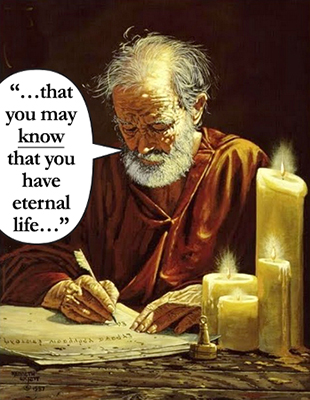 And the Bible teaches us not just to believe in Jesus and God but to know Them. And, yes, that is possible. Paul said, "I know whom I have believed…" (II Timothy 1:12) And John the beloved disciple said, "These things I have written to you that believe on the name of the son of God, that you may know that you have eternal life…". (I John 5:13) There's actually quite a lot about this in the Scriptures. Paul said, "that I may know Him and the power of His resurrection and the fellowship of His sufferings." (Philippians 3:10)
Think about it. Jesus had certainty enough that God was going to raise Him from the dead that He allowed Himself to suffer the most horrible death known at that time, crucifixion. And, sure enough, "God raised Him from the dead." (Acts 13:30) Maybe you don't believe that. But 10 of the 12 original apostles of Jesus were certain enough about that resurrection that they all themselves suffered martyrdom. They didn't just "believe". They didn't just "think". They "knew" , they were certain enough about the truth they'd seen and heard from the Lord that they died for that truth and that Lord, knowing with certainty that eternal life was theirs.
And against the backdrop of the world we live in, that kind of certainty, that kind of knowing is rather rare. Of course, it can be said that people give their lives for causes all the time. Soldiers do it and many others give their lives in a lifetime of what sometimes turns out to be a very questionable goal or dream.
So, admittedly, there's a lot of uncertainty in this world. I was thinking about an obscure verse this morning in Ecclesiastes which says of God "…also He has set the world in their heart so that no man can find out the work that God does from the beginning to the end."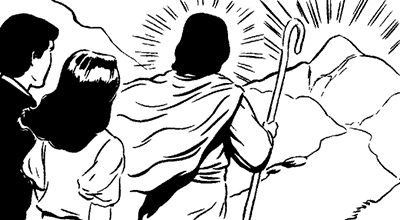 (Ecc. 3:11) That's why we Christians say we have to take a lot of things "by faith". Paul said, "We walk by faith and not by sight." (II Corinthians 5:7) But with the heavenly vision we get from His Word, the eternal truths that are our foundation for this life we now live, we can see and find "the path of life" (Pslams 16:11) which often is radically different from "the course of this world" (Ephesians 2:2) which is what the ungodly trudge along in.
But for those of us who know and believe in the Lord, there is so much more an element of certainty and knowing than in what the world has to offer. Jesus talked about building our house on the rock so that when the storms come, our house will stand. That's all about knowing, about the kind of belief that has entered into rest. It's a knowing kind of belief. This is what Solomon meant when he said, "Have not I written unto you excellent things in council and knowledge? That you may know the certainty of the words of truth, that you may answer the words of truth to them that send unto you." (Proverbs 22:20 & 21)
Life can be really tough. We all make mistakes. We all have times where we really thought we were right about something and it turned out we were wrong.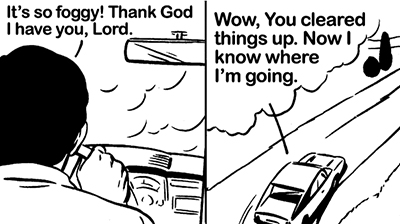 Or there are times where we are just in confusion, not knowing exactly what is true of false. But for those of us who know and have the Lord, a good deal of the fogginess of this life is lessened if we truly know and have a living relationship with God and His Son Jesus, plus also that we deeply study and receive the truth of His written Word, the Bible.
Then, even if there is a lot of uncertainty around you, a lot you don't understand, a lot you just don't feel very smart about, you can still have a strong presence of truth and knowledge of the most important things in this life: eternal life through the mercies of God and Jesus and precious instruction in how to live daily in this world through His Word.