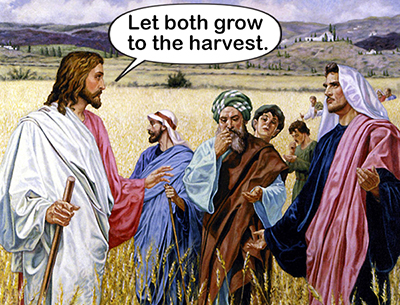 Sometimes you have to give things time. And that's not easy to do. You just wish you could wake some people up and even shock them into realizing how things really are, how much God's will and Word are the overarching realities of all we experience. But it just doesn't seem to work, at least much of the time. We are to share the love and truth of the Lord with everyone. But often it seems to fall on "stony ground" (Luke 8:13). I'm sure that's what folks thought who shared their faith with me.
"What a goat!", they probably thought. Even "What a devil!" I was a real case. But often things just take time and that's not easy for us. "Judge nothing before its time" (I Corinthians 4:5), Paul said. Or as Bob Dylan sang years ago, "Don't start talking while the wheel's still in spin…"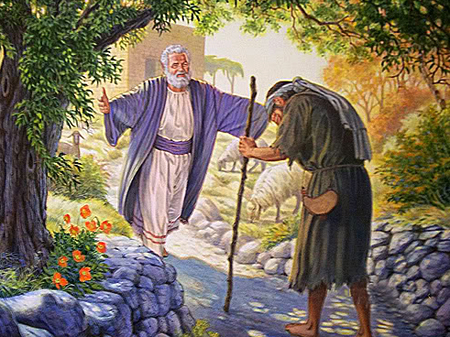 It takes time for some people, many people, to really realize how things are. Sometimes it takes a lifetime. And that's difficult for us who pray for them, love them and watch as they seem to be wasting their life away. The prodigal son, at length, "came to himself" (Luke 15:17) and realized he was seriously on the wrong track. You get the feeling that this didn't take many years to happen. But it saddens some of us when you see years go by with friends and loved ones living a life like the prodigal son but never really "coming to himself", as Jesus called it.
Nevertheless, "Let both grow unto the harvest" (Matthew 13:30). That's a fascinating verse. It's from the parable of the wheat and the tares, about wheat and a type of poisonous weed, "tares", that starts out looking very similar to wheat in its early stages. But, at length, wheat turns more or less white while full grown tares turns dark. Symbolic, no? So "at the harvest" it's pretty easy to see what is the good, healthy wheat and what's the poisonous weed, tares.
And that's how life is too.  Sometimes on the short term there are "The pleasures of sin for a season" (Hebrews 11:25). But as Moses said, "Be sure your sin will find you out" (Numbers 32:23).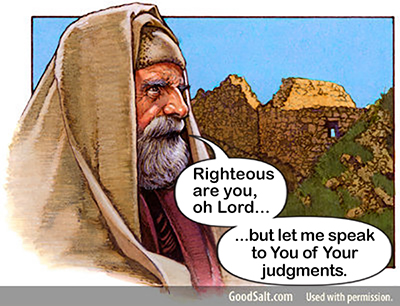 Only thing is, sometimes that doesn't even seem to happen in this life. Ones in the Old Testament from Job to Jeremiah questioned the Lord about why He seemed at times to allow the sinful and Godless to live out their lives and not suffer for their evil. Jeremiah prayed, "Righteous are you, oh Lord; but let me speak to You of Your judgments…" (Jeremiah 12:1)
I guess it's like Paul said, "Some men's sins are open beforehand, going before to judgment and some men they follow after. Likewise the good works of some are manifest beforehand and they that be otherwise cannot be hid." (I Timothy 5:24&25) That's a New Testament way of saying that some folks don't get their reward in this lifetime for the good and Godly lives they live here. But they will up there. Likewise some people who mock God and live selfish, hellish lives in this world seem to never really suffer for it here. But they will in the hereafter.
And since some reading this don't really know what I'm talking about with "wheat and tares", here's what Jesus said about this in the Bible.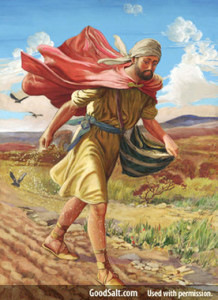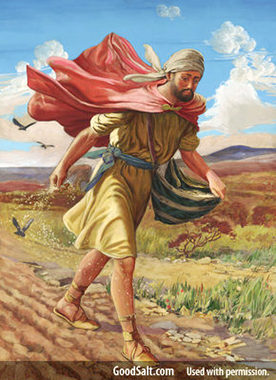 Another parable He put forth unto them, saying, "The kingdom of heaven is like to a man which sowed good seed in his field. But while men slept, his enemy came and sowed tares among the wheat and went his way. But when the blade was sprung up and brought forth fruit, then appeared the tares also. So the servants of the householder came and said unto him, 'Sir, did you not sow good seed in your field? From where then does it have tares?' He said unto them, 'An enemy has done this.' The servants said unto him, 'Will you then that we go and gather them up?' But he said, 'No, because while you gather up the tares, you may root up also the wheat with them. Let both grow together until the harvest. And in the time of harvest I will say to the reapers, 'Gather together first the tares, and bind them in bundles to burn them. But gather the wheat into my barn.'" (Matthew 13:24-30)
Then Jesus sent the multitude away, and went into the house. And His disciples came unto Him, saying, "Explain to us the parable of the tares of the field". He answered them, "He that sows the good seed is the Son of man. The field is the world and the good seed are the children of the kingdom.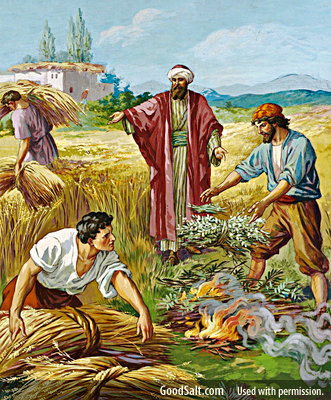 But the tares are the children of the wicked one and the enemy that sowed them is the devil. The harvest is the end of the world and the reapers are the angels. As therefore the tares are gathered and burned in the fire, so shall it be in the end of this world. The Son of man shall send forth His angels and they shall gather out of His kingdom all things that offend and them which do iniquity and shall cast them into a furnace of fire. There shall be wailing and gnashing of teeth. Then shall the righteous shine forth as the sun in the kingdom of their Father. Those who have ears to hear, let them hear." (Matthew 13:36-43)
The good news is that, "He left not Himself without witness" (Acts 14:17). I'm convinced and have seen it in my own life that, "The grace of God that brings salvation has appeared to all men." (Titus 2:11) God is not unfair, everyone has some kind of chance. Many have really a lot of changes, have seen a lot of truth and love from Him and they are very accountable. But often, it really takes the almost literal fires of hell experienced in this life for some people to say "uncle" to God.
That's totally how it was for me; I was just a tough nut and resistant to the realities of the things of God. Back then you would have probably thought for sure that I was part of "the tares".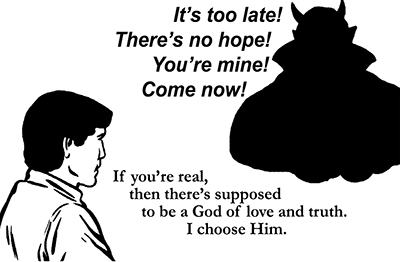 But through God's incredible, undeserved mercy, I somehow "came to myself" and joined the wheat. I personally was very nearly at "the harvest". The Grim Reaper was before me, literally, and my life was hanging by the barest thread when I finally "figured it out" and turned to the God of Abraham.
But for many, it just seems to really take time. In a sense, so many are "resisting the Holy Ghost" (Acts 7:51) every day. And Solomon said, "He that is often reproved and hardens his neck shall suddenly be destroyed." (Proverbs 29:1) It's difficult to know of friends and loved ones who've seen and heard so much of the love of God and the truth of God who still walk their willful way. But, "Let both grow to the harvest." "For we are like water spilled on the ground. Nevertheless the Lord devises ways that His banished be not expelled from Him." (II Samuel 14:14)