I was 5 years old in Marlin, Texas. My parents both went to work every day so I was left alone with a "Negro maid". I was pretty much on my own so I was out on my tricycle a lot, riding around the neighborhood and just checking things out.
I guess it was summer because a friend of mine who was 7 and I were out in a vacant lot and we decided to start a fire. I knew enough already to clear all the dead and dry grass around in order to make a little clearing and a circle of stones to make the fire in. But we needed a way to start it. We decided that I would go back home and snitch a box of matches which I knew were in a place in the kitchen, without our maid knowing of course.
So I got back with the matches and we were all ready to make our little fire. Boy, did I learn some lessons. First one was that, strange as it may seem, 7 year olds are not always smarter than 5 year olds. My friend suddenly started striking matches and throwing them out into the dry grass, rather than to light a fire in the circle of stones that we'd agreed on. I was yelling at him not to do that but to no avail. The next thing we knew, the grass was on fire and a right good grass fire was suddenly started up in the neighborhood.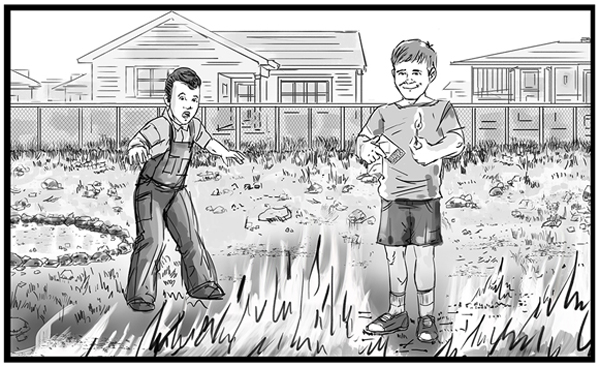 And, would you believe it, the fire department had to come out with two fire trucks and put out the blaze. Good they did, since the vacant lot was surrounded by bungalows on 3 sides.
I really got in trouble. I got some serious discipline which I remember I didn't fight much as I had enough conscience to know I'd done wrong by going back to the house and sneaking off with those matches. But my 7 year old friend? Nothing happened to him. His dad had been a pilot and was killed in the Korean War; his mom was a nurse at the Veterans' hospital. He didn't get any discipline.
I thought it wasn't fair, he was the one that was stupid, it seemed to me. But I knew what I got was fair as I'd done wrong and I knew it. But it was good in a sense that nothing really bad came of this beyond a grass fire in a vacant lot that the Marlin fire department had to come and put out.
What in the world of a lesson can be found in this? Well, like Moses said, "Be sure your sin will find you out." (Numbers 32:23) I didn't know that verse back then but I had an active enough conscience that the principle was certainly clear to me. Also, like Job said, "Great men are not always wise. Neither do the aged understand judgment."  (Job 32:9) I was really surprised at my 7 year old friend that he didn't have more wisdom than that to just start throwing matches out into dry grass. Even I knew that and I was 5.
And then I was thinking tonight, "Well, son-of-a-gun, it's in some ways like I'm throwing matches out into dry grass." Only in this case it's not to do mischief but in hopes to start fires for the Lord in a positive way, a little like the verse, "Cast thy bread upon the waters for thou shalt find it after many days.Give a portion to seven and also to eight." (Ecclesiastes 11:1 & 2) Some of the things I write, it's like, and "Who needs this?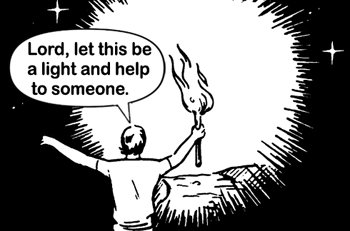 This is kind of 'out there'". But maybe it will catch fire in a good sense somewhere. Someone will be moved by it; someone will respond to it, someone will be inspired and inflamed by it, just like a match on dry grass.
That incident when I was 5 was a very memorable moment for me. The whole episode could have gone much worse. The fire could have caught the houses nearby on fire and injured people. I was doing something I knew in my heart was wrong. The older kid didn't seem to have the knowledge and conscience that I did, although he was two years older than me. That was a surprise.
But it was a memorable moment on many fronts. I never saw anything good in it at all that I did; it was just wrong. "A child left to himself, brings his mother to shame" (Proverbs 29:15). I'd been left alone to ride my bike around the neighborhood at the age of 5 almost every day and I got into mischief.
But tonight I was thinking about these blog posts and the thought came to me that it's like throwing matches out into dry grass. Only in this case, it is in an attempt to do good, not mischief. It's an attempt to help other Christians ignite for the Lord and be a light for Him. "Let your light so shine before men, that they may see your good works, and glorify your father which is in heaven." (Matthew 5:16)