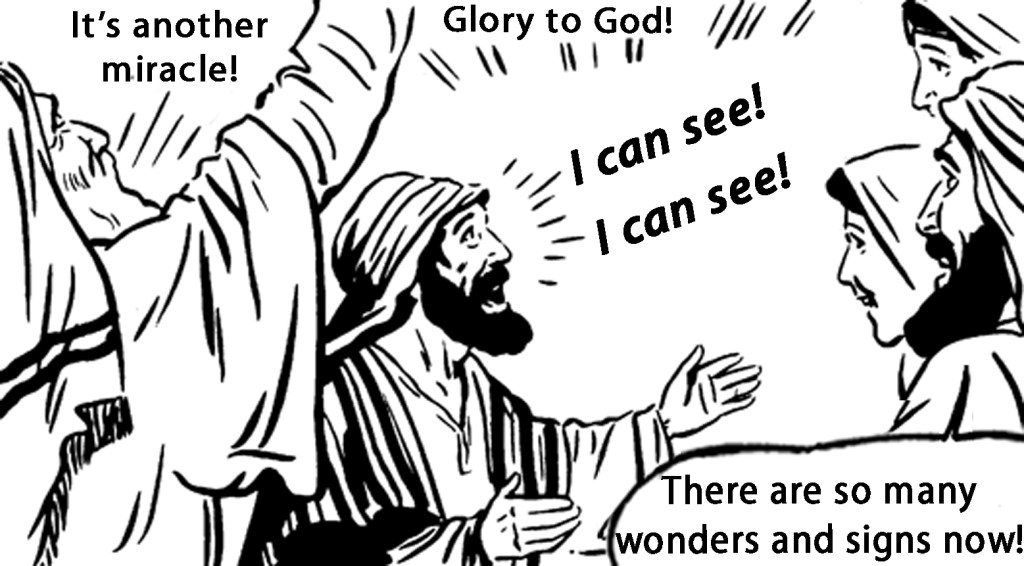 I was thinking tonight about the idea of "miracles per hour". I'd just told one of the teachers at school about what happened to me last week. I wrote up that and posted it here under the title "God's Little Miracles." So she said, "Wow, you were really lucky." That's often how people look at such things when they don't have a life based on faith in God.
But it got me thinking about what happened last week. It wasn't luck, it was a miracle. And I thought about how I've been in places where the "miracles per hour" were pretty high. But in other places and at other times, there really didn't seem to be very many miracles happening at all.
And I sort of envisioned some place in the heavenlies where the "Angels' Regional Command Center" is, or even the local command. It's pretty clear from the Bible that there are different ranks and orders of angels and I can only assume they must have organization and communications of all kinds. And I assume angels must even be able to measure quite a lot of things that we hardly even have names for. Do you think they have some gauge somewhere that measures "miracles per hour"? Do they determine between "miracles that were recognized" and the ones that went unrecognized?
Let's face it, there are oodles of miracles every day that we don't recognize or that don't appear to us as miracles. I drive 30 miles a day on one of the busiest highways in the US. Every day I get home safely, I know it's because of the protection of the angels of God. All the things that don't happen every day, the crazy drivers we don't encounter, the germs that don't take root in our bodies, so many things are part of God's supernatural protect which we don't usually acknowledge or even think about.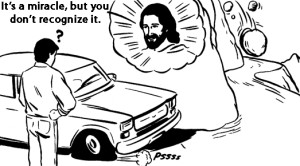 But at other times in my life, I've been in situations where there was a pretty high "miracles per hour" reading. And that's fascinating to me. Why are some  times and places seemingly more spiritual than others?  I spent the summer of 1971 witnessing daily on the streets of Berkley, California and it was one of the most spiritual times, full of miracles, that I've ever experienced. The "miracles per hour" were really high and the friends I worked with back then just almost took it for granted that miracles would happen that day. The spiritual world just seemed much closer and more real, regularly manifesting itself, both the good spirits of God and the evil spirits of Satan. So many people were coming to crises and life-changing experiences at that time and for those of us who were working for the Lord, it was a very busy time. And I think the angels and their local and regional commanders were really busy, really working overtime, if that's the right way to express it, because there were lots of spiritual manifestations back then. Another time like that for me was eastern Europe in the 1990's.
In the early church, it says at times "many wonders and signs were done by the apostles."  (Acts 4:23, 5:12, 14:3) It must have been that miracles were almost commonplace and just expected daily, because they were happening so often. The "miracles per hour" meter at the angels' office was really buzzing. Maybe they have one to register "recognized miracles" too?
Those are the ones that not only help people but they're also recognized by folks here in this world and we're struck with awe at the power of God and our faith is increased, often dramatically.
But equally, and sadly, it seems our unbelief has almost a power to halt the Lord's miracle working power. It says of Jesus, "He did not many mighty works there because of their unbelief."  (Matthew 13:58) Think of it. Jesus Himself was hindered by the unbelief he encountered in some people. But when He was to do some of His greatest miracles, He put everyone out of the room except Peter, James and John, His closest disciples with the greatest faith. (See Luke 8: 51-54) He created an atmosphere of faith around Him. Of course with Jesus the "miracles per hour" were just at the maximum since it was the Lord Himself here on earth in His ministry. But the early apostles carried on the ministry of miracles. And if you know anything of some of the great people of God after that, Saint Patrick for example or St. Francis and many other lesser know people of God, miracles were a regular part of their lives.
So often we're like the ones of old, "their eyes were closed" (Luke 24:16) and we just don't recognize and see spiritually what's happening right in front of us: an astounding act of God. But He's still very much the God of miracles. And you may find yourself in situations sometimes where the "miracles per hour" at the local angels' headquarters is really rising. God bless you with faith for, and the eyes to see, miracles.