One of the more interesting, and to me puzzling guys in the entire Bible is the patriarch Jacob. Probably some will chide me for saying so but he's always seemed like almost an anti-hero among the pantheon of Biblical greats.
Jacob even means "deceiver". He lied to his dad. He tricked his brother out of his inheritance. And he conspired with his mother to do these things. He ended up having to flee for his life and he never saw his beloved mother again. Did that really teach him a lesson and he was a changed man from then on? No, certainly not immediately it seems.
But then God had Jacob work under a more conniving and hard man than he himself was, his uncle Laban. It's a long story but after some 21 years of work, growth and certainly some bitter lessons learned along the way, God spoke to Jacob, "Return to the land of your fathers and to your kindred, and I will be with you." (Genesis 31:4?)
"Oh, great", you could say, "He's finally going to be able to go home."
In Jacob's case, it was a good deal more problematic than that. By this time Jacob was pretty much a rich man, with vast flocks and herds, wives and children, servants and helpers. And his twin brother, Esau, who he'd so blatantly and subtlety tricked out of his inheritance, was a fairly major local warlord. One way we know this is because, when Esau heard that Jacob was on his way back, he gathered 400 of his personal troops to go out with him to meet his brother.
For what purpose? To get revenge? To give him a big hug? It seems Jacob didn't really know. But most likely his conscience was still eating away at him because of the scoundrel/crook/rogue-like nature that seemed to be a part of his personality. And this is where it gets really interesting.
Did Jacob boldly walk at the head of his tribe and go forward to meet his brother? No, he sent almost everyone else ahead of him: wives, children, flocks, etc. And then, the night before he was to meet Esau himself, it turns out that the Bible says Jacob "wrestled" with an angel. (Genesis 32:24 & 25)
What a scene, what drama, what pathos. God had evidently softened Jacob's heart through the years at least somewhat. It wasn't just him alone anymore. He had a large family who he evidently loved very dearly. And now the possibility was strong that he would get what in most ways he deserved: judgment and destruction of himself and his whole family for the perfidy he'd worked on his parents and brother many years before. He probably knew that if that happened, he would only be getting what justice would decree.
Jacob's giants were not like David's hundreds of years later. Jacob's giants were his own sins and his own evil inclinations. Had he outgrown the sins of his youth? Or was now the time when they would finally catch up with him and it would mean the death of himself and all he loved?
For most of us, our biggest enemy is not someone else, or even the Devil. Our biggest enemy is ourselves. "The devils are subject to us". (Luke 10:17) But it's our own evil spirit, our own ornery will that seems to constantly rise up like an ogre to defy God and to lead us astray, even without the devil's help.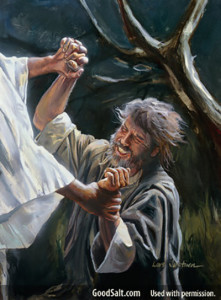 But Jacob knew the jig was up. We don't have the entire dialog of that night and all the details. But it must have been one of the most intense battles any man ever fought, pleading with God through the angel as Jacob said, "I will not let you go unless you bless me." (Genesis 32:26)
What kind of blessing did Jacob need? Well the next morning he would face his brother and 400 armed men. He needed God to have his brother's heart touched so that he would receive him as his long lost brother rather than as the trickster and villain he'd actually been. If ever someone had to get their heart right with the Lord and probably really plead with God for the cleansing and remaking he so desperately needed, it must have been Jacob right then.
It sounds like it went on for hours, hours of desperate prayer, wrestling not only with the angel but also his own sins that so easily beset him. But at last, Jacob found grace in God's sight. The angel even gave Jacob a new name at that time, "Israel", meaning prince of God and man, perhaps signifying that he was "a new creature" (II Corinthians 5:17) in God's eyes.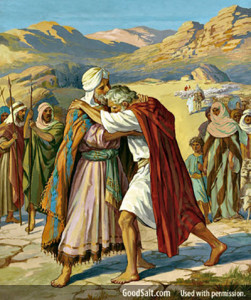 And although we don't know all the story of that momentous night, we do know that, almost surprisingly, the next day Esau didn't go forward to kill Jacob. It says, "And Esau ran to meet Jacob, and embraced him, and fell on his neck, and kissed him: and they wept." (Genesis 33:4) A heartfelt embrace of brothers, much matured and changed through the years who were just glad to see each other again.
Would things have been different if Jacob had not been so desperate in prayer the night before? I've always really thought that. Because Jacob really got down to desperate prayer with God, perhaps one of the most desperate in the Bible, most likely God was able to change Esau's heart also to have mercy rather than justifiable judgment against his brother. God saw that Jacob himself was utterly desperate for God's mercy and help and the Lord did a major miracle.
What a story. Our biggest enemy is ourselves. Getting the victory over "the sins that so easily beset us" (Hebrews 12:1) is our greatest challenge. And, let's face it: a lot of us don't always win that battle. May God help us all to fight our "giants" that defy us and will defeat us except for our desperate prayers for the Lord to "deliver us from every evil work and preserve us unto His heavenly kingdom." (II Timothy 4:18)