I've had an interesting week. On Wednesday I had 5 hours of surgery on my right shoulder to repair a tendon I ruptured 8 months ago. I'd never had surgery before and almost never needed to go to a hospital til now. So it was all very new to me. I'll pick up with what happened the next morning at the hospital, after the anesthesia wore off.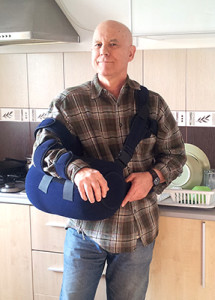 Basically I quickly began to experience pain like I've never had in my life. For 2 hours it got worse and worse to where I was moaning, crying and asking/begging the nurse to hurry up with boosting the dosage of pain killer. She was doing her job but she had others to attend to. Also I suspect it can get to be with nurses that they become desensitized to the suffering that patients experience after a while. But I was getting increasingly desperate and insistent.
We got to the point where I was asking/demanding that they either give me morphine or gas me out so I wouldn't experience what was happening at that time. But around then the effects of what they'd been giving me the last two hours began  to work and the pain level came down from "10" to about "6.5". I was able to bear that enough.
It had been pain that pushed me to get a better analysis of what had happened to my shoulder 8 months ago. I'd finally had an MRI done which the orthopedic surgeon used to show me where my muscle was detached from my bone by about 1 inch. That's why it had been virtually impossible for me to sleep at night for months.
Back home that night, still taking the maximum allowed of pain killers and wearing the shoulder sling you  can see in the picture, I realized I'd have another night of no sleep until my fatigue got the better of my pain. All I could do was wait, pace the floor in my apartment and "draw nigh to God" (James 4:8). And in prayer I thought about a lot.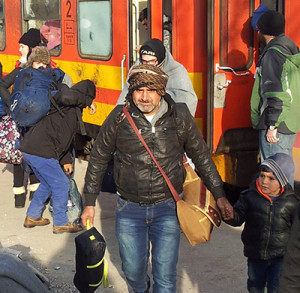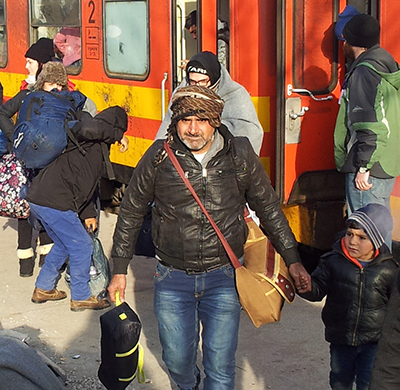 I thought about how many people around the world are in pain all the time. The hungry, the sick, the dispossessed, the refugees, those with no hope. I thought about the Syrians, Iraqis and Kurds I'd talked with on the Macedonian border in December, or in refugee camps in Berlin in January. Women with children, young Syrian daddies who held their little son's hand, all in the bitter cold of a Balkan winter. How was my pain compared to theirs?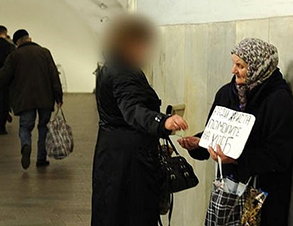 I thought of the year I lived in Moscow in the 90's and the beggars I'd see there. Many were not alcoholics but former military officers or older women who looked to come from very distinguished backgrounds who stood with their hands out, a look of sadness on their faces that made me realize how great a personal loss so many had had with the collapse of Communism. Or the middle aged men I met in Aceh Province, Indonesia, after the tsunami disaster there in 2004. It was the men who survived.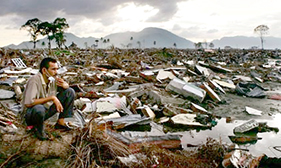 They often were fishermen or truck drivers and were away from their families on the Sunday morning when 3 giant waves crashed into coastal communities for hundreds of miles. I remembered the many men I'd met who'd lost their wife and all their children and the utter sadness and profound despondency they had.
And I thought of my own United States of America and the social background I come from: middle aged to elderly, White and middle class.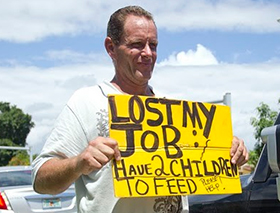 While prosperity has increased over the last 20 years or so, the demographic I'm a part of has seen basically no gain in their standards of living and it's been necessary to work all the more just to keep at the level they were decades ago. Alcoholism, drug abuse and suicide has steadily risen for the white middle class in the USA while in other industrialized Western nations, these things have all decreased. You don't have to talk to refugees to find pain and suffering in our times.
So I hesitate to say I became thankful for my suffering because you might ask, "Oh, would you like some more of it?" And I'd say no. But it was a reality check that I've had it pretty good in my life. I've had some very strong pain in an emotional sense from personal family-related things in my past. Also decades ago when I was getting close to becoming a Christian, the Lord allowed me to feel severe anguish and torment of soul that helped drive me to salvation. But plain, outright physical pain is not something I've experienced so much of.
Around 4 AM my fatigue finally got the best of my pain and I slept 2 hours, sitting upright on my sofa since lieing down was impossible. Now, a couple of days later, things are improving. The worst of the pain has abated and I'm able to sleep in my bed at night with a good deal fewer pain killers than before.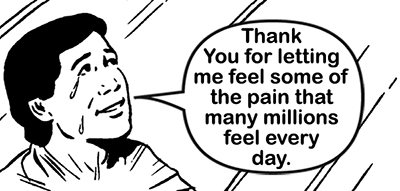 The Bible says "in everything give thanks" (I Thessalonians 5:18) and I can say, in some strange way, I'm thankful for this experience. It was a very good reminder of what hundreds of millions, if not billions of people experience every day. Even before I became a Christian, when I was growing up, I wanted to do something to make things better in this world. I'm so, so thankful that the Lord got a hold of me and brought me into a life of Christian discipleship.
Some of us are doing ok today. But if we have food in our stomach, a place to sleep, some friends and we're pretty much staying above the waves and vicissitudes of this often dangerously raging world we live in, it's good to remember those who aren't doing so well and who could use some help.  I think that's how Jesus taught us to look at these things.