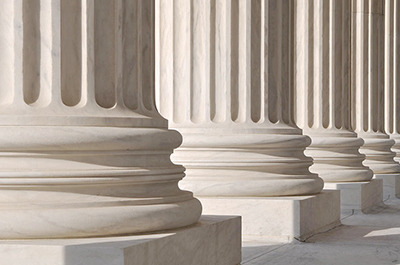 Holding on to our faith is paramount. Paul said, "Holding faith and a good conscience". (I Timothy 1:19)  Because a loss of faith can be a terrible, almost indescribable thing. I know because I went though it to the nth degree and was in profound despair when faced with the fact that I had nothing, I knew nothing, I could hold onto nothing. I wrote about this experience recently in "Hell".
But coming out of that, I was brought by the love and mercy of God to come to know, "Whom to know is life eternal", Jesus Christ. But not right away. At the very first it was just an experience with the forces of darkness, a presence that tried to claim me and extract me from this world. I thank God from the bottom of my heart that somehow He gave me the grace at that moment to have the presence of mind and heart to recognize the spirit of Satan and to turn from him to the Spirit of the God of the Bible. Those experiences were the beginnings of the turnaround and life I've lived since that time, going back to when I was 20 years old.
But I feel I know what it is like to be without faith, in the most tangible and disturbing way one can possibly experience. And I'm sure hundreds of millions, if not billions of people are more or less in that condition in our world every day.
That's why it's so important what the Bible says, "Cast not away your confidence which has great recompense of reward." (Hebrews 10:35) Oh my gosh, how many people every day cast away their confidence? We worry about ISIS. But so many people every day abandon their faith, turn their back on their birthright and "do despite unto the Spirit of grace." (Hebrews 10:29)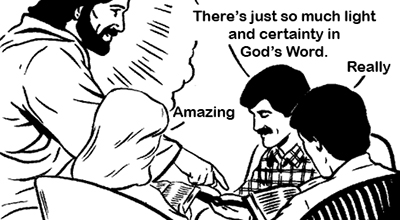 That's why it is vital to "stablish, strengthen, settle" (I Peter 5:10) the foundations of our faith and the faith of others. Faith works. Faith will move mountains, we've heard it said. "But without faith, it is impossible to please Him". (Hebrews 11:6) It might be added, without faith, it is impossible to survive the storms and vicissitudes of the world we live in. By His grace I've lived a life of faith by holding on to His Word which has sustained me for 45 years through 40 countries and innumerable "trials and tribulations" which I never would have been able to survive without supernatural faith.
It's those pillars of faith, founded on the solid rock of God's Word, that we have to maintain and strengthen, both in our own lives and the lives of others. I'll quote that verse again, "Cast not away your confidence which has great recompense of reward". How often that truth has been a personal experience for me. I won't get specific here as some of this is personal and there are perhaps ones reading this who would be hurt or offended if I got too specific. But I can tell you that the Lord has let me experience heartbreak that has taken me to depths I could have never survived without the pillars of faith that I found in His Word.
I was in Silkeborg, Denmark back in the late '70's and I woke up one morning, thinking that was going to be the day I would finally say "uncle" to defeat and death. I really didn't think I would survive that day with my faith and soul intact. There had already been many like it and I was at my wits end. Before I even got out of bed, the verse came to me, "Save me oh Lord, for the waters are come into my soul. I sink deep where there is no standing." (Psalm 69:1 & 2) That's how it felt: just completely drowning in hopelessness. But later that same day, just out of nowhere, in my time of being past hope, the Lord came though and did things so that the winds of misfortune and hopelessness gave way to a new spring of better times.
Hope. Faith. Knowing. In Him we don't just have to have "hope", or even "have faith". We can know. That's what the Bible says. "Faith" can seem kind of weak at times. But the Bible speaks of knowing. "For I know whom I have believed and am persuaded that He is able to keep that which I have committed unto Him against that day." (II Timothy 1:12)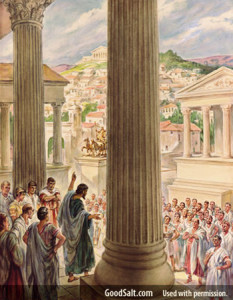 Those pillars of faith, those absolutes that we have staked our lives on are not irrational, as the secularists say they are. They are faith in the God of love and His Son who died for us and was raised from the dead. Yes, it doesn't make sense to the agnostic minds of our world today. But we have more than that. We have what the people of faith have had for 1000's of years. Deliverance. Truth. Joy. A power unknown by unbelievers. Pillars of faith that are strong enough to get us through whatever this life may throw us. "The Lord shall deliver me from every evil work and shall preserve me unto His heavenly kingdom, to whom be glory for ever and ever." (II Timothy 4:18)