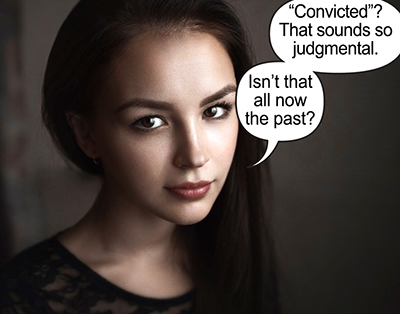 I got an interesting response from someone regarding what I wrote about "Convicted". It was sincerely written, nothing sarcastic or combative to it. Her first sentence said, "Conviction, reprobate etc seem to come from a judgmental mentality. I think that was done away with, with the message of love and compassion."
That's an interesting way of looking at things and it's a viewpoint that many now and over the centuries have had. Here's more of what was written to me.
Spiritual growth can include the evolution of how we express ourselves, reaching inward with the intention of becoming closer to our soul's essence, feeling that deep love that is the source of our existence and of creation, and then letting our light shine in word (vocabulary) and in deed. I think part of letting our light shine is connecting with our source of power individually through genuine prayer and faith, and letting that unique expression be our contribution to others with humility and compassion, which really is kindness. The world needs more kindness. Conviction comes from a place of strength, taking a stand from a place of deep faith and belief. Then we can use whatever words best communicate our faith and love. Isn't that a universal way of sharing light with others, and the goal of openly practicing faith?
Obviously there's a lot to agree with there. "The world needs more kindness", I sure agree with that. I get the impression that this person is a gentle soul who wants to let her light shine, as she wrote, and to be a force for good in this world, working within the realm of faith and spirituality.
So it behooves me to respond to this one with respect and a prayer for wisdom in what to say. Paul said, "The servant of the Lord must not strive but be gentle unto all men, apt to teach." (II Timothy 2:24) I feel the Lord wants to slow me down on this and to help me choose what I say with prudence. It could be easy to do what some Christians find all too easy to do, to jump in with what they perceive as wrong in what someone has said. To this dear friend I would say (with a respect and a hope that what I say is easy to be accepted) that it's not what you are saying that I'm hesitant about; it's what is not being said.
The reason is that in the same way our food in these times can be refined and processed so that it's separated from its original nutriments,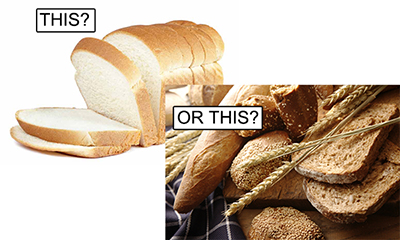 things of the Spirit can be processed in such a way that there's still some substance left there but essential ingredients have been removed. It's actually expressed rather well by Paul the Apostle when he said that one of the conditions in the future would be that people would have "a form of Godliness but deny the power thereof." (II Timothy 3:5)
This sadly is happening a lot in our times where there exists a spirituality that has a lot truth to it, even Christian truth to it, but at the same time it's somehow been "processed" and "refined" to take away what seems unacceptable or improper. A case in point with this is what this dear one said in her first sentence "'Conviction' and 'reprobate' etc seem to come from a judgmental mentality." This is a rather clear example of where some feel the original message of God in the Bible needs to be processed or refined to remove things we find offensive in our times. Again, many millions of people look at things this way, both those professing to be Christians as well as many who hold the faiths of eastern religions.
For me, it's kind of like a whole package, almost like when you install an operating system on your computer. I wrote about that in "Resetting to Factory Default". It's not just one file but hundreds of thousands and it all interacts together to make your computer works. I'm certainly not able to try to go "under the hood" and delete files I don't like or which I think would make things go better.
In the same way, I don't find it wise way to begin to remove basic pillars of God's Word that are clearly there both in the New Testament and the Old. Many people want to get back to the original Godly food that can be grown naturally and contains the nutriments that are there for our good. In the same way, if the concept of "conviction" and the many other explanations of our existence that Jesus taught us are repeatedly presented in God's Word, I feel I need to take heed to these things and to be very cautious about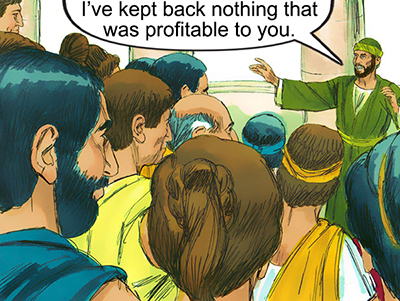 any who would process and purify what they feel needs to be removed from God's truth. It reminds me of how the original Christianity was founded in the early church. Paul said he had "kept back nothing that was profitable to you", that he had not held back from sharing "all the council of God". (Acts 20:20&27)
Some people have retained some of the essences of spirituality but have somehow removed the true center and source of it all, which is not our inner soul but God Himself and His Son Jesus. Jesus said, "Without me you can do nothing." (John 15:) I believe that. It has to come back to Him, His provision, His direction, His infusion of light, direction and strength. We are "not sufficient of ourselves, to think anything of ourselves, but our sufficiency is of Christ." (II Corinthians 3:5) Some inadvertently come to feel that every person on earth just needs to get in touch with their inner selves and things will be fine. I didn't find that at all. I found I needed to have a regeneration of heart and spirit through the redeeming power of the Savior, Jesus Christ.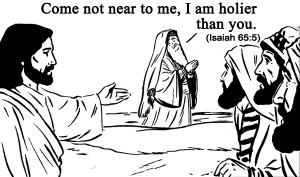 It's a rather convicting thing to try to answer or respond to what this dear one wrote. It is true that judgmentalism and a "come not near to me, I am holier than thou" attitude (Isiah 65:5) has been prevalent in Christian circles towards those who may not fully agree with all aspects of it. A good deal more humility, gentleness, kindness and long suffering are sorely needed. But I don't want to throw the baby out with the bathwater. The sometimes haughty judmentalism that can be found in some Christians does not negate the unquestionable sovereignty of God and of the judgment that exists already and the final one that is to come.