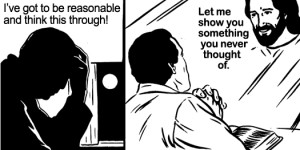 Don't get me wrong, I'm not against reason. Isaiah 1:19 says, "Come, let us reason together" says the Lord. And it says that Paul "reasoned" with the Roman governor, Felix (Acts 24:25). But let's face it, the devil has gotten in somewhere with the whole thing about "reason" in more modern times. Because it seems like 9 times out of 10, when people talk about reason, the implication is that we should forget about the miraculous. "We should depend on our own reasoning", they say, "our minds and our intellect." The idea is that there really isn't anything other or better or higher than that.
That's a serious mistake. It's "throwing the baby out with the bathwater". Or letting the pendulum swing too far in the other direction. It's like what Jesus said, "These ought you to have done, and not to leave the other undone."(Matthew 23:23)  In other words in this case, we ought to use our minds but not to where we reject the supernatural and miraculous intervention of God.
Our minds don't have to be considered our enemies. (Of course the unbelievers would hoot and squawk immediately at that idea there, if we were to even think that our minds could be our enemy.) But in the same way that our bodies can be our enemies if we let our physical desires and impulses take us over, our minds can be our enemies if we let our "carnal mind" (Roman 8:6) take first place in our decisions.
It's a big subject but really important. Many people have faith in God, but it's like they say, "Let's not take this thing too far!" "Let's not think that God can do anything outside of the rational laws of science that we all believe in today." This seems to be the often unspoken faith of multitudes. So they limit God by their minds. It ends up just being unbelief or a very limited form of faith.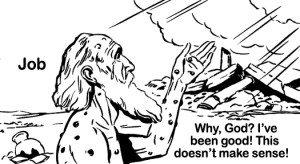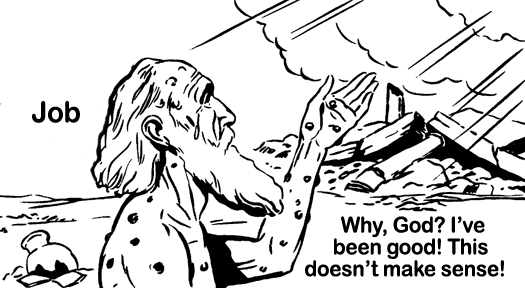 But as God so succinctly spoke to Job around 4000 years ago, "Should it be according to your mind?" (Job 34:33) Things were going really bad for Job. He'd been so good, really, and he'd tried so hard, sincerely. But then it seemed all hell was breaking loose. It just didn't make sense! It wasn't fair! And he was right in many ways; it didn't make sense and it wasn't fair, according to the natural, normal way that most people in their natural reasoning would look at things. But in the end it all worked out, totally contrary to how Job saw things happening and he ended up being doubly blessed.
In Isaiah 55: 8 & 9 God says, "For My thoughts are not your thoughts, neither are you ways My ways. For as the heaven is higher than the earth, so are My ways higher than your ways and My thoughts than your thoughts." Our natural reasoning and understanding might make it through some situations but those things totally fail at other times.
But "reason" came to virtually replace God long ago. "The Age of Reason", as they called it. It looked pretty good and there were a lot of good points there. But what was the end result? In turning to exalt and embrace Reason, the miraculous, the supernatural, the living presence of God not only took a back seat, it was kicked out of the car and left by the side of the road.
It certainly was not through Reason that I came to faith in God. It was the miraculous. But how many people of faith, regardless of their religion, really are looking for the miraculous intervention of the God of Abraham in their lives in these times? For so many, their faith is subservient to their reason. And perhaps this is because they are partially ashamed of their faith and don't want others to think of them as strange or out of line with modern times.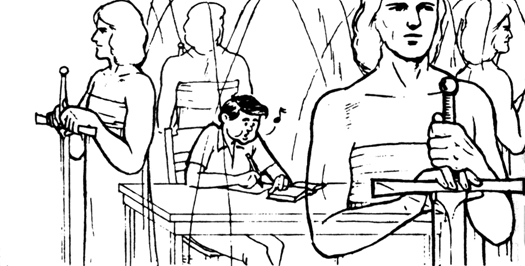 This is what I wrote about in "Will He find faith on the earth?" Jesus virtually predicted that at the time of His return, the level of faith in the world would be at a very low ebb.  It was the utterly miraculous that turned me from an atheist to a believer, even before I became a Christian. And that wasn't just something that happened long ago. You can read "God's Little Miracles" to find a miraculous thing the Lord did in my life just a few months ago.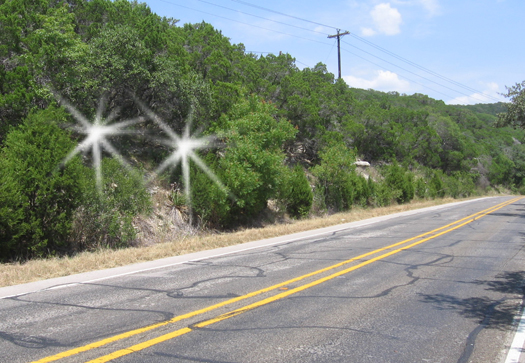 So I'm thinking about writing some articles on some of the things I've experienced personally, not stories from centuries ago but things that have happened to me personally, that hopefully will inspire faith in others to know that God is not dead or even sick. I think I'll call them Angel Stories. Here's one about an incredible experience I had where angels saved me from death when I pretty much deserved death at that time. It's called "Lights on the Road".
Faith in the miraculous should come first, before our reason. We need both to be well balanced. But the presence of God should have first place in our sight, not our own reasoning. "Trust in the Lord with all your heart and lean not to your own understanding. In all your ways acknowledge Him and He shall direct your path." Proverbs 3:5 & 6