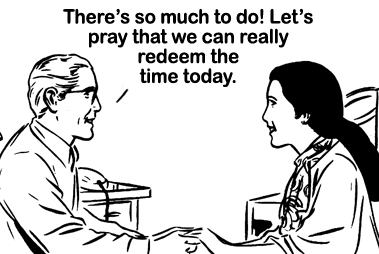 What does the Bible mean, "Redeeming the time because the days are evil"? (Ephesians 5:16)  Actually there are so many deep truths in the Bible, often wrapped up in just a few brief words. This here is one of the really good examples of this.
It's not even exclusively a Christian truth or teaching. You can be an atheist and still believe in the basics of diligence and making the most of your time. But when this thought is brought into a Christian context, as an injunction for Christian living, it takes on so much more meaning. Jesus said to His disciples, "I must work the works of Him that sent me while it is day. The night comes when no many can work." (John 9:4)
One of the Devil's greatest wiles is "Wait a while." If the devil can't defeat you any other way, he tries to get you to procrastinate and get busy with a little here and there. There's even an obscure verse in the Old Testament that says just that. Someone was commanded to watch a prisoner but he escaped and the excuse was given, "While I was busy with a little here and there the man was gone." (I Kings 20:40)
Oh, pitifully, sadly, how many of us may have to say the same to the Lord at the Judgment seat of Christ. We were "busy with a little here and there." We didn't redeem the time. Perhaps the most precious thing any one of us has, besides our souls, is our time. This was such an indelibly etched lesson on my soul during the times where I had life after death experiences which sadly were basically on the dark side. I had a foretaste of hell and one of the greatest impression was the time I'd wasted and frittered away, never to be recovered. I believe that was a foretaste of eternal hell and separation from God and the agony that can be felt of a wasted life, squandered in vanity.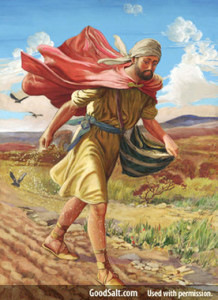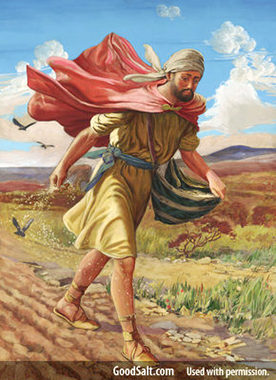 The Lord so clearly commands us to "lay up treasure in heaven". (Matthew 6:19) The Bible says, "He that sows sparingly shall reap also sparingly and he that sow bountifully shall reap also bountifully." Yes, that doesn't mean you have to be out passing out tracts on the streets or you're not in God's highest and best. But I think if we're all honest, there are a lot of things that are pretty much worldly, mundane tasks that will flow into our lives like some infectious weeds on a lake so that nothing grows or even swims there anymore because of the weeds.
Jesus spoke of the seed sown on thorny ground that was chocked by "the cares and pleasures and riches of this life and brings no fruit to perfection." (Luke 8:14) For so many, any thought of "redeeming the time" to "seek first His kingdom" gets further and further down their list every day. This is what I wrote about in "They Began to Make Excuse." But it's just not how things are suppose to be.
I guess it can come down to a lack of vision. "Where there is no vision the people perish", (Proverbs 29:18) and I think for so many, this is what happens. They don't even begin to redeem the time because they have lost the vision of the Lord's commandments and teaching and His call on their lives.
It just all goes together, doesn't it? I've written about so many aspects of this and they all tie together. I wrote about "Keep Your Heart with all Diligence". I wrote about "The  Heavenly Vision" and this is also part of it, "redeeming the time". If we keep these things, they're some of the key components in staying alive spiritually and pulsating for Him. We are to be "not slothful in business, fervent in spirit, serving the Lord." (Romans 12:11)
But of course for Christians this isn't just a matter of constant, feverish physical work. Redeeming the time can mean "continuing instant in prayer" (Romans 12:12).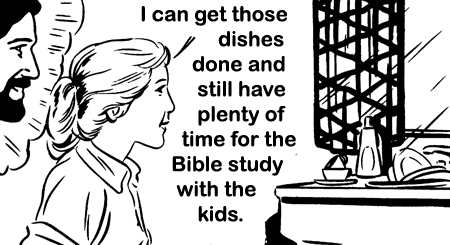 It's a manifestation of a God-given inner awakeness that is engendered by the Spirit of God, a godly urgency to make the most of the precious life we have and the moment in eternity we have in the world to live for him and bring others to Him.
There's more than enough for us to do in  this world, harvests to reap, seeds to sow, sheep to feed, prayers to pray, friends who need love, to keep us alive and busy in Godly service for Him and others till He returns or we pass on to our reward. It's imperative that we "redeem the time" and not be caught like the unwise virgins at the return of the bridegroom, our lights gone out and we be found wanting for lack of our love for Him and our vision of His calling and will.