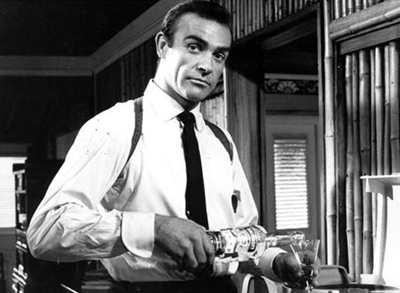 When I was 16, I read "James Bond" books. You may laugh but the books were pretty different from the later movies. Well, I won't go off on James Bond here. But if you know much about the character, one of his most famous lines was always how he'd describe how he wanted his martini, "Shaken, not stirred".
Hmm. That phrase came to me this morning in a deeper way. In the last 5 weeks, my life has twice been rather strongly "shaken". And this has been to a degree that I've also been "stirred". So for me, it's recently been a case of "shaken and stirred", rather than not stirred.
But for Christians, this is something than can happen somewhat often. And it can (and should be) good. First, shakings happen. Paul said to the Corinthians, "We are troubled on every side, yet not distressed. We are perplexed, but not in despair; persecuted, but not forsaken; cast down, but not destroyed" (II Corinthians 4: 8 & 9). Like the old song said, "a whole lot a' shaking going on."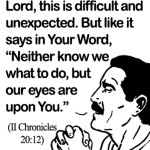 Can we do anything about it? Should we? Well, admittedly, most of us don't look forward to shakings. I don't. These recent things haven't looked like good news to me. But we certainly don't have control over all aspects of our lives or the lives of our friends and loved ones. Things just happen that sometimes can really bring a shaking and a shakeup in our lives.
But, "All things work together for good to them who love the Lord, to them who are called according to His purpose." (Romans 8:28) And one of the good things in shakings is that, if we're Christians and know the foundations of our faith, we get stirred. And we should. That may be one major reason the Lord brought the shaking: so we'd get stirred.
There have been some days in the last few weeks where virtually the only thing I could do was go out and pray. My life was being shaken up and some foundations seemed to have slipped like a tectonic plate.
In Isaiah it says, "No man stirs himself to call upon Me."(Isiah 64:7)  It's just so easy for us to get lethargic and settled in our routines or the blessings He has given us. He has " cast our lines in pleasant places." (Psalms 16:6) So sometimes He "dries up the brook and stops the ravens", like he did with Elijah. (I Kings 17) He shakes us up by withdrawing His blessings and sometimes even protection. One of the worst traffic accidents I was ever in was in southern Norway back in the 70's when I was riding with some folks I didn't know and our car went off an icy road at night, into the air and down a snowy embankment.
Miraculously we landed some 30 feet (ten meters) down the cliff, unhurt, and were able to climb back up to the road. This was one of the Lord's major shakeups for me because my former wife and I were called to the mission field of central Europe and we'd been delayed and waylaid in our obedience to His call. That wreck really shook me up. I saw it as a form of the Lord withdrawing His protection as we weren't really in the center of His will anymore. So we got very "stirred" and desperate. And less than 6 months later we were finally on our way towards our new mission field and base in Vienna, Austria.
For a Christian, when you get shaken, it's time to be stirred. But some seem to never get stirred. They harden their hearts. Paul got stirred. It says that "his spirit was stirred within him" (Acts 17:16) when he saw the whole of Athens given over to idolatry.
And what's the good thing about being stirred? When we pour out our heart to the Lord, He always comes through. We have to do our part, to sometimes vehemently seek His face and "pour out our hearts before Him" (Psalm 62:8). He told Jeremiah, "And you shall seek me and find me when you shall search for me with all your heart." (Jeremiah 29:13) That verse was probably one that stirred the prophet Daniel in his famous ninth chapter and the prayer he prayed which brought one of the most significant answers to prayer that was ever given, the prophecy of the 70 weeks.
So, shaken, not stirred. But in our case, shaken and stirred. Like Jesus said, "Whosoever shall fall on this stone shall be broken. But on whomsoever it shall fall, it will grind him to powder." (Matthew 21:44) If you "fall on the Rock" in the time of trouble, if the shaking of your life brings the stirring of your soul and the pouring out of your heart to Him, then all things will have worked together for good. On the other hand, if you are shaken but unstirred, the Lord there said that ultimately the Stone you should have fallen on in prayer will ultimately fall on you. If you're being shaken, get stirred.