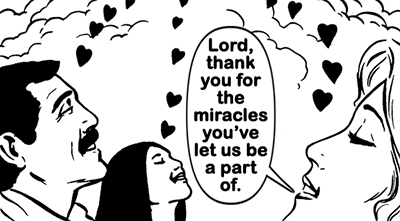 Sharing our faith with those who don't know the Lord is not only "the Great Commission", it's an incredible way to experience the thrills of heaven and be right immediately where miracles of God happen. It's a crying shame that so few Christians regularly share their faith with others, or "witness", as it is called. There are virtually no churches who teach their congregations that they should actively share their faith with others, much less teach them how to do so.
Most of us would like to see more miracles in our lives. We know the Lord is there and that He can do "exceeding abundantly, above all we ask or think." (Ephesian 3:20) But how can we be part of that? I'll tell you, if you take the step to launch out and share your faith, you'll often see some truly amazing and supernatural things happen, things that are impossible without God.
I'm blessed to be part of a weekly Christian fellowship, folks who almost all are active daily witnessers here in Texas. Many of these have backgrounds similar to mine, a lifetime of Christian service which was mostly spent outside the USA. So mostly these friends are not beginners to witnessing. And with this example I'm going to share, some of you might feel these friends have a lot more holy boldness than you feel you have right now. Their method of witnessing is perhaps not what you feel you're ready for. But they told us recently of an incredible experience that happened to them while they were out sharing their faith and I thought to pass it on to you.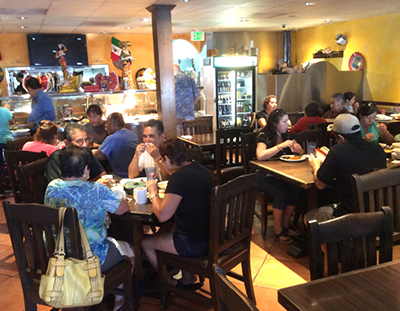 These friends told us of an afternoon when they were witnessing in restaurants. ["Oh, Mark. I COULDN'T POSSIBLY do that! What would people think? I'd just be making a fool of myself!"] OK, like I said, this is not a beginner's witnessing testimony and an example everyone would feel they can immediately emulate. But here's what they said happened.
"We were in a restaurant and we approached a table where two women were talking intensely. We had some Christian material with us that we usually offer to people in order to start a conversation. So we offered the first lady something that highlighted a Bible verse, Isaiah 41:10. And just looking at it she started crying. At first we didn't actually see that the woman had started crying and I offered the other woman material having to do with the serenity prayer. Then that woman started crying. And we couldn't talk to them for a minute or two because they both were crying."
"We apologized to them that we made them cry and the first woman said that it wasn't really us, it was just that her grandson is in the hospital with cancer. And his name is Isaiah. And then it turns out that Isaiah's little sister is named Serenity. These women had just come from the hospital where little Isaiah was  and after lunch they were going back. We were able to pray with them and they said they knew the Lord sent us to them right then to comfort them and to be like a sign to them. They said, 'We know God sent you to us right now'."
My freinds went on to tell me, "When you are out there, it really isn't like hard work. So often people say, 'When I met you, it's like I feel I've met the Lord in you.'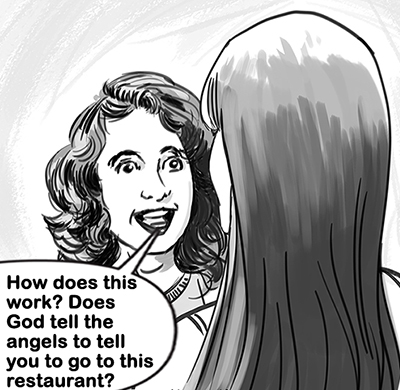 Often there's this incredible timing to things, even though we don't know it ourselves. It's like a flow to be in and we take on the mantle of the Lord. This is how He's ordained it and when you make yourself available, then His miracle working power is done through you, right in front of you and you are as amazed as the others. A person said to us today, 'How does this work? Does God know this and then He told the angels to send you to this restaurant so you can talk to me? It must be because it's not an accident that you came to see me today.'"
"Mark, these folks must really be saints. Probably no problems but just barely in this world they're so spiritual."
Well they just told me that not long ago, when their children were really not doing good, having troubles with growing up, that the only way they got through it was to go out daily and share their faith with others. Thinking about the needs of others and pouring out to others was a way to keep putting first the things of the Lord when their own situations were going over their head, even after they'd been doing everything they could for their kids.
They said "It just helped us to go out and talk to and help others as so many have so many problems and we were just there to be a blessing and help to others. One time we were driving down the street and I said, 'I don't even know how I can talk to people today, so many things and problems are going on.' But then the first person we talked to said almost immediately, "Wow, I know God sent you to me today."
One more thing they shared, I just can't leave this out. They had been in Beirut, Lebanon during the time of the war when there were the militias and the Green Line. So they had witnessed to the Christian militias which often were teenagers. Late one afternoon they were coming back from downtown Beirut through the Muslim section and they were about to cross the Green Line to the Christian side of the city.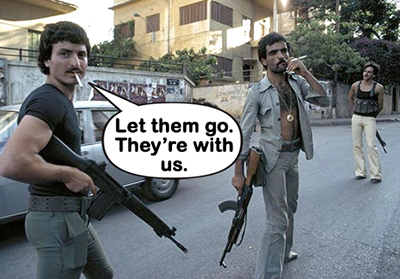 But some Muslim militiamen came up to them and asked them what they were doing, pointing their Kalashnikovs at them. They were there to prevent people crossing back and forth.  Then out of a side street came the Christian militia they'd witnessed to and, pointing their guns at the Muslims, told the Muslims to let them pass over into the Christian section, that they were with them. But their witnessing to the Christian militias earlier was what keyed them to stand up for my missionary friends when they we were stopped by the opposing militias.
Whew. This is a lot better than sports bars, virtual reality or Netflix, no? I sure think so. Witnessing and sharing our faith is where it's at.