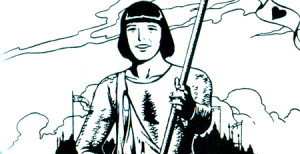 Life is just full of contradictions. And it seems like, for believers, there are contradictions at times too. Some famous skeptics even wrote books about what they said they saw as contradictions in the Bible. But how about when, on the one hand, we're told to be soft hearted and humble, and then it turns around and says we are to be like soldiers. How can that work?
It is a question. But of course there are some clear and simple answers to this to be found within the Bible. So if you don't mind to look at some Bible verses on the subject, let's try to check this out.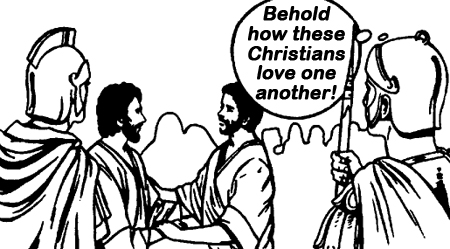 Jesus said of Himself that He was "meek, and lowly in heart." (Matthew 11:29)  If ever there is anything that's remembered about Jesus, it was His love, His humility, His tenderheartedness, his forgiveness. It was even noted in the writings of the secular Roman authorities how much the early Christians loved each other.
But did Jesus ever get angry? In one place it says of Him, "He looked about with anger, being grieved for the hardness of their hearts." (Mark 3:5) Jesus was angry at the hardness of heart He often found in the most outwardly religious of His day.
And Paul told the Ephesians, "Be kind to one another, tenderhearted, forgiving one another." (Ephsians 4:32) The New Testament is just chocked full of admonitions to keep a tender heart, softened by the Lord's love. And actually the Old Testament has a lot of the same teachings. "Today, if you will hear His voice, harden not your hearts." (Psalms 95:7&8)
It's pretty clear that loving kindness is essential and "a meek spirit is in the sight of God of great price." (I Peter 3:4)
But some would say, "So Mark, does that mean that we are to just sit around being noodles and wimps!?! That's what we always see of Jesus: sweet, weak limp Jesus. Is that really what you're saying?! And if Jesus was so meek and humble, then why did He go into the temple of God with a whip and turn over all those tables (John 2: 14-16) where those folks were cashing in on the economic activity of the temple? Huh? Huh?"
Like I said, there are seeming contradictions in the Bible. Because Paul several times compared our lives as disciples to being athletes in training or even soldiers in at war. "Endure hardness as a good soldier of Jesus Christ." (II Timothy 2:3) Are we supposed to be hard or soft, tough or tender? Is it possible to be both?
It's like I heard someone say one time, "Keep a soft heart, and a tough spirit." That's always stuck with me, maybe because it so clearly defines where we need to be soft and where we need to be tough.
In our hearts, we need to have and keep the loving tenderness that God wants each person to have. It's just paramount, "the greatest of these is love." (I Corinthians 13:13)  It's so easy to harden our hearts; it's so natural, and it seems so justified. But it's just not God's solution and never has been.
But, on the other hand, our spirit, that essence of ourselves that is the real "us", not just our minds and our thoughts but our being that lives within our bodies, has to be strengthen to be able to withstand the turbulent darkness of this world, the sacrifices, the blows that come against us and the tempests that beset us throughout our lives.
That's why salvation is so essential. In Salvation, that union with Jesus when He comes into our hearts, our spirits are changed through union with Him. We're not the weak, incomplete, wavering spirits that we were before. That's why John 1:12 has always been so precious to me. "As many as received Him, to them gave He power to become the sons of God, even to them that believed on His name."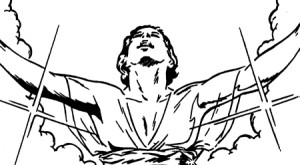 That is in no way just some obscure Bible verse; that's exactly what happened to me personally. I received a transforming power when I received Jesus. My spirit was changed. It was strengthened. It was transformed and it continued to be transformed.
So we so utterly need both of these: a soft heart and a tough spirit. Isaiah said, "No weapon that is formed against you shall prosper," (Isiah 54:17)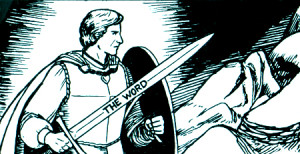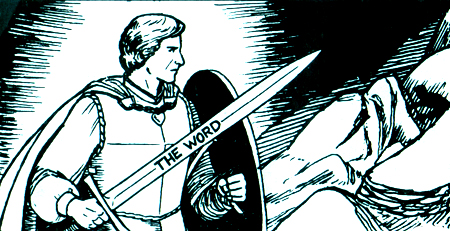 because our spirits have been changed into the new creature in Christ Jesus that He wants us to be. And He wants us and needs us to be fighters for Him, fighting with spiritual weapons to win the battles here that need to be won for His Kingdom.
But we still have to choose to "keep our hearts with all diligence" (Proverbs 4:23) , to keep a soft, malleable, broken heart for Him and for others; that's what wants to see in us. "The sacrifices of God are a broken spirit, a broken and a contrite heart, Oh God, you will not despise." (Psalms 51:17)