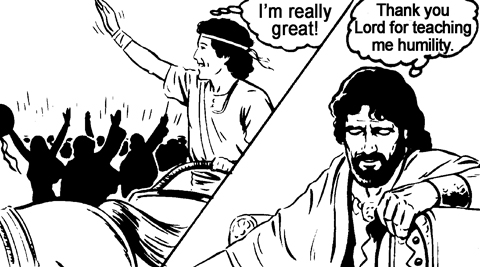 Humility is a funny thing. When you think you have it, you probably don't. But it's easy to not think of humility as a good thing. Certainly in the secular world, humility is normally equated with weakness and even with being a loser. But this is one of the clearest places where the Lord's ways are not our ways and certainly not the ways of the world. Jesus said of Himself that He was "meek and humble in heart" (Matthew 11:29).
Today someone shared some needed correction with me. They did it very politely, they were totally right and I needed to hear what they said as I was in the wrong. Still, it was hard to take. It's kind of destabilizing. Your inner self is offended and wants to answer back, defending and justifying yourself. And of course that's what is the usual reaction for most people all over the world. Your pride is hurt, your self-esteem has been wounded and you just want to fight back.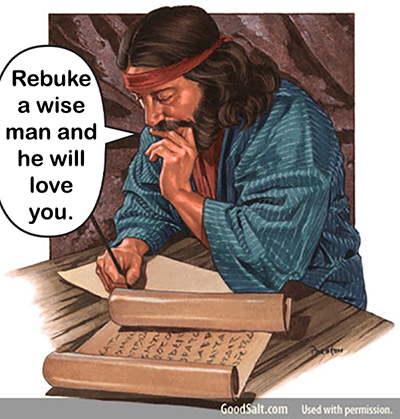 I was getting feelings like that but then I remembered a Bible verse I memorized years ago, something Solomon said in Proverbs 9:8, "Rebuke a wise man and he will love you." Only pride hurts, humility doesn't really feel it. And if you are any student of Scriptures or of the great people of God in history, you'll certainly know that they were all not only people of faith, but people of humility.
An obscure, fascinating verse,  Isaiah 57:15 says, "So says the high and lofty one who inhabits eternity, whose name is Holy; I dwell in the high and lofty place, with him that is of a humble and contrite heart, to revive the spirit of the humble, and revive the heart of the contrite ones."   The great God on high dwells with the humble, not the proud. Peter in the Bible said, "God resists the proud, but gives grace to the humble." (I Peter 5:5)
But how do you get humility? Do you work really hard for it? Someone said one time, "That takes humility of the kind only God can give you, because your own self is always trying to justify itself, exalt itself and protect itself."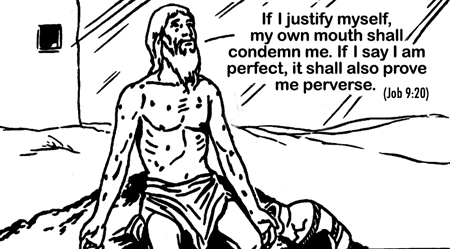 Like Job said, "If I justify myself, my own mouth shall condemn me." (Job 9:20) Sadly that's so true. But the good news there is that God can give you the humility you need and that He wants you to have. We are to "humble ourselves under the mighty hand of God, that He may exalt you in due time." (I Peter 5:6) We should cultivate humility in our heart, just like a precious little plant, while we try to recognize and root out the sins of pride and arrogance.
Today it was a humbling experience for me to have my faults and errors pointed out, even if it was done nicely. It was almost like when I've had to go to the dentist. I don't like it but I have to just tell myself rather strongly, "This is for your good. You need this; this is doing something good for you, even if it hurts a little right now."
But I did have an encouraging thought at the time it was happening, "At least I can recognize this as something good and for my good. I can try to get a grip on this pride that is trying to rear its head right now and make me offended and discouraged by being exposed like this." I basically ended up putting off what I'd planned to do today and just got quiet before the Lord to try to let Him work in my soul and to take to heart what had rather surprisingly been shared with me.
Honestly, it's taken a lifetime of similar situations and experiences from time to time (many of them not as easily acceptable as what happened today) to get me to where I can try to let the Lord do the work in my heart of teaching me some things about myself that are a bit unpleasant or discouraging. Some people think the solution is to continue to keep their head, "bloody but unbowed", as it says in an old poem. But that's really not what the Lord wants.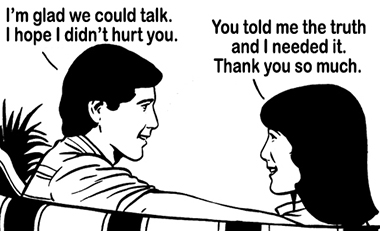 He wants to teach us and help us grow in our hearts and spirits. Jesus said, "Every branch that bears fruit, he purges it, that it may bring forth more fruit." (John 15:2) Purgings, humiliations, corrections from Godly brethren, even exposures are not easy to take. But if you are to be clay in the master's hand, if you are to be purified gold, then embracing the humility that God wants us to grow in is utterly essential.
If you are a little uncertain about humility and honestly don't even know if you like the whole idea, I suggest you make a Bible study on the subject. Humility is one of the most essential essences we need to have if we want to stay alive in the Lord and grow in His presence. Jesus said, "Whoever humbles himself as a little child, the same is the greatest in the kingdom of heaven." (Matthew 18:4)