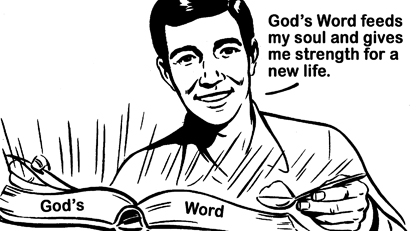 Perhaps the second spiritual habit to talk about, which is so utterly essential, is just our relationship and interaction with God's Word, the Bible. If you are a child of God, then just like a child of this world when you are newborn, there's nothing more important than your nourishment. A baby doesn't have to be taught to suck the milk from its mother; it does it instinctively and desperately. That's why the apostle Peter admonished, "As newborn babes, desire the sincere milk of the Word, that you may grow thereby." (I Peter 2:2)
It's actually not really an option. If you've come to have faith in God and in Jesus, it's a matter of spiritual life and death that your faith is fed the nourishment it needs. And this doesn't just mean going to church on Sunday or listening to Christian radio in your car. The same way a baby eats several times each day, the newborn soul into the Kingdom of God needs spiritual nourishment to grow and become what God wants it to be.
Of course some folks think the Bible is just some book, written 2000 years ago, that's full of strange stories and perhaps good morals. Hopefully you are not someone who thinks that. The Bible is unlike any other book ever written. The truths in the Bible have the power to give life and light, healing and understanding in a way no normal book can ever do.
Here's what Jesus told some of the people who were just coming to realize that He was the Son of God. From John 8:31 and 32, "If you continue in my Word, then are you my disciples in deed. And you shall know the truth, and the truth shall make you free." The truth shall make you free. He wasn't talking about some secular knowledge you might get in university. He was talking about the very truth of God that He spoke and that the prophets and men of God had spoken and recorded in what we call the Old Testament, as well as the truth that was being recorded at His time and became the New Testament.
It's almost difficult for me to talk about this because it would be difficult to overstate how important the Bible became for me after I came to faith in God and in Jesus. As I've written in other places, I was always looking for the truth. But I never expected to find such a pure and perfect essence of truth that I found the Bible to be. Really soaking yourself in the Bible, just reading it for pleasure and for edification is one of the very most important things you can do. And what you'll find, as I have, is that it somehow reaches down and into your deepest depths, exposing and clarifying some dark area of your life that needs attention, or that it speaks to you on some issue that you desperately needed to have strengthened. In short, the Bible really is what they say it is, God's Word. It clarifies our minds, purifies our hearts, brings us joy and truth, gives us courage and wisdom and works as the presence and companionship of God and Jesus in our lives. Here's something the prophet Jeremiah said in prayer to God about His Word. "Your words were found, and I did eat them. And your word to me was the joy and rejoicing of my heart."  (Jeremiah 15:16.)
So I could say to you what Paul said to some of his dearest friends the last night he was going to be able to see them, "I commend you to God and the word of his grace which is able to build you up and to give you an inheritance."  (Acts 20:36) Among spiritual habits, the habit of continually going to the Bible for study, for comfort, for knowledge, for a place to find God's presence, and much more, that habit is perhaps one of the very most important habits you can nurture in order to grow in the Lord and to stay rooted and built up in Him through the years.
In practical terms, it can mean that you cultivate and maintain the habit of reading the Bible and even really studying it. And don't do like I did, don't start at the beginning like you do with most books. If you are new to faith, the best book in the Bible to read is the Gospel of John, in the New Testament. In fact, the four Gospels, Matthew, Mark, Luke and John are the best place to get your grounding in what Jesus said and did. Jesus told His disciples, "The words that I speak to you, they are spirit and they are life." (John 6:63)
If you have time for nothing else, just really studying the life and words of Jesus in those four books will lead you to truth and love and depth that are unmatched by any other use of your time. Make it a habit.